Back to the list
Peter Schiff on BTC: "Bear markets have false rallies, we're in one now"
www.chepicap.com
02 June 2019 17:00, UTC
Reading time: ~3 m
---
Bitcoin detractor and infamous gold bug, Peter Schiff, has once again proven his disdain for Bitcoin in a tirade against the digital competitor of gold in a recent debate, calling the latest bitcoin bull run a "false rally" and stating that the industry is still in a bear market.
While Bitcoin (BTC) cites a 130% Year to date (YTD) return – approximately 128% more than gold's TYD return on investment – Peter Schiff continues his assault against BTC, recently releasing a video on his YouTube channel of a debate between himself and Barry Silbert, CEO of Digital currency group.
Within the debate - which took place at the SALT conference 2019 - Silbert and Schiff argued over the role of Bitcoin superseding that of Gold, with Schiff obstinate with his assumption that Bitcoin is a Pump and dump scheme.
Moreover, the gold bug attributed the April run - which kick-started Bitcoins impressive 2019 gains - to little more than a "false rally" within what he believes is a bear market:
"A lot of people got suckered into this pump-and-dump scheme because they heard all the stories about young kids taking their Bar Mitzvah money into bitcoin and bought a Lambo … Pretty soon, it is going to be stories about people who lost their life savings because they put real money instead of play money into bitcoin."
Schiff also focuses on the potential of an economic crash, championing gold over holding fiat (and of course Bitcoin):
"We are in the biggest bubbles that the central banks have ever blown, and when it gets popped, the 2008 economic crisis will appear like a Sunday school picnic. Then, people will figure out why gold is important."
However, this isn't proving to be the case in reality, as we see instances of global stocks plummet thanks to the war waging between China and the US over trade. In fact, many have pointed to the idea that Bitcoin, rather than gold is becoming a fast favorite as a safe haven in these troubling economic times, and the statistics don't lie.
While Bitcoin has seen a 130% increase this year, gold is looking weak in comparison, citing a mere 1.4% Year to date increase: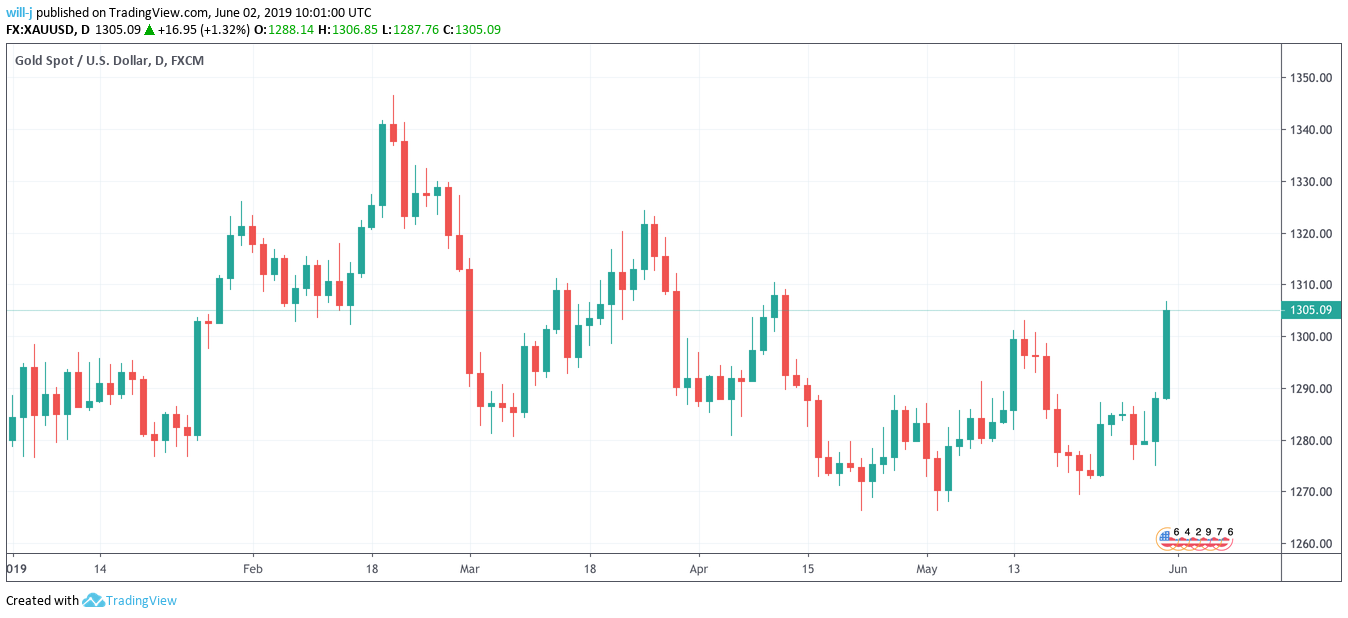 XAU/USD Chart provided by Tradingview
Despite an actual use case for gold, it appears investors are seeking an asset with a proven track record of returns.
Ruggero Gramatica, founder, and CEO of Yewno, relays why he believes Bitcoin is seeing a higher rate of return to that of gold:
"Gold is an alternative yet with much less return, liquidity and it has high carrying costs," says Gramatica, "Bitcoin, however, can observe a surplus of money flow as an alternative store of value pushing cryptocurrencies prices up. Bitcoin, and consequently other cryptocurrencies, is arguably a superior store of value due to its durability, limited supply, predictable inflation and ease of transfer."
---
Source
---
Back to the list