Back to the list
Bitcoin [BTC] Whale Alert: BTC worth over $38 million moved in two transactions
ambcrypto.com
20 May 2019 09:10, UTC
Reading time: ~2 m
---
Bitcoin turned to the bulls once again on early May 19, exhibiting a rapid 7 percent hourly price gain, stoking the attention of several parties. One among them was the observant whales, which moved 5,000 BTCs in two separate transactions.
As reported by WhaleAlert, an online cryptocurrency-transaction tracker, a transaction of 3,000 BTC first, calculated at $23.68 million was the first movement. The transaction, as per the data aggregation website, occurred at 06:58:55 UTC on May 19.
The first transaction was between the addresses 1HL5rZWw5rGzFAB1mThEMxwazEBtWigs7B and 3LAT8J4ywCXSceAJuncaztoL3FH1tNtqEx. The hash of the transaction in question was b31df7d81f774bf2f9623c96ab9cebddc8a76844.
Minutes later, alarms rung once again with 2,000 Bitcoins worth over $15.78 million transferred from an unknown wallet to the controversy-riddled exchange, Bitfinex. According to Whale Alert, the same sender i.e. 1HL5rZWw5rGzFAB1mThEMxwazEBtWigs7B, like the above, was involved in this transaction as well.
According to Blockchain.com, the total input was $39.76 million, while the BTC transacted, based on the second transaction which involved Bitfinex was around $15.19 million. The tree chart from the same can be seen below: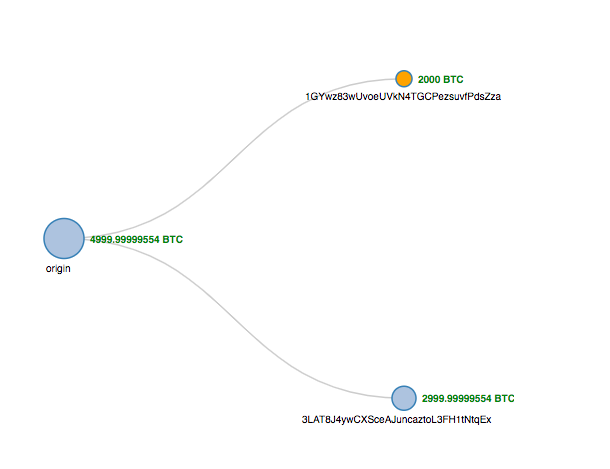 Source: Blockchain.com
This movement comes at an opportunistic time for large profit-grabbers in the Bitcoin market, as May's bullish swing turned their fortunes. In a chart by ProofofResearch, the Bitcoin whales capitalized on the massive 30 percent price incline of the top cryptocurrency since the beginning of the month.
However, the researcher added that the whales have since "exited" the market with their large profits.
Following last week's pullback, the price of the top cryptocurrency has sparked once again, rising by mammoth proportions, albeit for a short stint, surging past $7,800 and then the $7,900 mark, and, at press time, Bitcoin was on the verge of breaking $8,000 for the second time in a week.
Bitcoin dropped below $8,000 and continued falling, but hovered about $7,000 following the pull-back, which many speculated was due to market correction, the post-Consensus bears and a significant transaction on Bitstamp. The Japanese cryptocurrency exchange, Bitstamp saw a 5,000 BTC sell order priced at $6,200, which, according to some, contributed to the pullback.
---
Source
---
Back to the list