Back to the list
Bitcoin is Set For Bullish Run 2.0 As It is Experienced A Golden Cross On The Daily Chart
coinfomania.com
14 August 2021 09:25, UTC
Reading time: ~2 m
---
The crypto market was no doubt shakened by Bitcoin death cross as it was one of the most dreaded occurrences. Since the death cross, BTC lost more than 15% of it value before price consolidation. The reversal in the market trend resulted in the king recovering significantly in price as the digital gold is currently trading above $47,000 as of the time of writing.
Commenting the death cross, Coinfomania stated that taking into mind the result of previous negative EMA interceptions, bitcoin will certainly dip. How low BTC will dip is a question only time can answer but the previous death cross on the 1-day chart does not seem to have a great impact on prices. This time may not be different as the firstborn coin may decrease below $30k before recovery.
True to this prediction, BTC dropped below $30k but hit reverse at $28,000. The price recovery was not as fast many expected. Nonetheless, the largest crypto by market cap also improved in several areas too. One such area is the Exponential Moving Average (EMA). The EMA was one indicator that predicted the death cross. Now, The 50-days EMA has intercepted the 200-days in an uptrend; indicating the golden cross.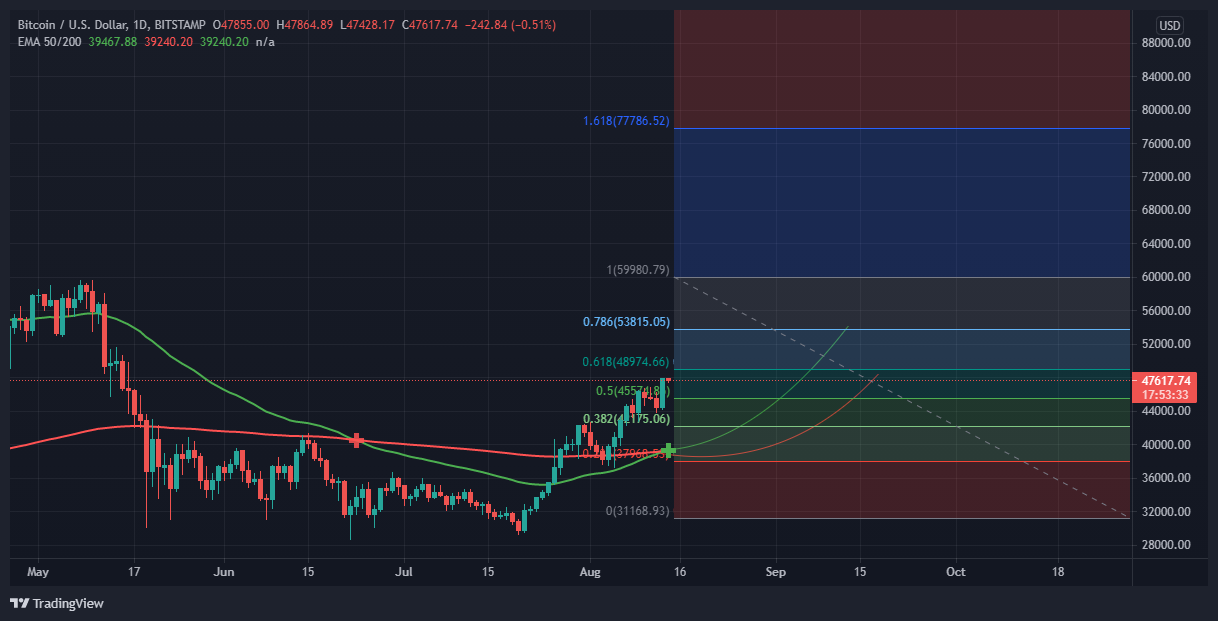 In Coming Days
Based on the charts, it is safe to conclude that BTC is in a safe zone now as it as tendency of dipping as low as $40,000. It will take days of price dips to see bitcoin flip the $40k support which is very unlikely anytime soon. Using Fibonacci Retracement, a list of channels are created.
In the current price channel, the king coin as to cross $48,974 to advance to the next course or risk a price retracement back to the previous course. As the largest crypto exits its current channel to the next, we are sure that it will get the needed boost to flip the $50,000 resistance within the next seven days.
---
Source
---
Back to the list