Back to the list
Bitcoin goes 123 days without a new low, up 65% since December
www.chepicap.com
19 April 2019 07:50, UTC
Reading time: ~2 m
---
According to crypto trader Alec Ziupsnys and his team, the world's most popular cryptocurrency has gone 123 days without seeing a new low.
Ziupsnys and his team, which go under the Rhythm Trader handle on Twitter, tweeted to their 15K Twitter followers that BTC has gone 123 days without registering new lows, and that Bitcoin's total gains since December are up with 65%.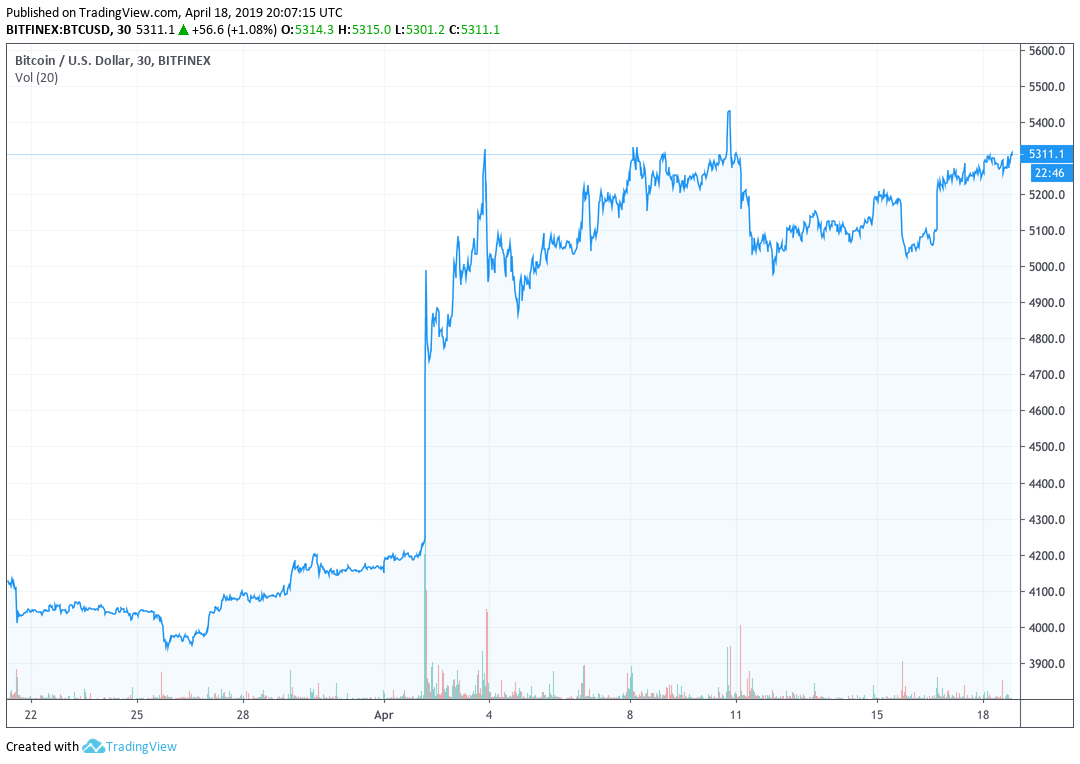 'Don't get caught picking up a penny in front of the steamroller, that is a bitcoin bull market', the crypto trader team said. In other words, don't focus on immediate smaller gains, risking to miss out on the, long-term, possible massive gains.

Ziupsnys, is a firm believer in Bitcoin's future price potential. When 10 years ago you had to pay 10,000 BTC for a pizza, 5 years from now you will be able to buy a house with just one, he tweeted in March.
And in April he pointed out that in 2010 on Bitcoin was worth only $0.0025! While today one dollar is worth 0.0002BTC!
'Want to know what is really crazy?', he said. 'Bitcoin is just getting warmed up'.

The Rhythm Trader team is not alone in their enthusiasm for Bitcoin's future price actions.
Recently Chepicap reported that another prominent cryptoanalyst, Crypto Thies, goes on to explain why he's bullish on Bitcoin, citing his own Market God indicator which has proven accurate in the past.
The crypto trader points out that his indicator issued a buy for the first time since 2015, near the bottom of the previous bear market. He then adds that the 30-day exponential moving average (EMA) and 90-day EMA have crossed for the first time since January 2018.
MA Bear crosses are cool but the 30EMA and 90EMA (1M/3M) crossed a few days ago for the first time since Jan 2018. Thats pretty cool IMO pic.twitter.com/tAs4YBrK1X

— Crypto Thies (@KingThies) April 16, 2019
Thies says that a rally straight to $8,000 from where we are, without retesting lows is possible, if Bitcoin holds above $4,800. He added that his year-end target for BTC is close to $8,000.
Chepicap's own resident Technical analysis expert, David Borman, sees $5,300 as well as a key level of resistance.
---
Source
---
Back to the list