Back to the list
Bitcoin: BARR Pattern suggests that BTC might have bottomed in 2018
ambcrypto.com
17 April 2019 22:00, UTC
Reading time: ~2 m
---
A Twitter user suggested the formation of BARR [Bump and Run Reversal] Pattern, which suggests that Bitcoin already bottomed in the month of December 2018.
According to Twitter user @thalamu_, Bitcoin hit bottom on December 15, 2018, when the price of Bitcoin fell as low as $3,126 [BitMEX]. The user tweeted:
$BTC. Literally a textbook BARR bottom. Hint: This means bears are fucked. pic.twitter.com/5ZUMGCXMIt

— B.Biddles (@thalamu_) April 14, 2019
BARR pattern, as the name suggests, takes place in three phases; the first phase is where the price leads-in and the second is when the prices bumps, this is followed by a run. In a downtrend, the lead-in is a continuous downtrend, which will enclose a bump – a further dip in the downtrend. The run, however, will break the downtrend formed during the lead-in and continue to evolve into a bull rally. The pattern was discovered by Thomas Bulkowski.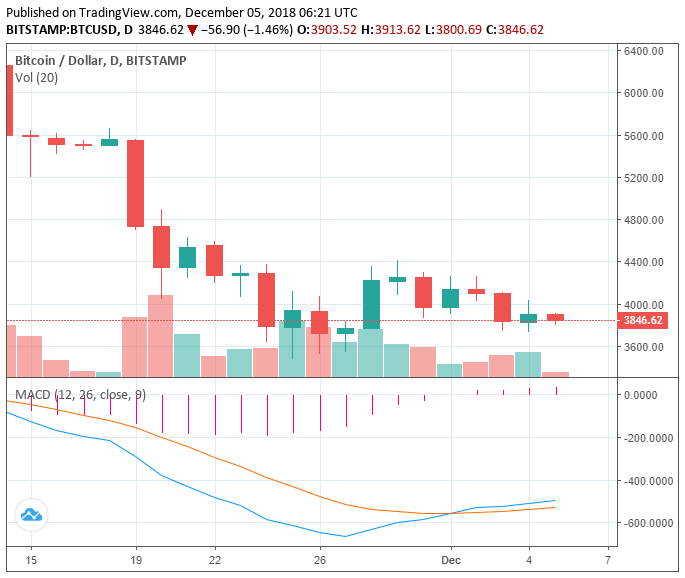 Source: TradingView
The user also added that the pattern was still unfolding and there were possibilities where it could fail. He further stated:
"That said, combined with bullish fundamentals, adoption, and positive press, my leaning is still upwards."
As seen in the chart, there were two weekly candles formed at press time, which were almost parallel to each other, signifying the sideways movement of prices; without further indication of the "Run-phase" of the BARR pattern.
In addition, the user tweeted:
"According to Bulkowski, the right move is to wait for a breakout. Imo that means 5.5k s/r flip but others are calling for 6.2. On the reverse, that means breaking below 4.6k if looking for a short. Anything in between is risky per this pattern… BARR bottom calls for 57% difference b/t low point and bump. At $3200 bottom on dec. 16, our current $5k support fits that narrative to the T. ((3200*.57)+3200)=$5024)"
There are more than a few people who have predicted alternate theories, some of them allege that Bitcoin has already bottomed, while others allege that Bitcoin is yet to bottom, however, the bottom can only be confirmed in hindsight.
@SandmanXRP, a Twitter user commented:
"Combine that with donchian breakout method it starts to look interesting."
---
Source
---
Back to the list