Back to the list
Bitcoin Bull Trap? Popular Crypto Analyst Plots Two Opposing Scenarios for BTC
dailyhodl.com
03 August 2021 20:34, UTC
Reading time: ~2 m
---
A closely followed crypto analyst is mapping out two possible scenarios for Bitcoin as BTC struggles to break $40,000.
In a new strategy session, the pseudonymous analyst known as Altcoin Psycho says he's looking at the $41,000 level in BTC as the potential trigger for either a continued rally or a correction.
According to the crypto strategist, there's a good chance Bitcoin's recent rally from $29,000 to above $42,000 might be lacking strength.
"One of the scenarios that I've been kind of cautious about is this [$42,000] turning into a range-high deviation and then giving us something like this where we make our way back down to the range low and then maybe even spend some time down here [below $28,000] as a deviation before reclaiming again.
The one thing that makes me a little nervous is there's just a lot of hot air beneath [$40,000]. I've been talking about how for a while, just when I watch the order books, it really just felt like there's an invisible hand kind of propping us up. Not to say that it's not legit demand, but the bigger question becomes how long is that demand going to last?"
Altcoin Pyscho posits that if Bitcoin can convincingly reclaim $41,000, then further upside near $50,000 is in play.
"If we reclaim the range high at $41,000, long and close at $49,000. If we lose $36,000, short to $29,000.
We just have to wait for one of the triggers."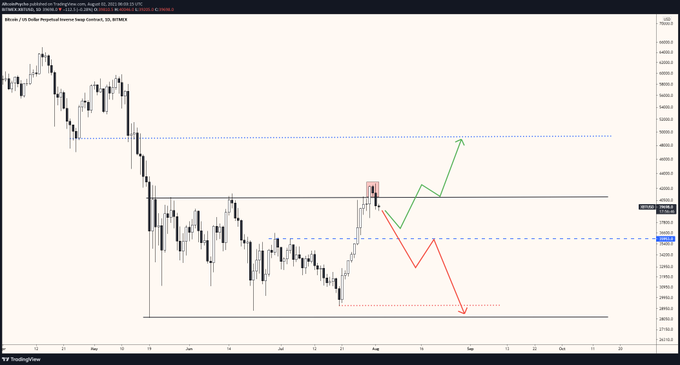 Should Bitcoin fail to go above $41,000, Altcoin psycho says a significant correction is in the cards for BTC and the rest of the altcoin market.
"I think that if Bitcoin nukes, it's going to ruin a lot of altcoin setups so to me personally, I'd rather just keep an eye on Bitcoin…
If I see that this reverses pretty quickly in the next few days and we can reclaim this range high and consolidate here, I don't see why we're not going to hit this level of $46,000-$47,000 if we reclaim this here. So I think if we do reclaim this, this range high here at $41,000, that's going to be your sign."
---
Source
---
Back to the list