Back to the list
Bitcoin dominance is slowly receding, is it nearly time for alt-season?
www.chepicap.com
14 March 2019 11:42, UTC
Reading time: ~4 m
---
BTC dominance is currently moving sluggishly downward, creeping ever so slightly in a southerly direction. But why is this important? and could it mean that alt season is on its way?
While still significantly in control, BTC dominance has been sloping ever downward since its yearly high of 57.86% in September 2018.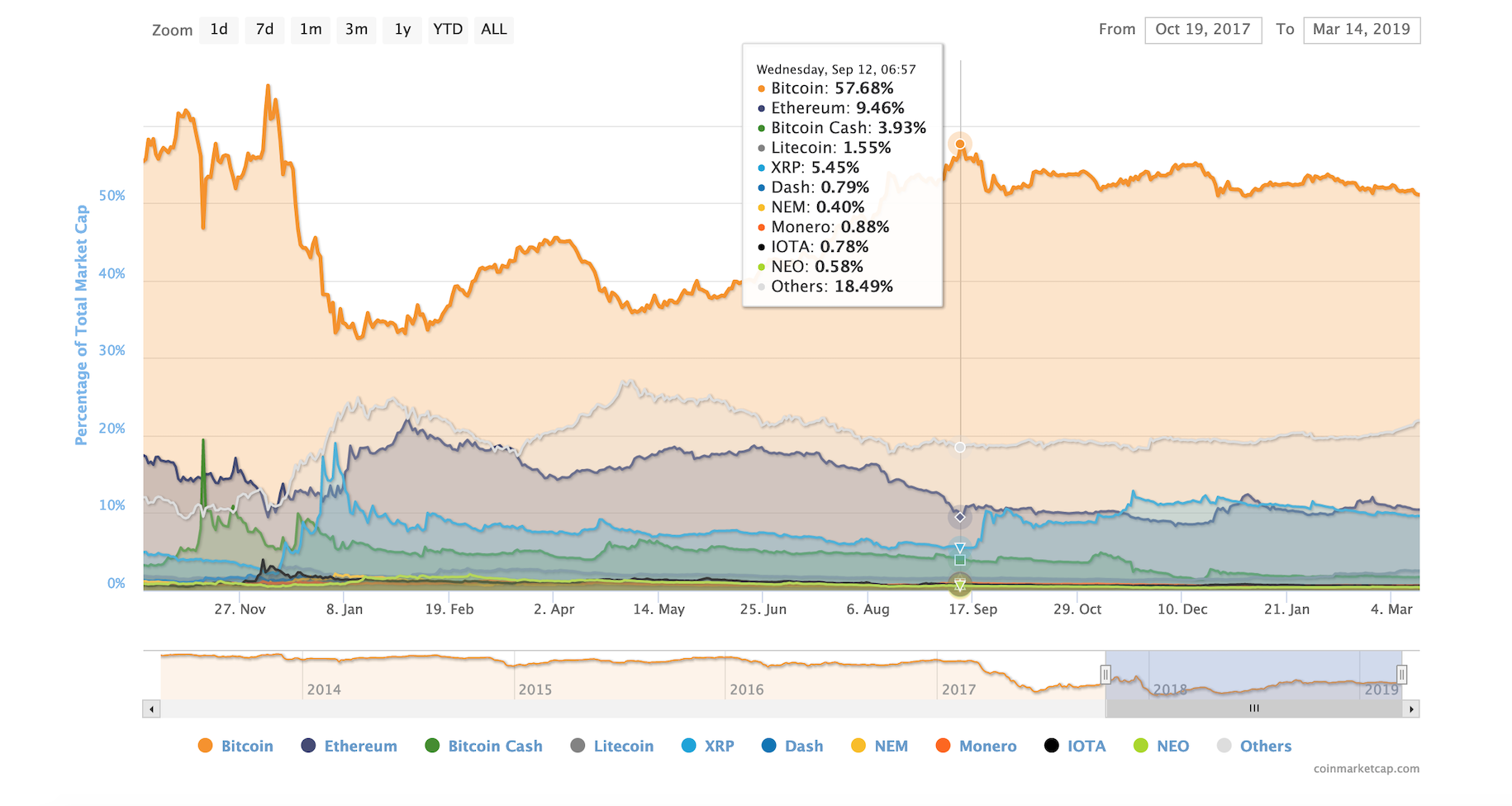 2019 saw BTC dominance ebb to a low of 51% a percentage not seen since the September 2018 high.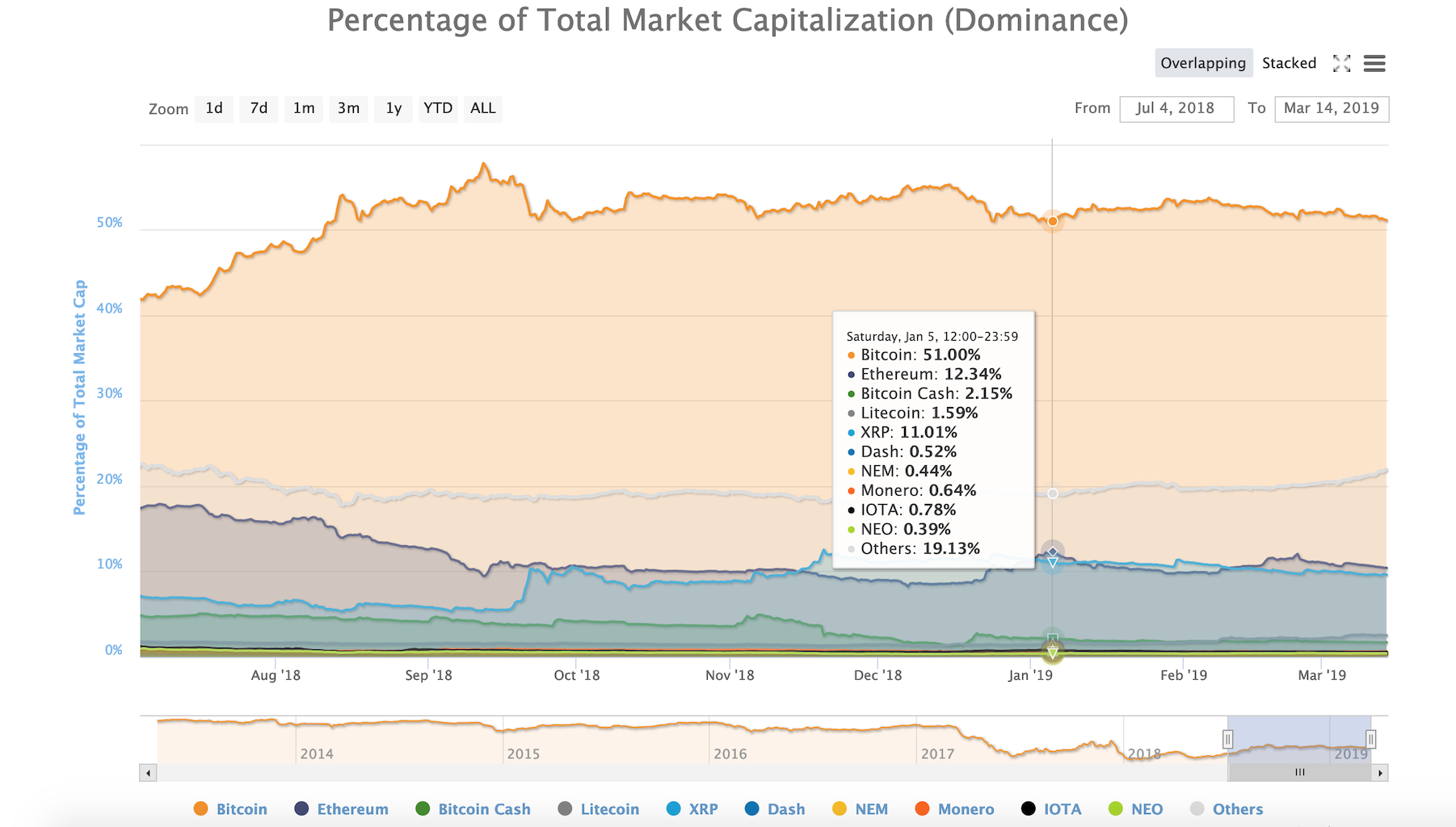 While this appears unsubstantial, it may have contributed to the recent rise of altcoins, many of which are citing impressive gains since the start of the year.
BTC dominance or lack, therefore, is often correlated to an increase in prices of altcoins; BTC dominance shares an inverse correlation with altcoin dominance with its decline is indicative of a rise in altcoins and vice versa.
BTC dominance typically increases when traders buy and hold BTC, this usually coincides with a sale of alts and thus a decrease in altcoin dominance. The opposite is true for a decrease in BTC dominance, with people either loading up on alts in exchange for BTC or selling BTC for fiat.  
While BTC price has, for the most part, stayed fairly stagnant during the first quarter of 2019, struggling to breach and hold the $4k mark; altcoins have flourished with a fair few alts citing year-to-date (YTD) returns upwards of 70%.
Binance coin (BNB) at an impressive 145%, Steem at 85%, and Litecoin (LTC) at 83% to name just a few impressive YTD gainers: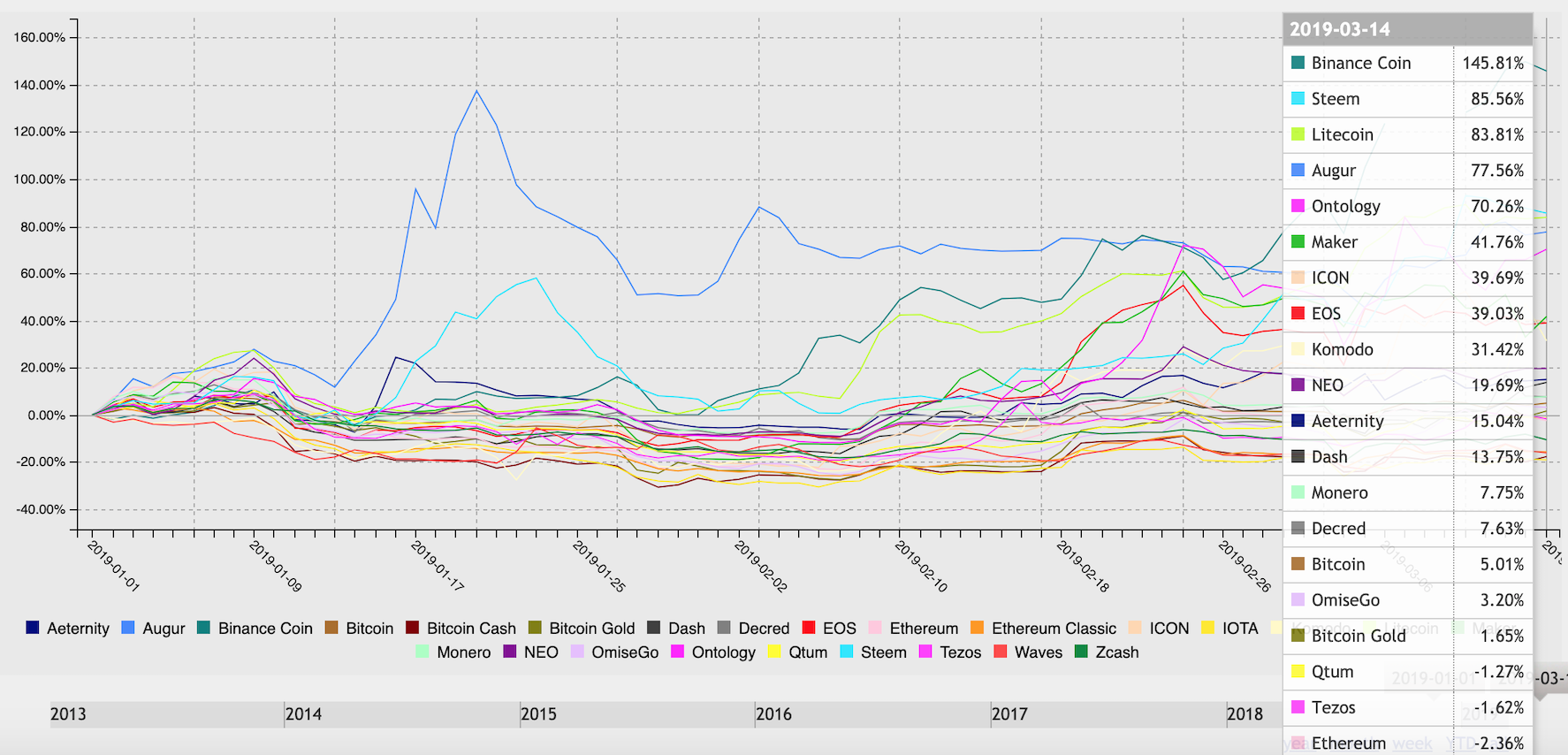 In contrast, BTC cites a mere 5% gain since the start of 2019.
Alt season soon?
Some traders believe this lacklustre show of dominance is fairly indicative of an imminent alt season:
btc dominance graph is interesting, it's been above 50 percent for more than 200 days. It was in an uptrend and now in a range in a wedge. A decline in the btc dominance is corraleted with the alt party, so an alt party might be on it's way. pic.twitter.com/fOz8V11bd9

— emre (@cryptorocket_) March 13, 2019
$BTC dominance pic.twitter.com/VT1dnYcCaK

— Wealth Seeker (@WealthSeekr) March 14, 2019
One analyst postulates that a break below 50% dominance would result in alts picking up steam:
Impressive altcoin movements over the past few days/weeks but once $BTC Dominance breaks under 50, its full blown Alt Season. pic.twitter.com/7iPi8rMf1u

— Galaxy (@galaxyBTC) March 9, 2019
According to many other traders and technical analysts, BTC dominance is showing signs of receding:
BTC to lose dominance in an upcoming alt rally? for CRYPTOCAP:BTC.D by demougin93 https://t.co/730N6xY8JW pic.twitter.com/oEMezw8IlY

— BitcoinAgile (@bitcoinagile) March 11, 2019
Btc dominance looks like it'll pop in a few weeks... pic.twitter.com/wmysGCYAXV

— Crypto Cantona (@crypto_cantona) March 9, 2019
However, not every analyst is as excited about the current display of dominance, with one user citing that the historical implications of BTC dominance reaching above 51% could spell disaster for alts.
Wanted to fomo in some other alts, the saw this. Don't be fooled, hystorically BTC reaching 51% dominance has seen a dip in Altcoin Market cap, wouldn't open any new trades right now ( you can get better prices later) pic.twitter.com/dBpPH2RV1y

— Walter Wyckoff (@walter_wyckoff) March 12, 2019
However, according to one trader looking at at the combined dominance of front runners BTC, Ethereum (ETH) and XRP, suggests that altseason is already upon us:
TBH tho I'm starting to think it makes more sense to look at BTC + ETH + XRP market dominance, since they control such a large portion of the market. In this case Altseason is already underway! :D pic.twitter.com/asuOJJPxWu

— Beastlorion (@Beastlyorion) March 12, 2019
So it looks as though a continued lull and downtrend for BTC dominance could present a nice opportunity for alts. however, we might want to see this dominance decrease slightly more before jumping in fully.
Disclaimer:
This is not investment advice. Our publications are not, and should not be seen as a recommendation to use any particular investment strategy.
Read more: Will BTC dominance fall below 30%? Crypto trader predicts Alt Season

Is NOW a good time to BUY BITCOIN?Subscribe to the Chepicap YouTube Channel for more videos!


---
Source
---
Back to the list