Back to the list
Bitcoin [BTC] is losing market momentum and ground to altcoins, says Bloomberg report
ambcrypto.com
13 March 2019 17:30, UTC
Reading time: ~2 m
---
Bitcoin [BTC] found some shelter in the ongoing crypto-winter, after top cryptocurrencies performed relatively well after months of bearish onslaught. However, according to Bloomberg, following a bullish February, Bitcoin appeared to lose momentum and ground to emerging altcoins.
The beginning of March saw the coin reeling from a severe downtrend, with the price dropping from $4,200 to under $3,850 in days. In the first few days of the month, the coin fell further down to under $3,750, before reaching a high of $3,980. At press time, the coin was priced at $3,910.
The report by Bloomberg suggested that the mini-rally will be short-lived. Long-term indicators of the coin showed mounting selling pressure, with the demand from buyers on a low, leading to a drop in price, the report added.
The report comes weeks after the Moving Average Convergence Divergence [MACD], indicating long-term momentum difference, showed a bullish weekly histogram for the first time since the coin was trading at $13,000 over a year ago. At press time, the weekly histogram was still above 0, with the trend on an incline since it edged the bearish zone in early-February.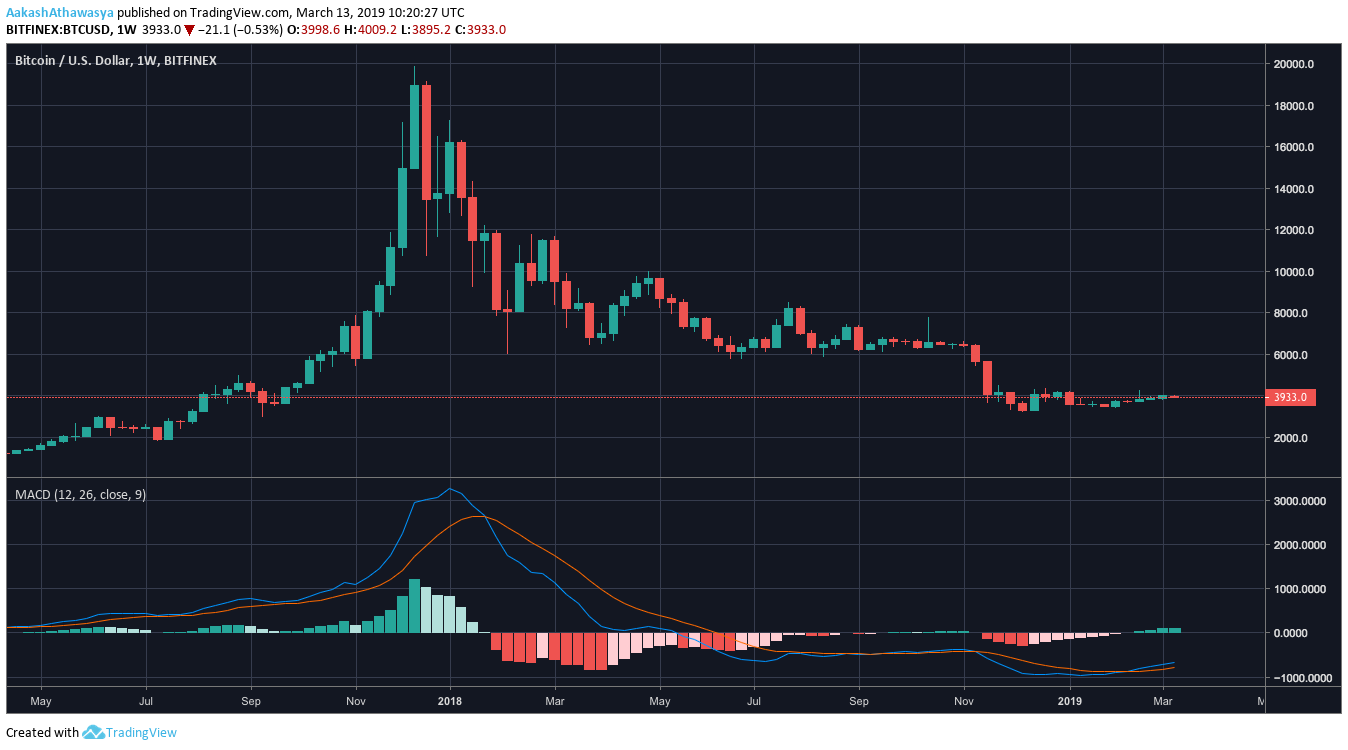 Source: Trading View
Bloomberg also reported a decline in Bitcoin's average daily gain from February. The average daily gain was in the negative since July 2018 and peaked in November, after the Bitcoin Cash [BCH] hardfork caused the collective market cap to drop by over $100 billion.
The report further suggested that every time Bitcoin breached the $4,000 resistance level, its performance remained unconvincing and sluggish as it did not manage to sustain its momentum.
Bitcoin's performance has fueled the performance of altcoins in the crypto market, Bloomberg further reported. Mati Greenspan, a senior market at eToro, stated that altcoins have more to do with Bitcoin's price pump than the top cryptocurrency itself. He stated that cryptocurrency investors are seeing more potential in alternative coins in the present market. Greenspan made a bold claim that crypto winter will end with altcoins taking charge.
He said,
"As we approach the culmination of the crypto winter, we're actually seeing some of the altcoins delivering spectacular gains in the last few weeks. We are now in what industry insiders like to call alt-season."
Greenspan's claims can be attested by the market performance of the competing coins. Since mid-December, Ethereum [ETH] is up by nearly 50 percent, EOS shot up by 84.11 percent, Litecoin [LTC] hiked by a whopping 133 percent, and Binance Coin [BNB] is up by a massive 208.97 percent.
---
Source
---
Back to the list