Back to the list
CELO Technical Analysis: Can Buyers Support The $1 Threshold?
cryptoknowmics.com
05 August 2022 10:21, UTC
Reading time: ~2 m
---
The CELO price action shows a range breakout rally attempting to break the resistance trendline and reach the $1.23 mark.
Key Technical Points:
The CELO prices jumped by 40% last night, resulting in a vast bullish candle in the daily candle.
The bull run exceeds the 100-day SMA and challenges the $2.67 mark.
With a market cap of $482 million, the intraday trading volume of CELO has increased by 3% to reach $20 million.
Past Performance  of CELO
The CELO price action shows a bullish trend in the daily chart, which is evident by the ascending resistance trendline. The recent bullish trend starting from the $0.80 mark breaks the resistance of the consolidation range at the $1 mark. After that, however, the breakout rally takes a turnaround from the resistance trendline to retest the $1 breakout.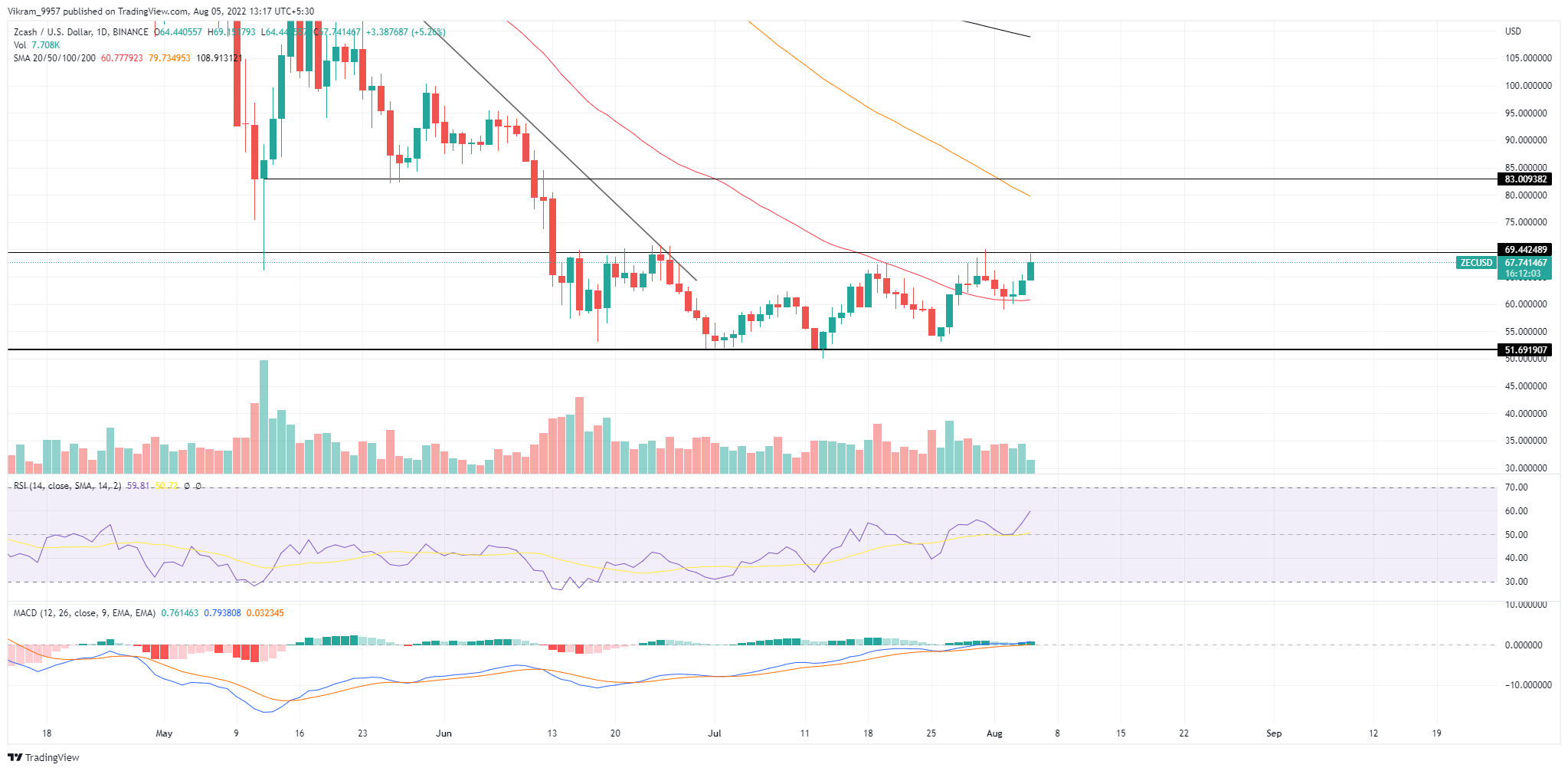 Source - Tradingview
CELO Technical Analysis
The CELO price action shows a successful post-retest reversal from the $1 mark with a morning star pattern. However, the bullish reversal fails to see any significant spike in trading volume, projecting a less likelihood of the trendline breakout. The RSI slope shows a bullish reversal from the 14-day average line to sustain in the nearly overbought zone. Hence, the technical indicator reflects a solid underlying bullishness projecting the likelihood of an uptrend continuation above the psychological mark of $1. The MACD indicator shows a decline in bullish spread between the fast and slow lines as the MACD histograms crash to the Zero line. Hence, the increasing likelihood of a bearish crossover in the MACD indicator warns of a bullish failure. Therefore, the technical indicators have an opposite viewpoint, suggesting the traders should wait for price action confirmation. In a nutshell, the CELO technical analysis showcases an increasing pressure above $1, which the buyers need to undermine to reach $1.23.
Upcoming Trend
If the CELO price breaks above the resistance trendline, an uptrend continuation might exceed the $1.23 mark. In such a case, traders can expect the uptrend to hit the $1.50 mark. However, if the buyers fail to keep the market value floating above the $1 mark, a breakdown rally will hit the $0.80 mark. Resistance Levels: $1.23 and $1.5 Support Levels: $1 and $0.80
---
Source
---
Back to the list