Back to the list
EMAX Price Predictions 2022-2031: Is EthereumMax a Good Investment?
www.cryptopolitan.com
04 August 2022 01:31, UTC
Reading time: ~9 m
---
EMAX developers built the Ethereummax ecosystem with a vision of robustness and scalability that fully utilizes the power of decentralized finance (Defi ). The ecosystem creates utility in Non Fungible tokens, payment systems, and exclusive events and has deflationary tokenomics that protect the community. 
The EMAX team created the Emax token to become a unique token that provided lifestyle perks, incentives, and financial rewards with a roadmap for long-term use in everyday life. To ensure equality, the Emax team did not hold a presale event; all the tokens were released to the open market. 
Critics have their doubts about the Ethereummax ecosystem. A month after its launch, EMAX was highly publicized by celebrities, EMAX's price surged and crashed days later, and many people lost money. For those willing to take the risk, there are huge rewards.
Cryptocurrencies are a new emerging asset class and carry the same risks as traditional stocks or other asset investments. The huge difference between stocks and crypto is the extreme volatility of the latter, with massive high swings and drops in prices. Many people made their fortunes in crypto, and also made paupers of almost the same number.
For guidance on your future crypto investment decisions, you may delve deeply into EMAX price predictions, but first, let's take a look at the coin's history and structure.
Today's EthereumMax price is $4.83e-9 with a 24-hour trading volume of $3,005.41. EthereumMax is up 2.62% in the last 24 hours. The current CoinMarketCap ranking is #5663, with a live market cap of not available. The circulating supply is not available and a max. supply of 2,000,000,000,000,000 EMAX coins.
Contents
2
Controversy – EMAX Pump and Dump Scheme
6
EMAX Technical Analysis
7
Ethereummax Price Predictions by Authority Sites
7.4
Cryptopolitan
7.4.1
Emax Price Prediction 2022
7.4.2
Emax Price Prediction 2023
7.4.3
Ethereummax Emax Price Prediction 2024
7.4.4
Ethereummax Emax Price Prediction 2025
7.4.5
Ethereummax Emax Price Prediction 2026
7.4.6
Ethereummax Emax Price Prediction 2027
7.4.7
Ethereummax Price Prediction 2028
7.4.8
Ethereummax Emax Price Prediction 2029
7.4.9
Emax Price Prediction 2030
7.4.10
Emax Price Prediction 2031
8
Ethereummax Price Predictions by Industry Influencers
What is EMAX?
Emax is an ERC20 token built on the Ethereum blockchain. It is also called the Culture token and is the gateway to the Ethereummax ecosystem. The Ethereummax Ecosystem consists of three tokens, EMAX, MAXPAY, and XMAX, each with a unique utility. Here are some applications of EMAX:
EMAX "is a yield-based token that rewards back its investors 2% of every transaction," according to a company state.
This means that people can earn more when other investors use their coins, according to the company.
Unlike some other lesser-known cryptos, investors can "use this coin in real-life cases."
Controversy – EMAX Pump and Dump Scheme
Spreading misinformation in the US is a big crime, mainly when it results in people losing money, and that is what Kim Kardashian, Floyd Mayweather, and Paul Pierce did. Lawyers filed a class action lawsuit against Emax and the celebrities for working together to inflate the price of Ethereummax artificially. In June 2021, the Emax price skyrocketed 16 times in three days, after which it proceeded to a quick and harsh crash. 
Adverse publicity and controversies play a significant role in the performance of cryptocurrencies. After the alleged lawsuit, many sites have dubbed Emax a 'scam coin.'
Emax Tokenomics
Emax has a total supply of 2 quadrillion tokens with an inbuilt 3% burn tax that ensures the circulating supply keeps dropping. To ensure equality, the Emax team did not hold a presale event; all the tokens were released to the open market. 
The Emax tokenomics are continually updated to strengthen the ecosystem. 
To increase the scalability of the ecosystem, the team adopted a Layer 2 solution on Arbitrum.
Why Layer 2?
A significant challenge facing layer 1 blockchains like Ethereum and Bitcoin is their limited capacity to scale. The inefficiency results in high transaction fees and low transaction speeds. Layer 2 blockchain solutions create a workaround for the scalability problem. They increase the blockchain's speed, throughput, and efficiency without the need to increase blockchains nodes or tamper with the blockchain in a way that would compromise its decentralization and security.
EthereumMax Ecosystem
The EthereumMax ecosystem consists of three tokens, Emax, Xmax, and Maxpay, each with a unique utility. Ethereummax uses a unique design and incentive mechanism to solve the problems of antiquated financial systems.
EMAX
The community token is designed to offer long-term value and tiered incentives to the community. The token is built on the Ethereum blockchain and is increasingly scarce. It is also called the 'Culture token.'
Xmax
Xmax is the governance token of the ecosystem. By incorporating the concepts of Decentralized Autonomous Organisations, its holders can take part in making and voting for changes in the ecosystem. Xmax is a rebase token created automatically by the protocol and can be earned through bonding and staking.
Maxpay
Maxpay is an algorithmic stablecoin pegged to the US Dollar in a 1:1 ratio. It is backed b 80% DAI and 20% Emax tokens.  The taken is redeemable, mintable, stable, and fully backed up. 
EMAX Price History
EMAX was launched in May 2021 with a total supply of 2 quadrillions.  Coinmarketcap listed the first Emax price at $0.00000017 on 18 May 2021. Basketball star Paul Pierce and American boxer Floyd Mayweather promoted EthereumMax all through May 2021, which led to a boost of 632%. Kim Kardashian promoted the token on 14 June 2021. On 15 June, the value of EthereumMax dropped by 98% after the creators of EthereumMax sold their shares and 'locked' their wallet addresses. Emax set its all-time high price on 29 May 2021 at $0.00000092.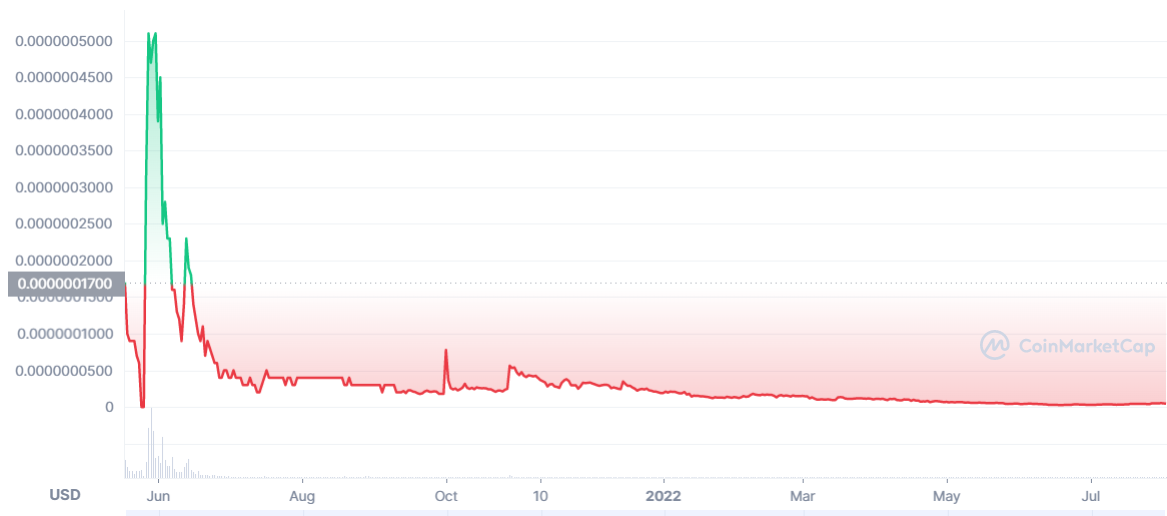 EMAX has been on a continuous downward trend from this year's opening price of $0.0000000191. It has lost 60% of its value this year.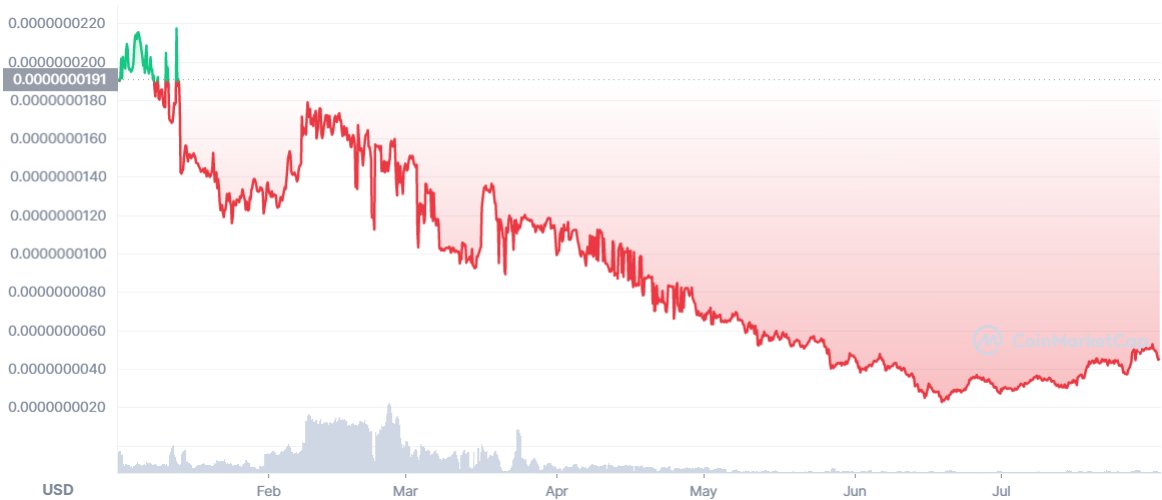 Conclusion 
Ethereummax ecosystem started without a pre-sale to ensure equality within the community; its initial marketing strategy, however, resulted in many controversies. The initial hype in 2021 from promotions by celebrities like Kim Kardashian died in a severe market crash, and many people lost money. The ensuing legal battle on the alleged pump and dump scheme has since overshadowed Ethereummax's performance. 
While the critics may be wrong on the alleged crime, it will take the Ethereummax ecosystem a long time and dedication to regain trust from the crypto community. 
Ethereummax has a low market cap and can easily be manipulated; its price is, however, expected to increase once the crypto bear market ends. 
---
Source
---
Back to the list