Back to the list
Will The Relief Rally Extend To These DEX Tokens?
www.altcoinbuzz.io
01 August 2022 12:38, UTC
Reading time: ~4 m
---
It is slowly becoming clear that cryptocurrency traders would be better to use DEXs and keep their money in non-custodial wallets. The market is currently flooded by DEXs that provide crypto trading services in addition to other goods.
Given that they have shown to be resilient during the bad market and as investor opinion toward centralized crypto exchanges. DEXs have a stronger chance of capturing the majority of the market. The liquidity issue is challenging to resolve, though. No matter if the platform is decentralized or uses order books or AMM, its popularity remains the main source of liquidity. In terms of interest rates, the latter does offer farming a yield, though.
DEXs will undoubtedly maintain their position in the cryptocurrency ecosystem in light of all of these developments and the growing possibility of deplatforming by adversarial governments. Let's look at a few DEX tokens.
PancakeSwap (CAKE)
The decentralized exchange (DEX) PancakeSwap, which is based on the BNB Chain, has received funding from Binance Labs, the venture capital division of Binance. This DEX is one of the leading project on BSC network.  In addition, PancakeSwap has recently revealed agricultural auctions will take place in the first week of August, as the market remains robust. Let us look at the CAKE price levels.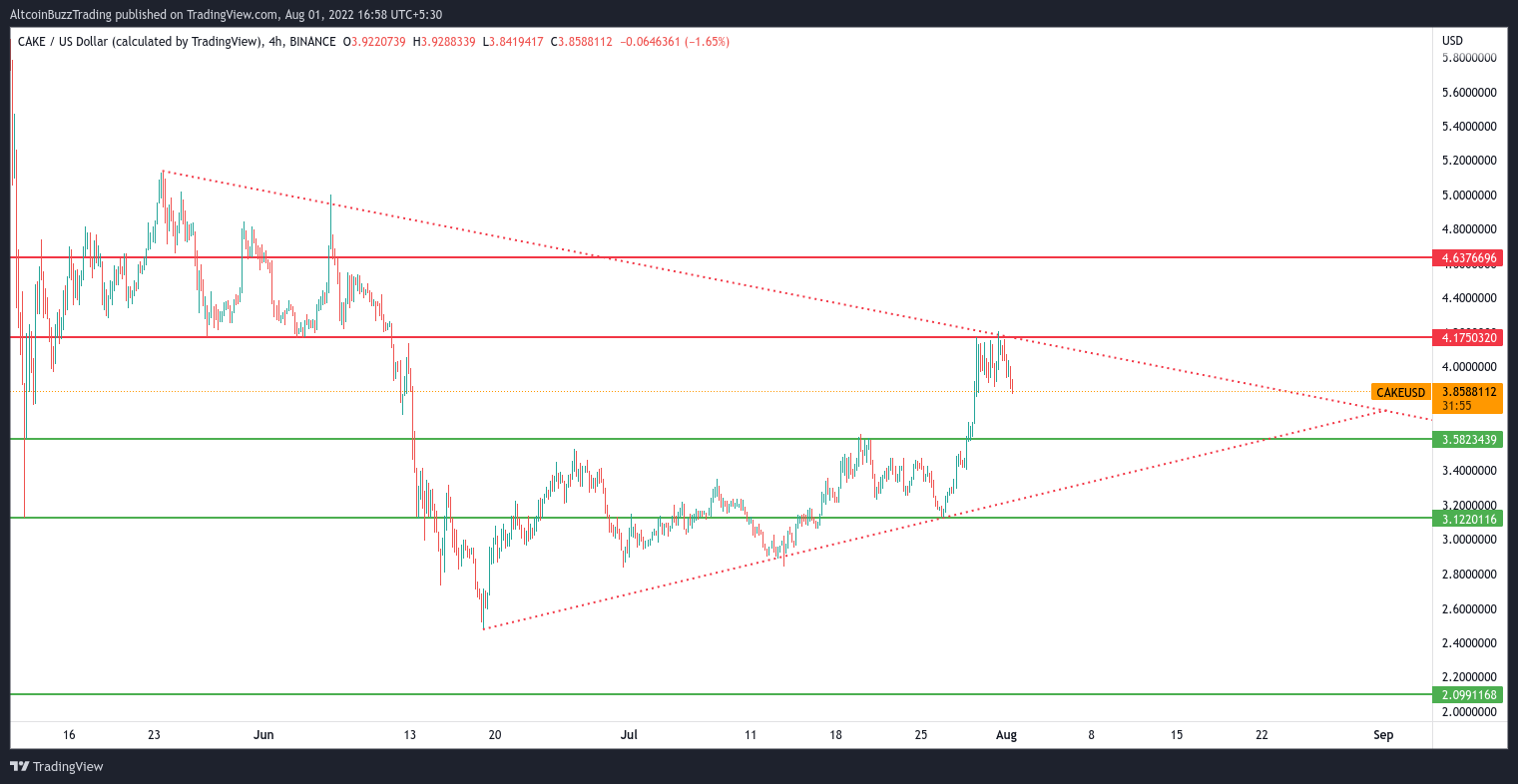 The CAKE token increased by $1.6 or 60%, between June 18 and July 27. If CAKE is unable to pass the $4.17 resistance level, it can retreat to the significant support level of $3.58. In the short term, CAKE must break through the $4.17 resistance level in order to go to the $4.63 substantial resistance level. For the mid-term to remain bullish, CAKE must maintain a price above the $4.63 barrier level. The lower time frame is leaning bullish
Raydium (RAY)
Investors are soon learning about an ecosystem of complementary projects interacting inside the Solana network thanks to initiatives like Raydium (RAY), which is currently under development on the platform. But for Raydium traders, what counts most are the light-speed swaps, alluring yield farms, and chances to stake for interest provided by the trading platform. For your RAY tokens, the DEX provides a variety of yield farms, liquidity pools, and staking opportunities, but RAY is also used to run the protocol. Let's look at the RAY price levels.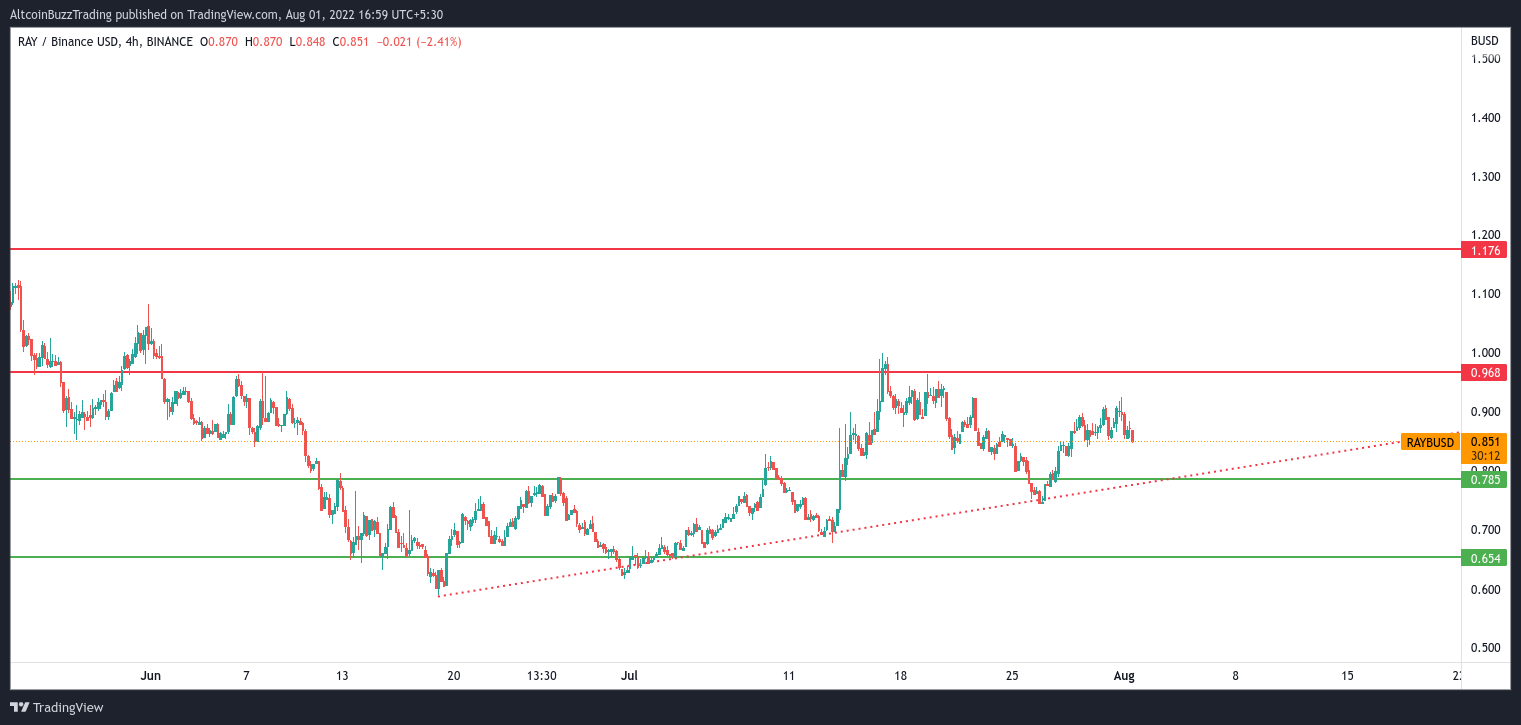 RAY recently attempted to close above the $0.96 resistance level but was unsuccessful. The $0.78 or $0.654 support levels is crucial to sustain. The $1 and $1.17 significant resistance levels for RAY may be reached if it closes above the $0.96 resistance level.
1inch (1INCH)
1inch is a group of inseparably connected composable decentralized financial (DeFi) instruments. Due to an increase in its quarterly revenue, its network made tremendous progress last quarter. Additionally, in Q2 2022, the overall number of transactions performed on the network increased. In the most recent quarter, 1inch Network's total network volume increased by 8% to $47 billion, according to the report. Its overall network volume was $44 billion in Q1. Let us look at the 1INCH price levels.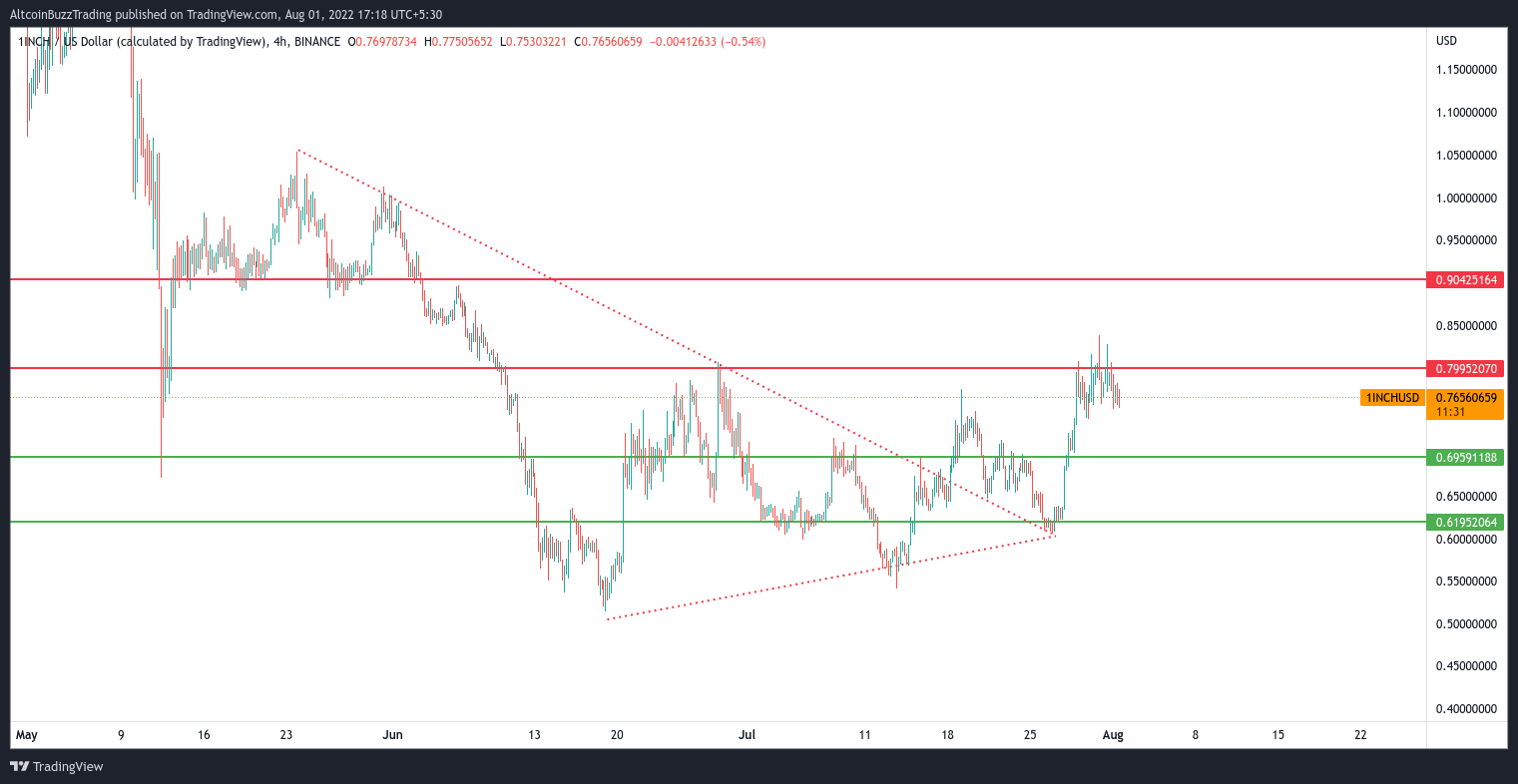 The crucial support level at $0.8 was not strong enough to sustain. This price level will experience resistance over the coming days or weeks. The $0.69 and $0.61 price levels have provided some support for the time being. 1INCH must overcome the $0.8 price level in order for a short-term bullish trend to triumph against downward momentum. The next level of resistance will be near $0.90 and above if it succeeds in breaking through.
Images courtesy of TradingView.
Disclaimer
The information discussed by Altcoin Buzz is not financial advice. This is for educational and informational purposes only. Any information or strategies are thoughts and opinions relevant to accepted levels of risk tolerance of the writer/reviewers and their risk tolerance may be different than yours. We are not responsible for any losses that you may incur as a result of any investments directly or indirectly related to the information provided.
Do your own due diligence and rating before making any investments and consult your financial advisor. The researched information presented we believe to be correct and accurate however there is no guarantee or warranty as to the accuracy, timeliness, completeness. Bitcoin and other cryptocurrencies are high-risk investments so please do your due diligence. Copyright Altcoin Buzz Pte Ltd. All rights reserved.
---
Source
---
Back to the list