Back to the list
Grim Numbers Discourage Crypto Players as Bitcoin Crashes Anew; Other Coins Also Battered
www.livebitcoinnews.com
01 February 2019 13:50, UTC
Reading time: ~2 m
---
Bitcoin (BTC) is still in the doldrums across key trading floors, as Bitfinex pegged the crypto at $3,510, while Coinbase sells it for $3,422.
Losses unabated
Coinbase Pro reached a daily volume of $55 million against Bitfinex's $102 million. BitMEX, on the other hand, which raked in three-quarters of a billion dollars during the same period, has it even lower compared to Coinbase, at $3,417.
Based on Coin360 update, all of the major 20 digital currencies are disclosing modest to heavy declines on the day as of this posting, with Bitcoin sliding again under the $3,450 mark.
The global barometer in crypto, bitcoin needs to rebound to the $3,500 level. However, volume plays a crucial role in terms of general investor sentiment, and it doesn't look like a good number of market players will put more premium on it as we speak.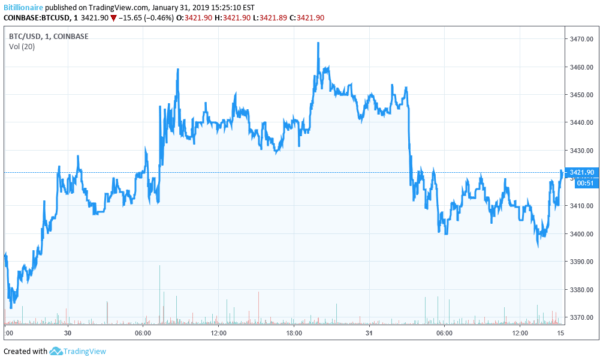 Psychological impact
The majority perception is that the $3,000 mark is a conceptual indicator, and that a consistent price drop could signify an even deeper loss of support which sets the stage to a new complication: a price depression that could further discourage market forces to rally behind the crypto.
Here's an overview of how bitcoin's other counterparts are faring early today:
Ripple (XRP) has shed almost 3.5 percent and is currently trading at around $0.307. On its weekly chart, XRP slid lower than than its previous $0.315 level which is likewise lower compared to its $0.332 mark reported earlier today.
Ethereum (ETH), the second-biggest altcoin in terms of market cap, has also had its share of setbacks, dropping more than 2 percent since Thursday. The altcoin is trading around $106, having started the 24-hour period around $3 higher.

Hammered
Among the top 20 cryptocurrencies, the coins being battered the most are Nem (XEM), which plummeted more than 11 percent — and Tron (TRX) and Bitcoin SV (BSV), which have both lost around 6 percent since yesterday.
The total market cap of all cryptocurrencies, valued at around $113.4 billion as of this writing — is about 6.1 billion lower than $119.7 billion a week ago. As of January 29, total crypto market cap peaked at an intra-month low of around $111 billion.
What will keep bitcoin and the other major coins from crashing further? Tell us on the comments below.
---
Source
---
Back to the list