Back to the list
What's The Next Support Level For EVMOS?
www.altcoinbuzz.io
13 July 2022 15:54, UTC
Reading time: ~2 m
---
Built on the Cosmos blockchain, Evmos is a proof-of-stake (PoS) technology. In essence, it's also a significant interoperability move for the Cosmos network. It is intended to work with different Ethereum Virtual Machine (EVM) ecosystems.
The Evmos V6 update was successful. It recently underwent a major improvement that increased speed and decreased gas costs. Additionally, it has been through a continuing airdrop-claim process, which is very helpful. Now, they have decreased congestion, imposed the minimum gas fee, enhanced stability, and established 2-second block intervals. Let's take a look at the EVMOS price
EVMOS Price Prediction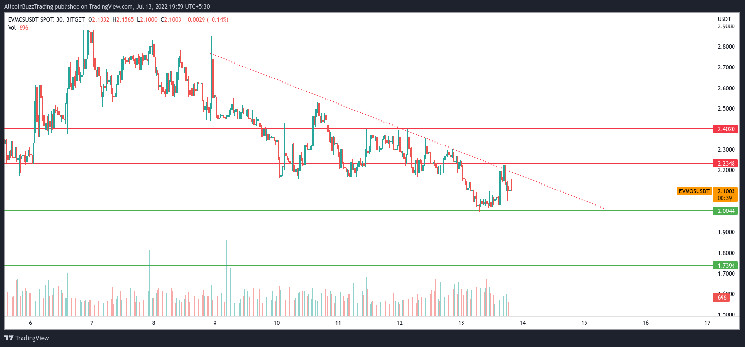 The EVMOS price is currently around $2.13. It has climbed by more than 80% since it was at its lowest price of $1.12. On the four-hour chart, the price of EVMOS has been on a bullish trend, although it was rejected at a key resistance level at $2.23.
The EVMOS may continue to climb in the near future despite Cosmos' long-term bearish tendency. If this happens, $2.23 and $2.4 will be the next important resistance levels to pay attention to. The positive outlook will be invalidated if the EVMOS price falls below the $2 support level.
And for our best, freshest research on NFT buys, Layer 1 chains, DeFi, or games, come check out Altcoin Buzz Access. Plans start at only $99 per month
For more information on cryptocurrency, visit the Altcoin Buzz YouTube channel.
Images courtesy of TradingView.
Disclaimer
The information discussed by Altcoin Buzz is not financial advice. This is for educational and informational purposes only. Any information or strategies are thoughts and opinions relevant to accepted levels of risk tolerance of the writer/reviewers and their risk tolerance may be different than yours. We are not responsible for any losses that you may incur as a result of any investments directly or indirectly related to the information provided.
Do your own due diligence and rating before making any investments and consult your financial advisor. The researched information presented we believe to be correct and accurate however there is no guarantee or warranty as to the accuracy, timeliness, completeness. Bitcoin and other cryptocurrencies are high-risk investments so please do your due diligence. Copyright Altcoin Buzz Pte Ltd. All rights reserved.
---
Source
---
Back to the list