Back to the list
Tron [TRX] plunges by over 5% within an hour
ambcrypto.com
01 February 2019 05:30, UTC
Reading time: ~2 m
---
The cryptocurrency market has been going through a rough patch with the alternating bearing and bullish trend. Tron [TRX], the eighth largest coin on the CoinMarketCap list had been giving a tough fight to the bear and had succeeded as it managed to climb up the cryptocurrency list. However, January 31 saw the wrath of the bear that took down Tron by a staggering 8.2%, over the past day.
At the time of press, the coin was valued at $0.0255 with a market cap of $1.7 billion. The coin registered a 24-hour trade volume of $280 million with a fall of 8.22% over the past 24 hours. The coin was still falling by 5.30% while reporting and has noted a dip of 4.78% over the past week.
Tron [TRX] has had this phase where it suddenly falls by a massive margin and immediately starts recovering. On January 27, TRX's market cap peaked when it hit $2 billion in terms of market cap, after which it fell tremendously and recorded a market cap of $1.788 billion on the very next day.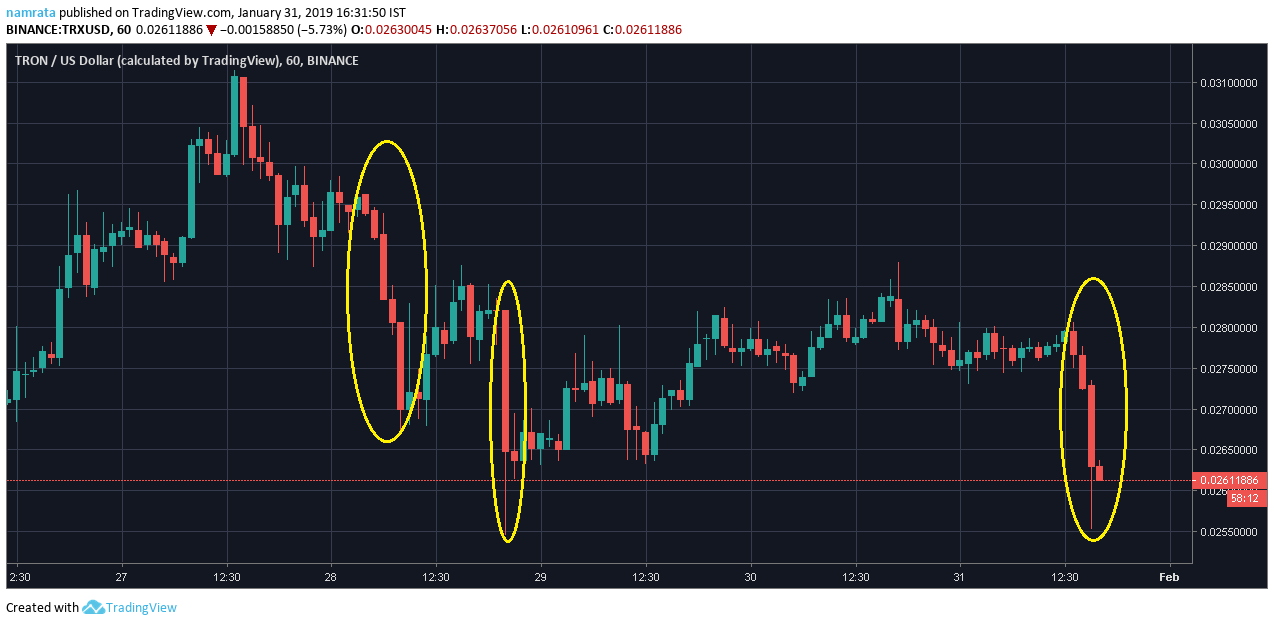 Source: Trading view
The coin noticed two more such falls, on January 28 when it fell in terms of market cap as it reached $1.734 billion after which it saw a sideways movement. However, again on January 31, the coin fell massively with over 5% in an hour.
The coin was highly traded on OEX recording a volume of $66.74 million with OEX TRX/ETH pair. The second exchange to record the second highest volume was Huobi Global, which registered a volume of $22.67 million with TRX/USDT.
TRX had had its moment of pumping around the niTron summit and close to BitTorrent [BTT] token launch. Tron foundation's founder and Chief Executive Officer [CEO], Justin Sun had offered to airdrop BTT token for the willful investors who wanted to purchase the BTT token and were unable to do so due to a certain glitch in the system. Sun had tweeted:
"I would like to explore the possibility with @binance to giveaway free $BTT to everyone on launchpad fails to get #BTT today. #BitTorrent community wants you! Not 100% guarantee. Need to figure out detail. BUT RT if you agree! @cz_binance #TRON $BNB $TRX".
Sun tweeted about the completion of this airdrop the very next day. However, that hasn't protected its cryptocurrency, TRX from the loitering bear.
---
Source
---
Back to the list