Back to the list
Tron [TRX] Technical Analysis: Coin hangs by the bull's horn
ambcrypto.com
31 January 2019 13:50, UTC
Reading time: ~2 m
---
The cryptocurrency market saw a sudden spike on January 30, during which XRP and Bitcoin Cash [BCH] pumped. Tron [TRX], the eighth-largest coin, did not see a massive rise during this flash hike, however, was not performing worst either.
At the time of press, the coin was valued at $0.0273, with a market cap of $1.8 billion. The 24-hour trade volume of the coin was noted to be $250 million and registered a growth of 2.57% over the past week. The coin dipped by 0.98% over the past day but is slowly recovering as it registered a growth of 0.24% over the past hour.
1-hour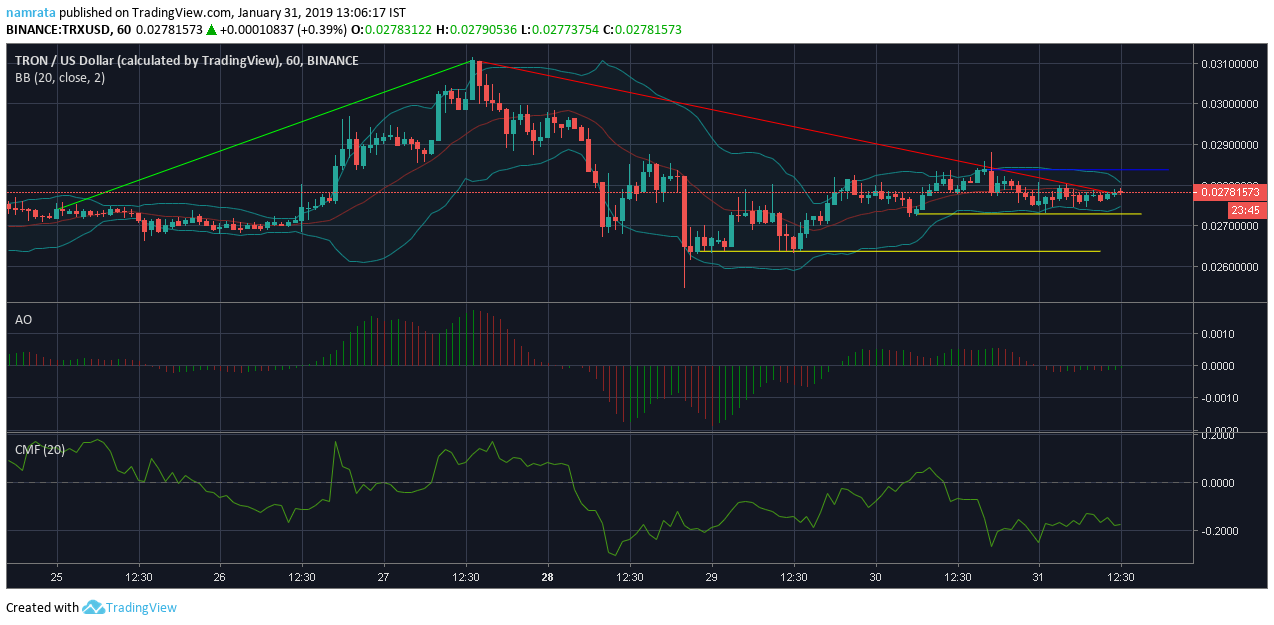 Source: Trading view
As per TRX's one hour chart, an uptrend was noted from $0.0310 to $0.0273 after which it reported a downtrend from $0.0310 to $0.0277. The coin marked resistance at $0.0283 and support at $0.0263.
Bollinger Bands appear to be converged, decreasing the volatility in the market. The moving average line is under the candlesticks, marking a bullish trend.
Awesome Oscillator marks a weakened bullish momentum.
Chaikin Money Flow is under zero, pointing towards a bearish reign. However, at the time of press, a sudden spike is seen where the market is reaching the zero mark and might just cross it, changing it to a bullish trend.
1-day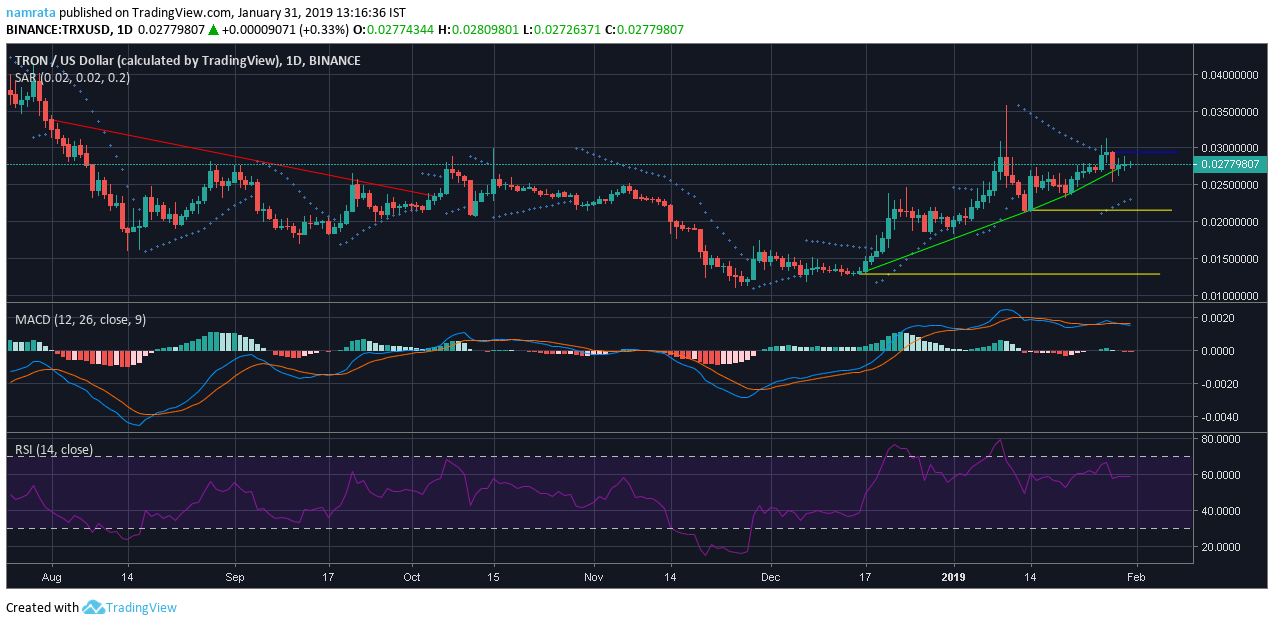 Source: Trading view
TRX's one-day chart marks a downtrend from $0.0338 to $0.0234. The coin noted an uptrend from $0.0132 to $0.0272 and resistance at $0.0294. The coin reported two supports, one at $0.0215 and another one at $0.0128.
Parabolic SAR notes the markers have aligned under the candlesticks, indicating a bullish market.
MACD line is under the signal line, pointing towards a bearish market.
Relative Strength Index indicates that the buying and the selling pressures are evening each other out.
Conclusion
Most of the indicators like, Parabolic SAR, Awesome Oscillator, and Bollinger Bands predict a bullish market. Whereas, Chaikin Money Flow and MACD are bearish for the coin.
---
Source
---
Back to the list