Back to the list
KNC Technical Analysis: Will KNC Prices Return To $2 This Month?
cryptoknowmics.com
06 July 2022 15:15, UTC
Reading time: ~2 m
---
KNC technical analysis shows a rounding bottom reversal from the $1.18 mark to surpass the overhead resistance trendline. Will the breakout rally reach $2?
Key Technical Points:
KNC prices have jumped by 8.93% in the last 24 hours.
The bullish reversal exceeds the long-coming resistance trendline.
The 24-hour trading volume of Kyber Network Crystal is $73.59 Million, indicating a hike of 271%.
Past Performance of KNC
The KNC price action attempts to form a rounding bottom pattern with the bullish reversal from the $1.18 support level. The bullish reversal comes after a 50% drop in the market value under the resistance trendline influence. Additionally, the reversal rally surpasses the resistance trendline with a 4.87% jump on the 4th of July.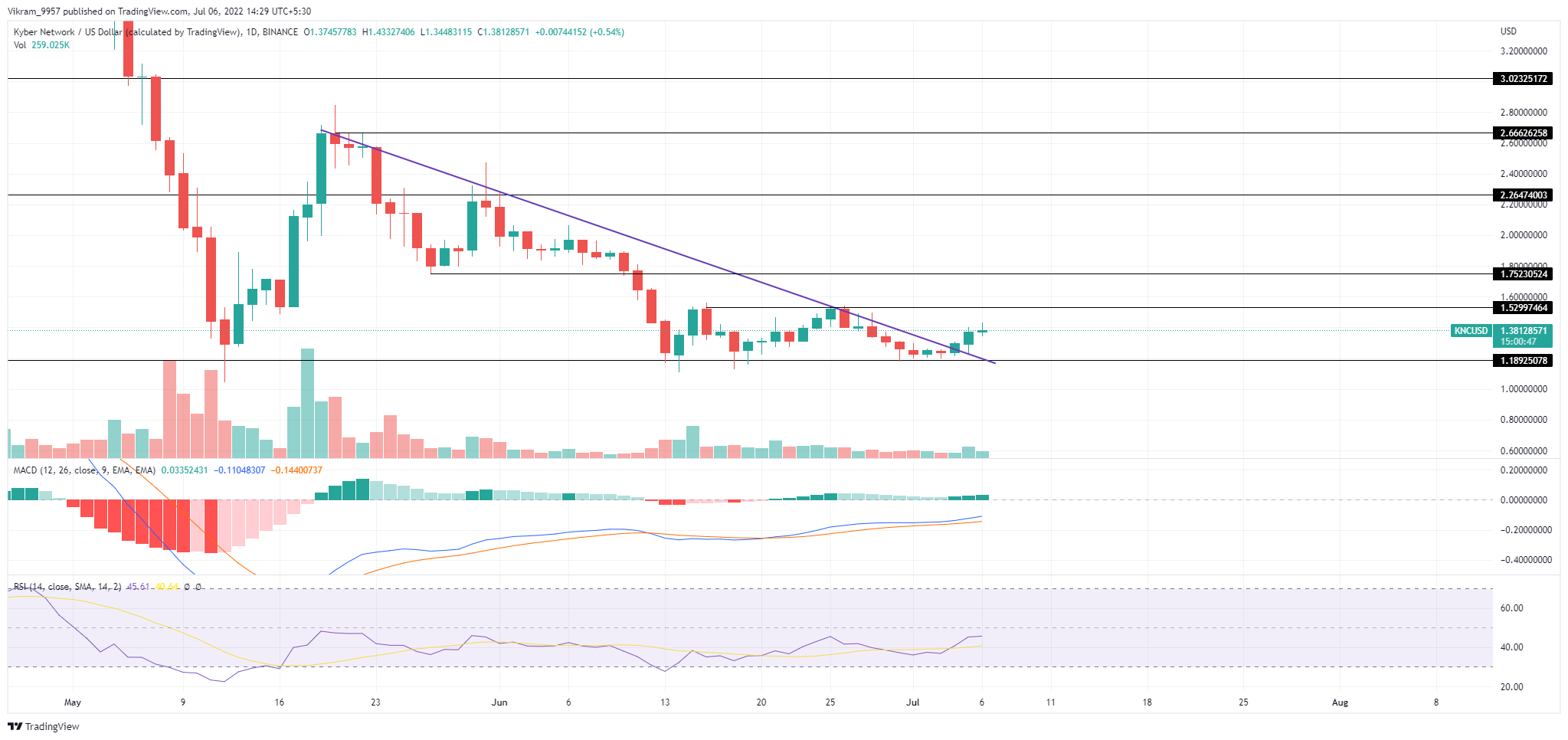 Source - Tradingview
KNC Technical Analysis
Over the last two days, the 15% bullish jump in the KNC prices surpasses the resistance trendline displaying a rise in buying pressure. Hence, the price action analysis takes a bullish point of view, indicating a potential bull run to the $1.5 mark. The bullish trend in the fast and slow lines of the MACD indicator approaches the zero line with an increase in the bullish spread. Hence, the MACD indicator displays a rise in the underlying bullish sentiments. The RSI indicator shows a gradual increase in the underlying bullishness as the  RSI  slope surpasses the halfway line. The bullish continuation comes after taking support from the 14-day average line. Hence, the technical indicators take an optimistic approach indicating a higher likelihood of a bull run. In a nutshell, the KNC technical analysis forecasts an upcoming bullish trend ready to reach the $1.50 mark.
Upcoming Trend
The bullish breakout rally will launch the KNC prices above the $1.55 mark to reach the psychological mark of $2. Resistance Levels: $1.55 and $2 Support Levels: $1.18 and $1
---
Source
---
Back to the list