Back to the list
CRV Technical Analysis: Buyers Plan To Escape The Symmetrical Triangle
cryptoknowmics.com
05 July 2022 21:54, UTC
Reading time: ~2 m
---
CRV price shows a bullish trend within a symmetrical triangle pattern, gaining trend momentum and increasing the possibility of a breakout. 
Key technical points:
The CRV market price has jumped by 9.24% in the last 24 hours. 

The market prices show a bull cycle gaining momentum within a triangle pattern. 

The 24-hour trading volume of Curve Dao is $182 Million, indicating a rise of 30.29%.  
Past Performance of CRV
CRV prices showcase a bullish reversal from the $0.55 mark Resulting in the formation of a support trendline that shapes the symmetrical triangle pattern. Furthermore, the recent bullish reversal from the support trendline resulted in a price jump above $0.85 to challenge the 50-day average line. Hence, traders can expect the reversal rally to surpass the opposing SMA and the resistance trendline shortly.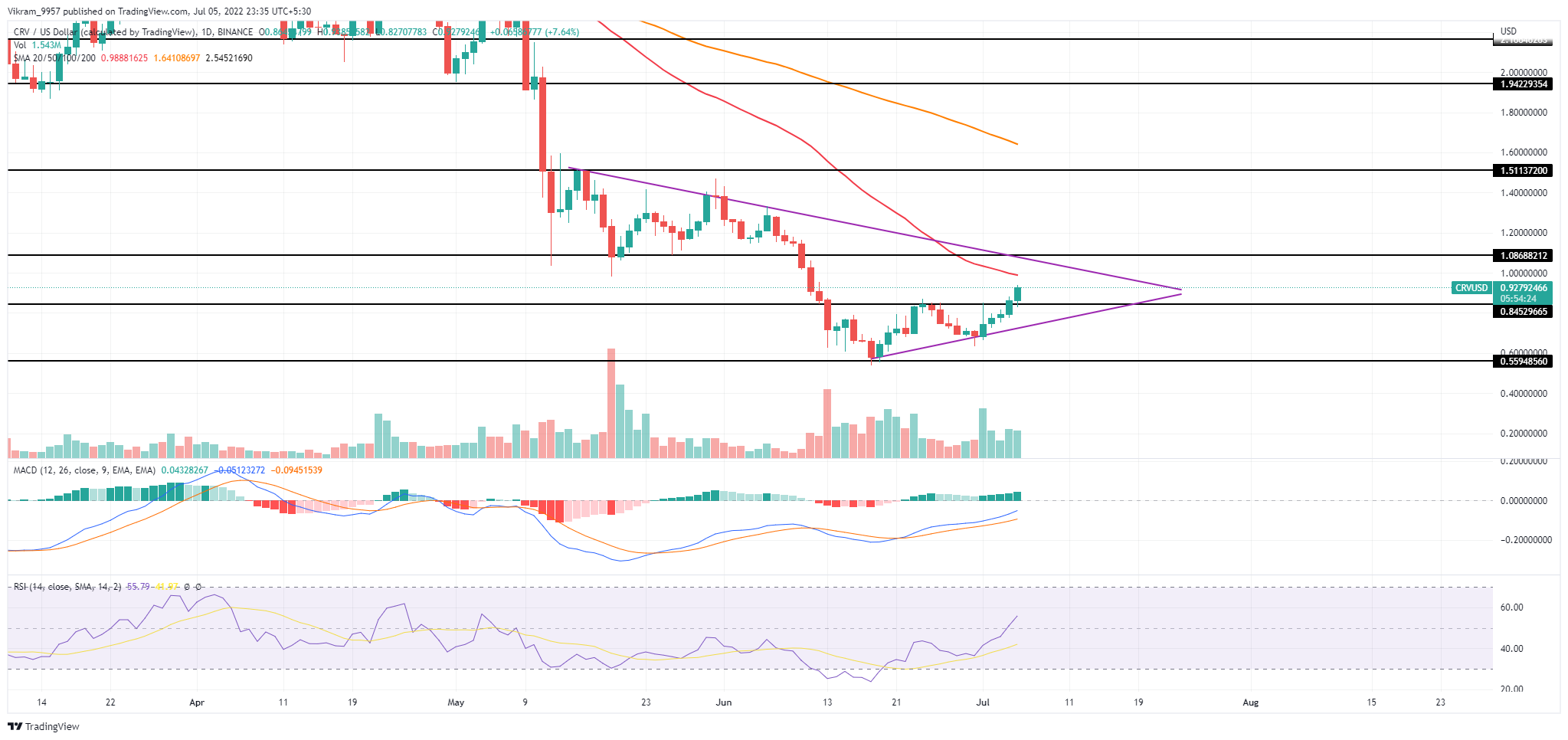 Source- Tradingview
CRV Technical Analysis 
CRV price action shows an increase in the trading volume, supporting the bullish reversal within the triangle pattern. Thus, increasing the likelihood of a bullish breakout of the resistance trendline. Traders can expect the breakout rally to reach $1.50 after surpassing the 50-day SMA. The bullish reversal starting from $0.55 starts a bullish trend in the fast and slow line of the MACD indicator bullish sentiments. Hence, the indicator forecasts a prolonged uptrend leading to the bullish breakout of the triangle pattern. The RSI indicator also showcases a bullish reversal in the underlying sentiments. It is evident by the positive trend in the RSI slope exiting the oversold territory. Moreover, the slow enters the nearly overbought territory with the support of the 14-day SMA. Hence, the technical indicators take a bullish standpoint for the upcoming trend and promote the idea of a bullish breakout. In a nutshell, the CRV technical analysis displays the technical indicators aligned with the price action analysis, suggesting the traders to wait for a breakout entry.
Upcoming Trend
If the buying pressure grows over the week, the CRV prices will surpass the resistance trendline to reach the $1.50 mark.  Resistance Levels: $1.08 and $1.50 Support Levels: $0.84 and $0.55
---
Source
---
Back to the list