Digital currencies have been dominating different segments of the payments ecosystem, smart contracts, and tokens of storage values. While different industries could have utilized several such tokens, Chiliz got into the picture to reap the benefits of the digital ecosystem of sports industries.
Launching Socios was another attempt to monetize fans' support by offering them a say in various aspects and elements of their favorite sports team, be it their uniform, jersey patterns, or votings for engaging stuff. It not only unlocked fresh revenue methods for the clubs and team owners but even allowed fans to be a part of their sports community by offering them a say.
2020 was a year of huge disbelief as major sports events were postponed and delayed. Subsequently, operating stadiums with limited spectators added to the losses of clubs and team operators. CHZ's launch and expansion of its Socios platform can be a boon for sports clubs.
Drawing even the passive fans to the monetary stream allowed for expansion of CHZ in the short term with a much larger and explosive growth possibility in coming years as people tend to enjoy viewing their team in action from the comfort of their couches.
Chiliz is currently trading at $0.10, with a decline of 89% from its market peak of $0.8915 in 2021. It boasts a market capitalization of $588,081,531with an active circulating supply of over 6,000,378,771 CHZ tokens. 32% of the CHZ tokens have not yet entered the digital markets. Hence, the chances of a pump and dump scenario seem far-fetched.
The Chiliz price analysis is negative in the first look, comparing the price trend in the last 12 months. But the growth and expansion of its ecosystem could take a jump after it makes a clear bottom and buyers set their clock to hoard CHZ tokens for upside possibilities. Read our Chiliz price prediction to know the coin's future projections for the coming years.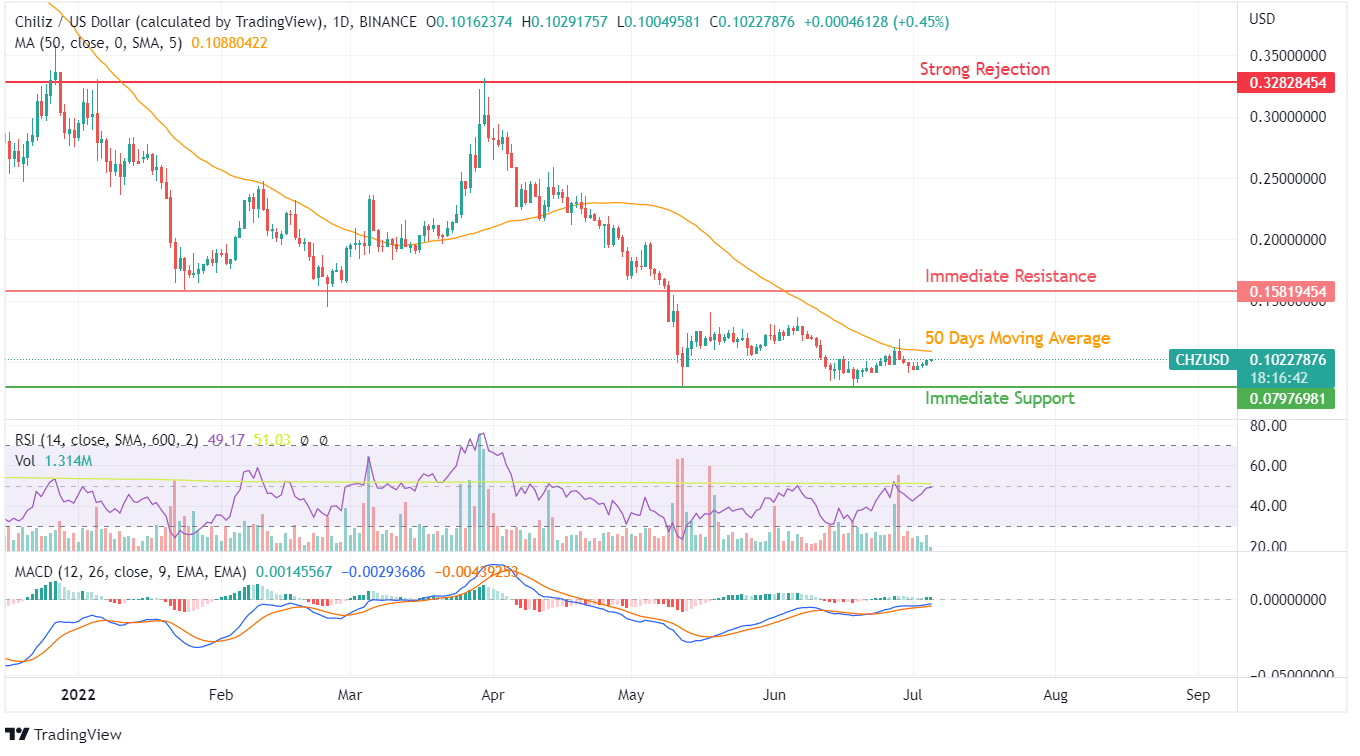 In the past three months, Chiliz has declined from $0.32 levels to multiple rounds of volatile price action. Hitting a fresh year low of $0.079 in May 2022 was a blow to what enthusiasts were expecting. The BTC price has created a negative scenario in the crypto market. Since actual economies have improved in the post-pandemic era compared to the time during lockdowns, there would be a slow down in digital currency's acceptance by the masses. 
Despite a dipping market value, CHZ sentiment on the RSI indicator is rather positive, with 49 on the histogram, while prices are barely 20% above the year low level it touched in previous months. The MACD indicator has resisted a bearish crossover, which was on its way towards an upper trading band.
The 50 DMA curve can be taken as an indicator of its two monthly positive trends, and to our expectations, CHZ hasn't been able to overcome this resistance set up in the last two months. Transactional volumes have remained low in the past six months, showcasing possible holdings of its released supply as payments to other players. 
CHZ showcases an emerging possibility in the current digital age that tends to offer more control to the active and passive fans while bringing in more revenue to the sports team and clubs. Enthusiastic investors should take benefit of this crypto network but not with the hopes of turning into millionaires.