Back to the list
Will These Stablecoin Governance Tokens Go Terra's Route?
www.altcoinbuzz.io
15 June 2022 11:20, UTC
Reading time: ~4 m
---
Cryptocurrencies are notorious for their tremendous volatility, with price swings in the tens of thousands of dollars. Stablecoins, on the other hand, are a sort of cryptocurrency that promises to be a secure haven for those seeking to avoid incessant volatility.
In the previous year, however, algorithmic stablecoins such as terraUSD (UST), Multi-Collateral Dai (DAI), frax (FRAX), and neutrino usd(USDN) have emerged, each with its own collateralization (USDN).They're known as algorithmic because they're supported by an on-chain algorithm that allows for supply and demand fluctuations between the stablecoin and another cryptocurrency that maintains it afloat.
Algorithmic stablecoins tokens are usually undercollateralized, meaning they lack independent assets in reserve to support their stablecoins' value. However, the TerraUSD tokens abruptly 'de-pegged' from the dollar, wiping out 95% of investors' money overnight. Terra's demise not only caused investors to lose faith in cryptocurrencies, but it also taught them that all digital assets are inherently volatile. Let's look at some other major stablecoin governance tokens
Maker (MKR)
MKR is the governance token of the MakerDAO and Maker Protocol. DAI, an Ethereum-based stablecoin, is governed by the Maker Protocol and MakerDAO. The price of DAI is soft-pegged to the US dollar and backed by a mix of other cryptocurrencies that are stored in smart contract vaults when a new DAI is released.
DAI was the market's first and largest decentralized stablecoin prior to UST's meteoric surge. While everyone is predicting the demise of algorithmic stablecoins, DAI has managed to thrive. It held up throughout a period of tremendous volatility, and for some investors, it even served as a safety net. MKR tokens serve as a voting share for the DAI management group. Let us look at the MKR price
MKR Price Prediction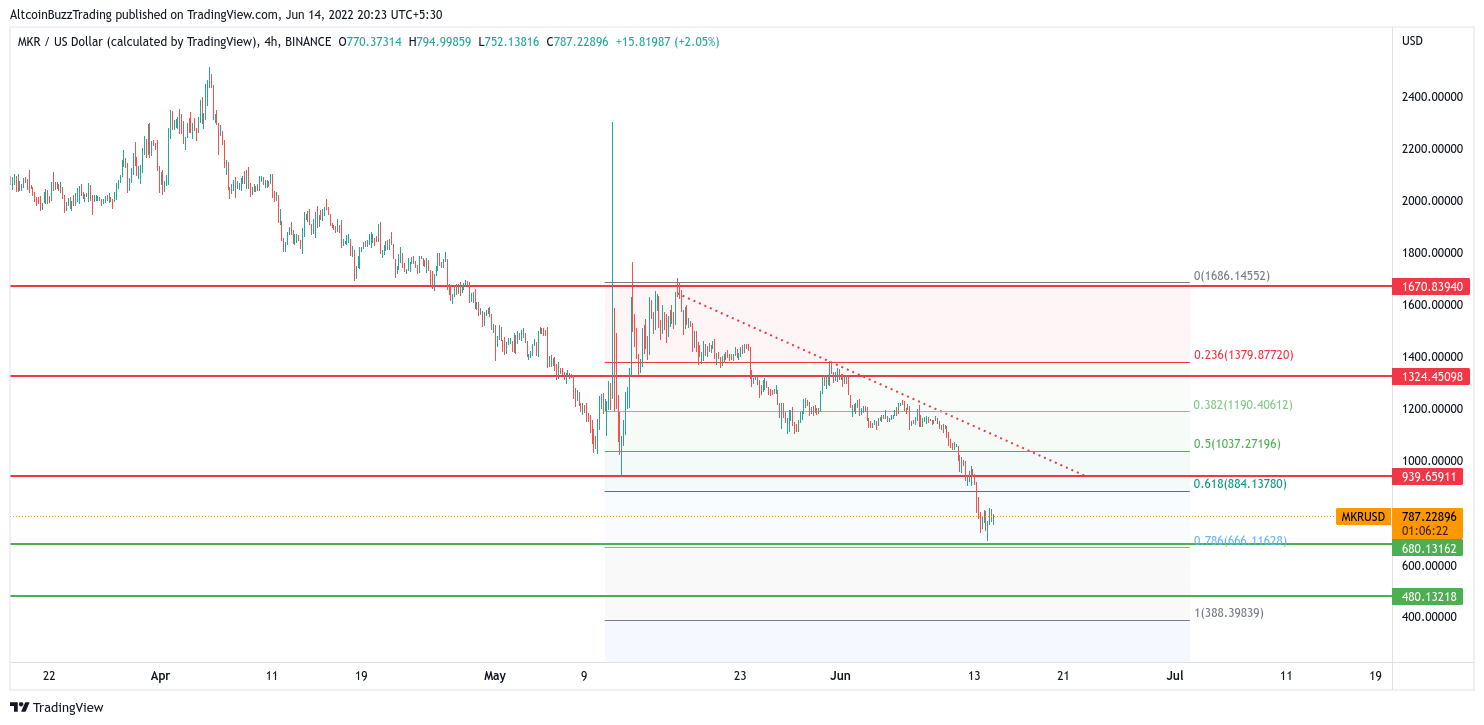 MKR retraced to the important support level of $680 after failing to break through the $1324 resistance level. It is experiencing low volatility as the price action is hovering around the $700 mark, with neither side able to break out. It could attempt the $1324 level again if it manages to break through the $939 resistance level.
Frax Share (FXS)
One of the first algorithmic stablecoin systems was Frax Protocol. Frax is the largest holder of Convex's CVX governance token, accounting for 16.7% of the total supply. Frax holds a big amount of external collateral from FRAX minting. The AMO(Algorithmic Market Operations) controllers produce significant profit for the protocol. It is finally sent to FXS holders via buybacks and token burns. Let us look at the FXS
FXS Price Prediction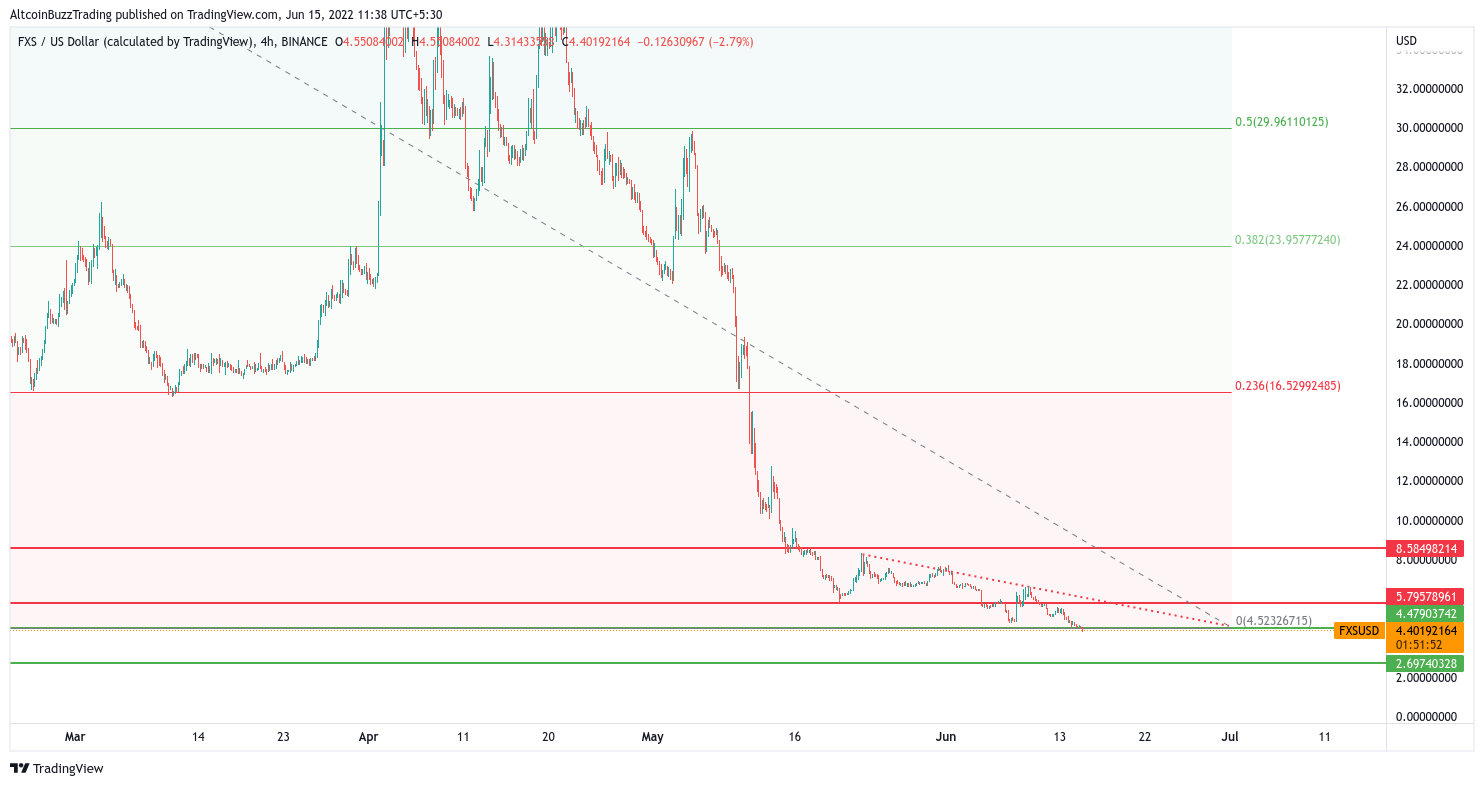 After testing the $4.47 support level and breaking over the $5.79 resistance level a few days ago, FXS gained traction. However, it was unable to maintain its position above the $5.79 resistance level and plummeted to the $4.47 support level. FXS can aim for the $6.7 and $8.58 significant obstacles if the bulls break past the $$5.79 resistance level again.
Waves (WAVES)
The Waves (WAVES) team has released a DeFi Revival strategy with aim of making its customers whole and restoring full protocol functionality. Fresh steps will be part of the overall strategy to 'attract new liquidity to USDN and strengthen the architecture of the algorithmic stablecoin to withstand future black swan events.
Sasha Ivariv, the founder of Waves, has also pledged to personally absorb the $400 million in debt. Upbit, South Korea's largest crypto exchange, has cautioned that the depreciation of the USDN and USDD tokens could pose a risk to WAVES and TRON (TRX). The Neutrino USD (USDN) is currently trading at $0.96. It has a negative impact on the WAVES token prices. Let us look at the WAVES
WAVES Price Prediction

After hitting the $64 price level, WAVES is down 94%. It has also recently lost the critical support level of $8.22. This price level will act as a resistance in the following days or weeks. The $4.1 price level has provided some support for the time being. WAVES must also break through $8.22 in order for a short-term bullish bias to succeed in overcoming downtrend momentum. The next resistance level is $11.03, if it passes through.
And for our best, freshest research on NFT buys, Layer 1 chains, DeFi, or games, come check out Altcoin Buzz Access. Plans start at only $99 per month
For more information on cryptocurrency, visit the Altcoin Buzz YouTube channel.
Images courtesy of TradingView.
Disclaimer
The information discussed by Altcoin Buzz is not financial advice. This is for educational and informational purposes only. Any information or strategies are thoughts and opinions relevant to accepted levels of risk tolerance of the writer/reviewers and their risk tolerance may be different than yours. We are not responsible for any losses that you may incur as a result of any investments directly or indirectly related to the information provided.
Do your own due diligence and rating before making any investments and consult your financial advisor. The researched information presented we believe to be correct and accurate however there is no guarantee or warranty as to the accuracy, timeliness, completeness. Bitcoin and other cryptocurrencies are high-risk investments so please do your due diligence. Copyright Altcoin Buzz Pte Ltd. All rights reserved.
---
Source
---
Back to the list