The Icon blockchain network comprises a wide range of institutions like financial institutions, insurance companies, hospitals, and much more. It aims at connecting digital money to real life. It is a user-friendly platform that facilitates safe and fast cryptocurrency transactions and provides high liquidity. ICX is the customized token of this ecosystem. You can view its current technical analysis as follows.
Past Performance
On Jun 11, 2021, ICX opened at $0.99. On Jun 17, 2021, ICX closed at $1.07. Thus, in the past week, the ICX price has increased by roughly 8%. In the last 24 hours, ICX has traded between $1.03-$1.16.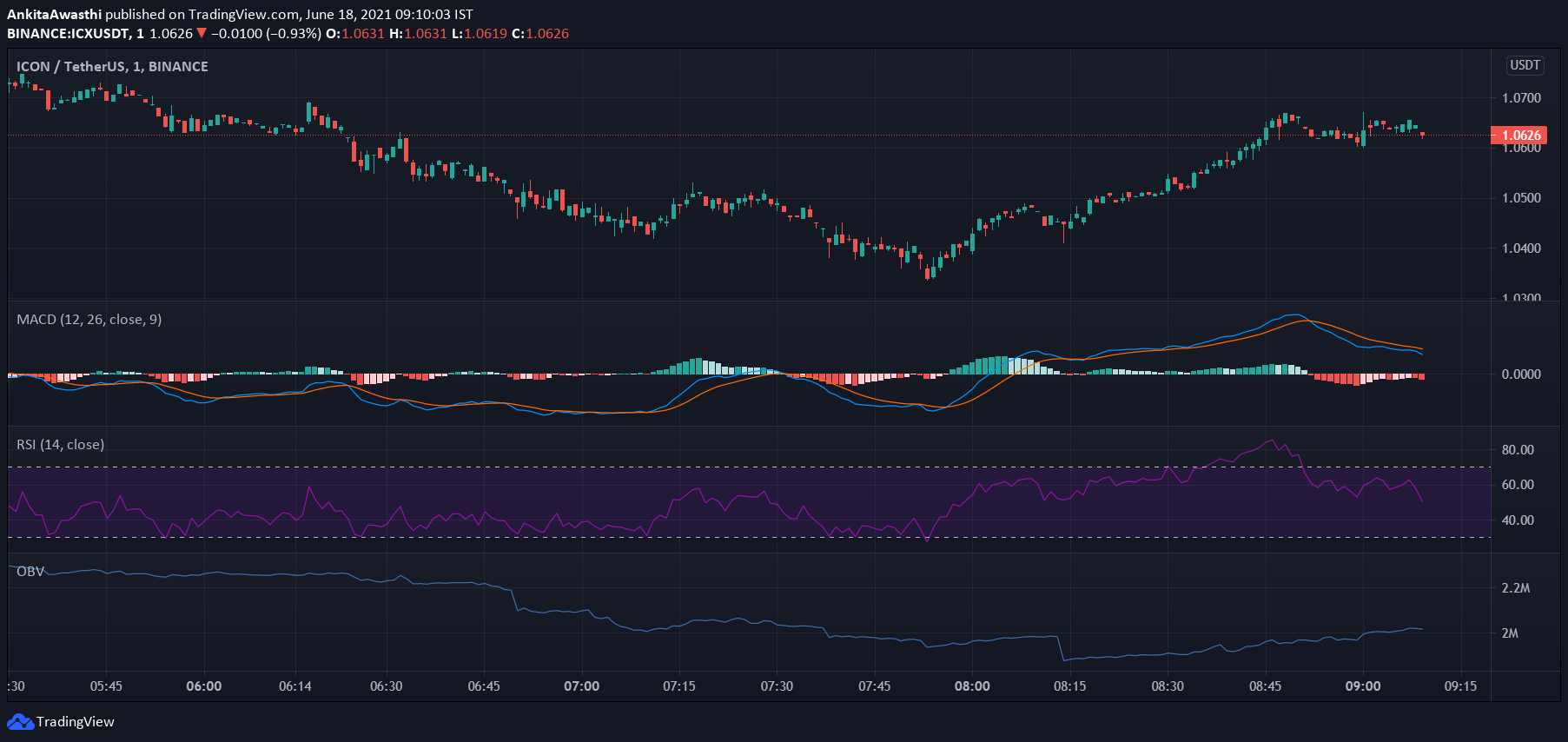 https://s3.tradingview.com/snapshots/n/NwZWkJLV.png
Day-Ahead and Tomorrow
Currently, ICX is trading at $1.06. The price has decreased slightly from the day's opening price of $1.07. Thus, the market seems bearish.
The MACD and signal lines are positive. Thus, the overall market momentum is bullish. However, a bearish crossover by the MACD line over the signal line has occurred. Hence, we can expect an intermittent price pullback amidst an overall positive trend.
Currently, the RSI indicator is at 48%. It faced rejection at 52% and fell to the current level. Hence, selling pressures are high. Heavy offloading of crypto will push its price further down.
Besides, the OBV indicator has gradually started rising. Thus, buying volumes are slowly overtaking selling volumes. High demand for ICX will exert upward pressure on its price.
Thus, as of now, the MACD and RSI oscillators have indicated a price pullback. However, the price pullback may be a temporary corrective price action rather than a trend reversal signal. It is because the overall market momentum indicated by the MACD is positive and the OBV indicator has also shown bullish divergence.
ICX Technical Analysis
Currently, the price is below the first Fibonacci pivot point of $1.09. It may soon fall below the first Fibonacci pivot support level of $1.04. Thereafter, we have to wait and watch if the price starts rising or continues to fall further.
The price has tested and fallen below the 76.4% FIB retracement level of $1.06. The price may soon fall below the 138.2% FIB retracement level of $0.98 as well. Thus, by day end, if the price retests and breaks out of these levels, then the price uptrend is strong enough to sustain till tomorrow.