Back to the list
Tron [TRX/USD] Technical Analysis: Bull makes a grandiose return to the market
ambcrypto.com
11 January 2019 06:00, UTC
Reading time: ~2 m
---
The whole cryptocurrency market was a witness to the bear's rampage yesterday, resulting in several coins being severely injured. However, the market is currently showing signs of recouping from the trauma as most of the coins are covered in green.
According to CoinMarketCap, at press time, Tron [TRX] was trading at $0.0266 with a market cap of $1.77 billion. The coin records a trading volume of $849.85 million and has hiked by over 31% in the past seven days.
1-hour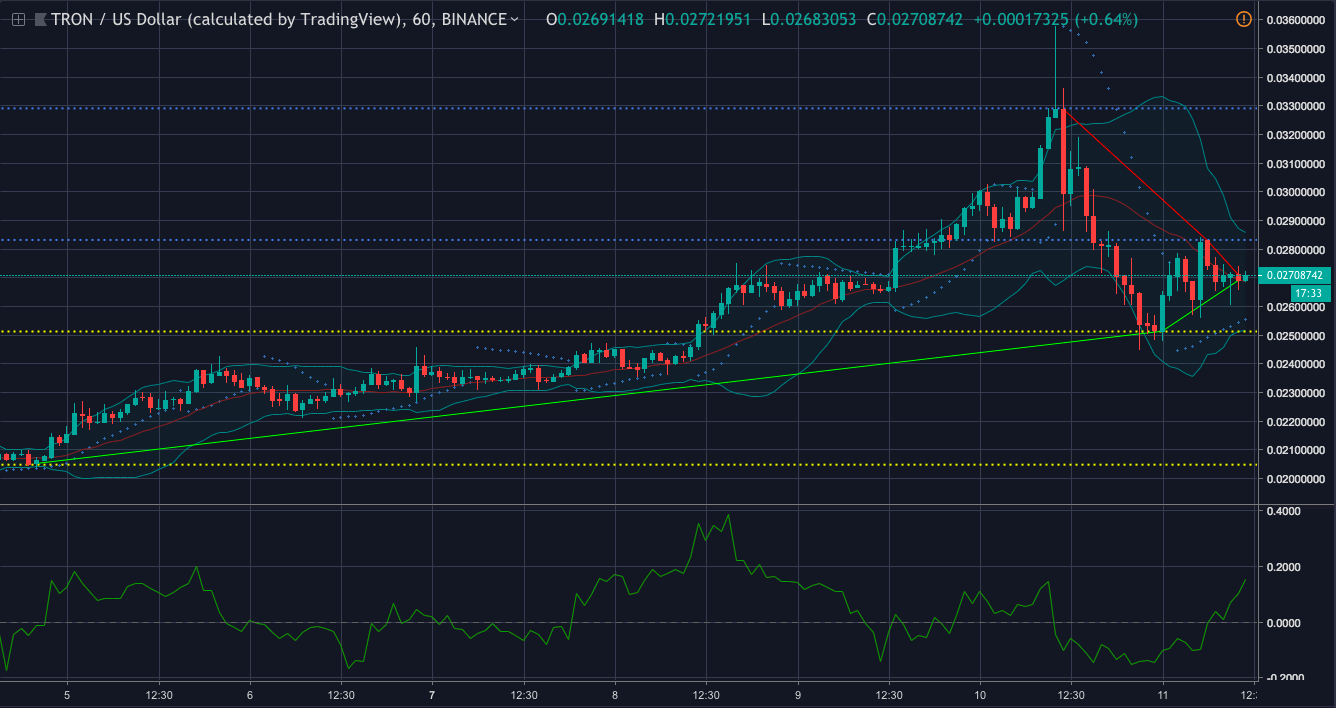 Tron one-hour price chart | Source: Trading View
In the one-hour chart, the coin records downtrends from $0.0328 to $0.0282 and from $0.0282 to $0.0271. The uptrend for the coin is pictured from $0.0205 to $0.0251, and continues to move upwards to stop at $0.0269. The immediate resistance for the cryptocurrency is at $0.0283 and the strong resistance is at $0.0329. However, the immediate support ground is set at $0.0251 and the strong support is at $o.0204.
Bollinger Bands is predicting a less volatile market for the coin as the bands are seen contracting in the market.
Chaikin Money Flow is showing a bullish wave as the money has started to flow into the market for the coin.
Parabolic SAR is also on the same terms as the dots are seen aligned below the candlesticks.
1-day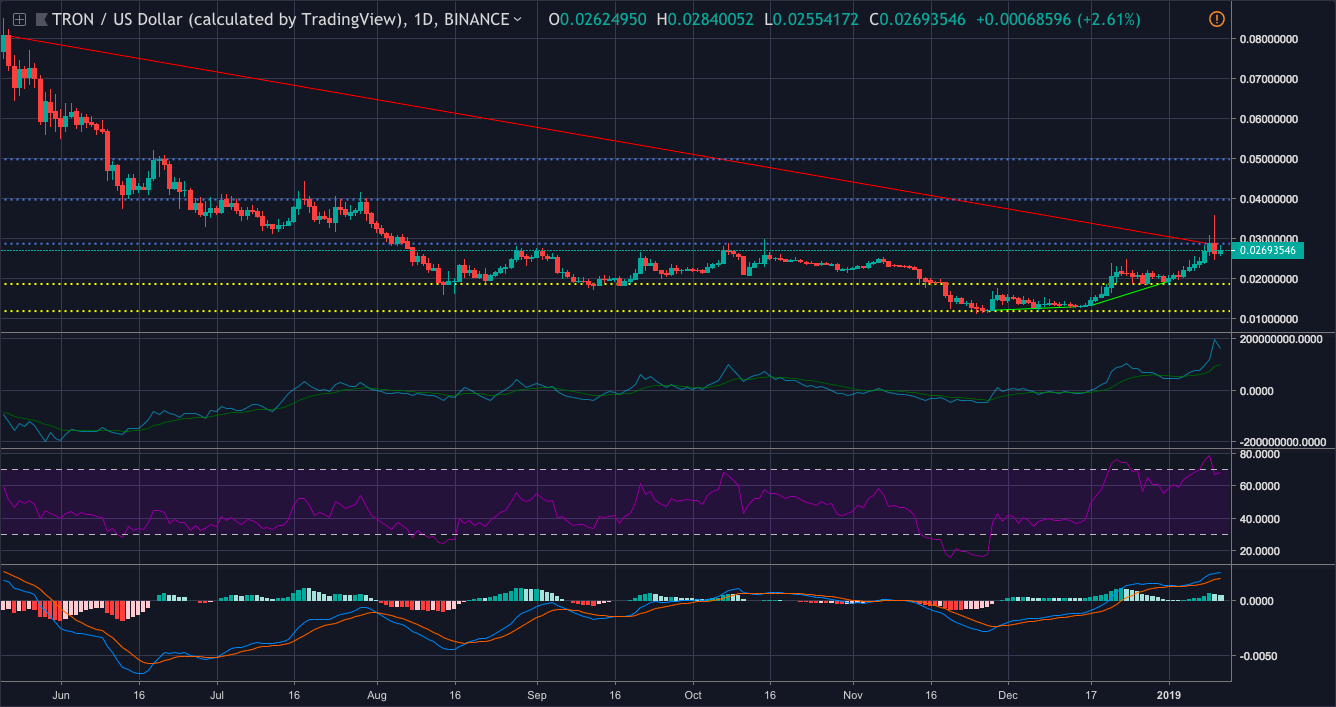 Tron one-day price chart | Source: Trading View
The one-day chart demonstrates a downtrend from $0.0807 to $0.0287 for the cryptocurrency. The uptrends for the coin is recorded from $0.0120 to $0.0129, and from $0.0132 to $0.0193. The immediate resistance for the coin is set at $0.0287 and the strong resistance is set at $0.0397. The cryptocurrency has found its immediate support at $0.0186 and its strong support at $0.0118.
MACD is recording the moving average line above the signal line after a crossover, predicting the bull's return.
Klinger Oscillator is also forecasting a strong bullish presence as the reading line and the signal line had a crossover, with the reading line deciding to go up north.
RSI is showing that the buying pressure and the selling pressure for the cryptocurrency are currently evened out in the market.
Conclusion
After hours of the bear's presence, the cryptocurrency has finally started to return to the bull's side. The coin is pushed forward by Parabolic SAR, and CMF from the one-hour chart and MACD, and Klinger Oscillator from the one-day chart.
---
Source
---
Back to the list