Back to the list
ARK Technical Analysis: Buyers Fail To Sabotage Sellers At $0.75
cryptoknowmics.com
02 June 2022 09:57, UTC
Reading time: ~2 m
---
ARK price shows a bullish reversal failing to surpass the resistance trendline and starting a bearish spiral as the selling pressure grows. 
Key Technical Points:
The ARK market value decreased by 9.75% today at press time.
However, the price action shows a reversal from the resistance trendline.
The 24-hour trading volume of the Ark is $287 Million, indicating a hike of 6200%.
Past Performance of ARK
The overall prevailing trend remains to be bearish in the ARK price chart, as the highly influential bearish trendline keeps the downtrend moving. Starting from early April, the rejection near the 200 DMA pushed the market value under all the crucial DMAs to $0.37, accounting for a 70% fall. This is where we got to see the bullish fightback reclaiming the 20 DMA and jumping 82% within three weeks to challenge the 50 DMA and the resistance trendline.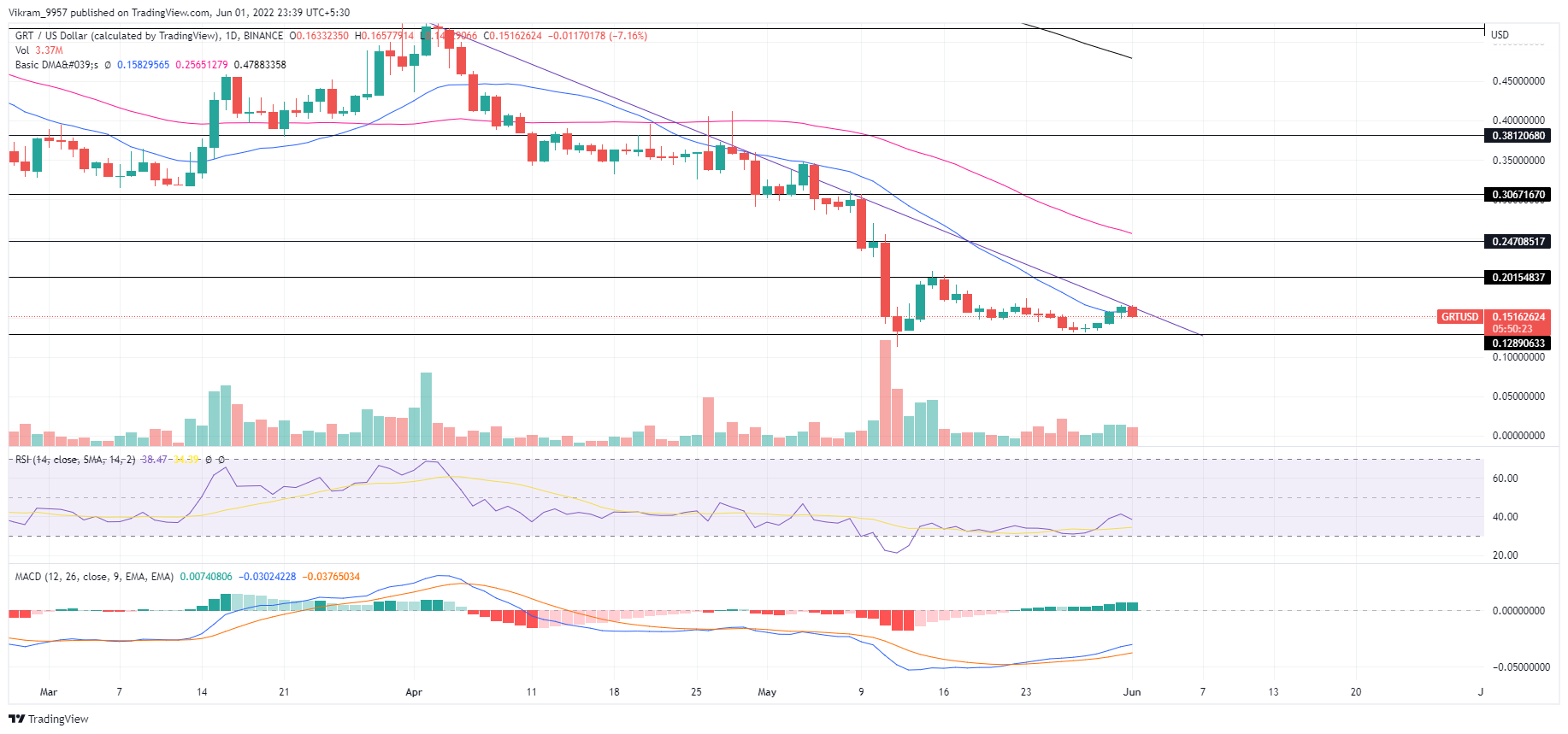 Source- Tradingview
ARK Technical Analysis
The defeat of ARK buyers is evidently clear in the price chart, as the bearish candle forms after a higher price rejection candle fail to close above the trendline. The bullish failure increases the chances of a downtrend breaking under $0.50 to retest the bottom support at $0.37. The Daily Moving Averages - 20 100, 200 maintain a bearish alignment with a bullish reversal evident in the 20 DMA. However, the selling pressure at 50 DMA knocks down the recovery rally and keeps the larger prevailing trend in motion. The RSI indicator shows a bullish uptrend taking a sudden hit below the overbought boundary resulting in a sharp fall reaching the halfway line. However, the 14-day SMA maintains a bullish surge and preparing to cross into the nearly overbought territory. Hence, the falling RSI slope can take support at the SMA line if they meet near the halfway line. The ongoing bullish trend in the MACD and signal lines continues to reach the zero line and maintains the flow of high-intensity bullish histograms. Thus, the indicator is delayed to project the bearish team winning the power struggle near the trendline. In a nutshell, ARK technical analysis indicates a high probability of a bearish reversal to $0.50.
Upcoming Trend
The ARK traders should expect the negative retracement to surpass the psychological threshold of $0.50 and then reach $0.37. On the other hand, the unlikely bullish reversal from $0.50 will trigger an uptrend that could breach the $0.75 mark. Resistance Levels: $0.75 and $1 Support Levels: $0.50 and $0.37
---
Source
---
Back to the list