Back to the list
Terra Name Service (TNS) Gains Over 150% in 24 Hours
cryptoknowmics.com
29 May 2022 09:30, UTC
Reading time: ~2 m
---
Terra Name Service is a cryptocurrency on the Terra network denoted with TNS. Terra Name Service (TNS) was created by inspiration received from Ethereum Name Service (ENS). TNS provides Terra Station users and other Terra account holders with the opportunity to use a name for their wallet address, instead of the long addresses used for transactions. TNS was launched in 2021 with an airdrop of about 17.7% of its total supply of 100 million to the community.
TNS Current and Past Market Status
At the time of writing, TNS chart shows that it is trading at $0.023. On May 20th, the price of TNS opened at a price of $0.0103 and closed at a price of $0.0404 on May 21st. This represents over 150% rise in price in 24 hours. This is due to a rise in TNS trading volume by over 12% within 24 hours. The present all-time high price of TNS is $2.34 and was attained on December 25th, 2021.
Terra Name Service Price Analysis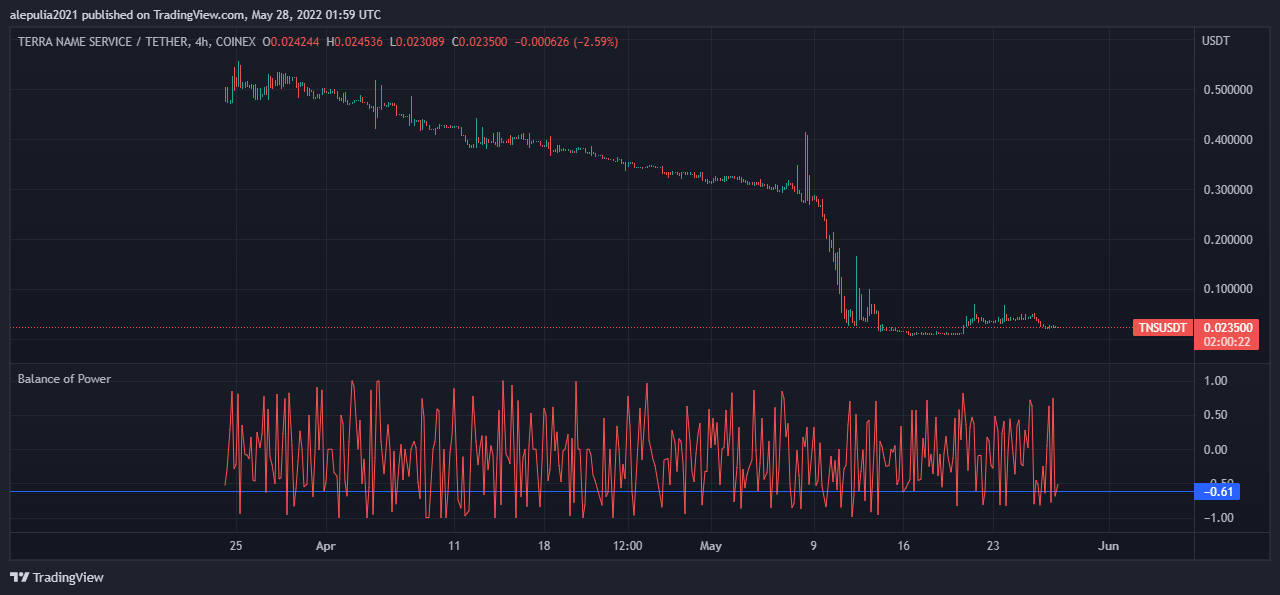 TNS/USDT 1Day chart showing the Balance of Power Indicator Source: https://www.tradingview.com/x/HwzcWPLa/ From the chart above, we can see that the Balance of Power indicator reading of the Terra Name Service price chart is -0.61. This shows that it has a negative divergence in price and that the price might dip further. However, strong buyer pressure could push the price chart to a bullish trend reversal.
TNS Price Prediction Chart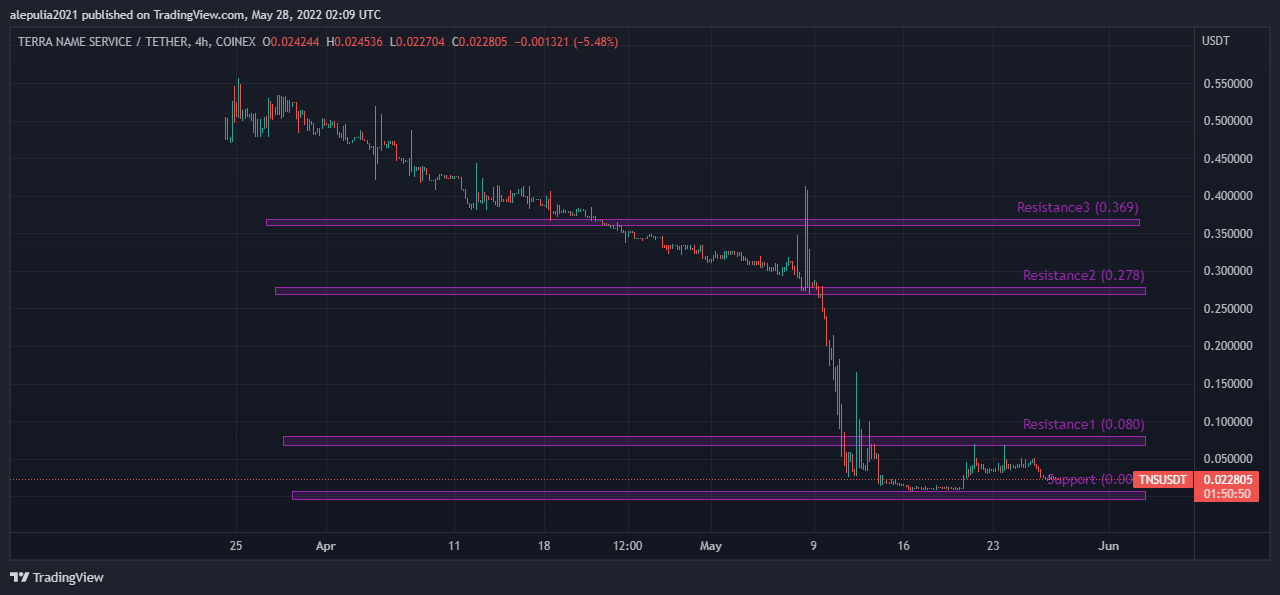 TNS/USDT 1Day Chart Showing the Key levels Source: https://www.tradingview.com/x/vfMzHspC/ From the TNS price prediction chart above, showing the resistance and support levels, we can deduce the following:
Since the buyer's pressure is reducing, the price of TNS fall below its all-time low price of $0.008 as indicated on the key level chart above.
Strong buying pressure can change the present TNS price analysis chart which has a negative Balance of Power value of -0.61.
The next bullish trend reversal could increase the price of TNS by over 200%. This is because it is expected to reach close to the $0.08 resistance1 level.
Conclusion
We expect the price of Terra Name Service to remain bullish for long-term hodlers when we consider the price history of Ethereum Name Service (ENS) in recent days.
---
Source
---
Back to the list