Back to the list
SHIB Looks to Re-Test Last Major Remaining Support Level
coinquora.com
27 May 2022 16:55, UTC
Reading time: ~2 m
---
The popular meme coin, Shiba Inu (SHIB), has dropped by over 10% in the last 24 hours, according to CoinMarketCap. This has pushed the weekly performance of SHIB into double-digit losses. The price of SHIB is also down by 13.21% in the last seven days.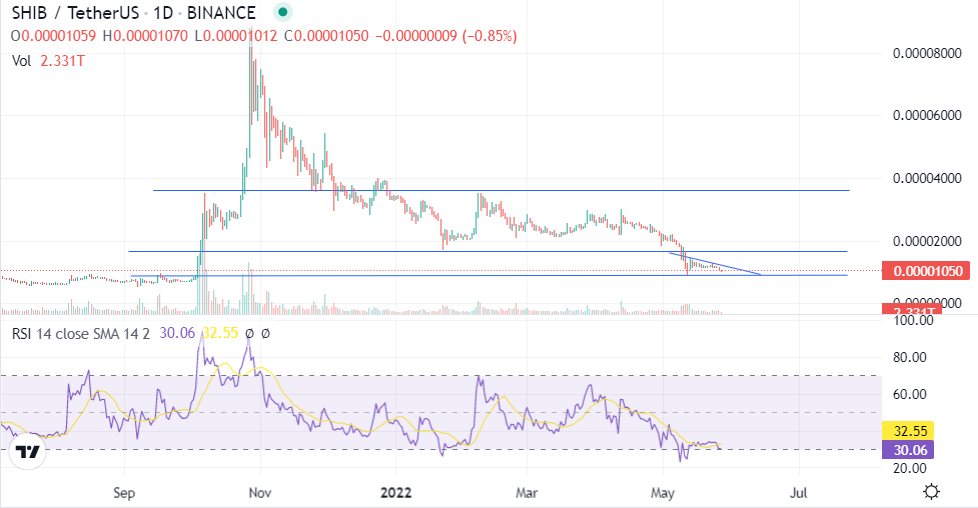 Outlook on SHIB goes extreme bearish (Source: TradingView)
Now that SHIB has dropped over 10% in the last 24 hours, what is next for the meme coin?
Looking at the daily chart for SHIB/USDT, it seems that the investor outlook for SHIB has turned extremely bearish as the Relative Strength Index (RSI) has not only crossed below the RSI SMA line, which is a bearish flag but also heads into extreme oversold territory.
Normally, in a crypto bear market, we see the RSI remain oversold for extended periods of time as the price of the associated crypto enters into a downtrend – pushing the price further and further down.
The price move of SHIB over the last few weeks has felt the wrath of the crypto bear market after dipping down to $0.00001050 after hitting its peak in November last year. This follows after it blew past the key levels of $0.00004000 and $0.00002000.
Now, SHIB's price has formed a descending triangle with the $0.00001050 level as the base of the triangle. This could mean the price of SHIB could fall even lower. SHIB has already tested this level at the start of May, and then at the end of May again. This double tap on the key support level is indicative of the bottom not being set yet for SHIB.
---
Source
---
Back to the list