Serum prices are under pressure and could track lower to $4. On the other hand, THETA prices are relatively firm. THETA/USDT may reach $16 if buyers break above $9.5.
THETA
THETA is a blockchain-based video-streaming platform competing with YouTube and other centralized versions. Central to the project is the THETA coin.
Past Performance of THETA
Reading from THETA/USDT technical analysis, the coin is in range mode, inside May 19 bear bar.
As of writing, the price is down nine percent against the USD and near break-even versus ETH and BTC.
Meanwhile, trading volumes are decent, rising 87 percent to $715 million on the last trading day.
Day-Ahead and What to Expect
Technical candlestick arrangements favor sellers in the short term.
Since THETA/USDT prices range inside May 19 bear bar, bears have the upper hand from volume analysis.
Also, THETA/USDT prices are below the middle BB, trading in a bear breakout pattern after a strong upsurge over the last five months.
THETA/USDT Technical Analysis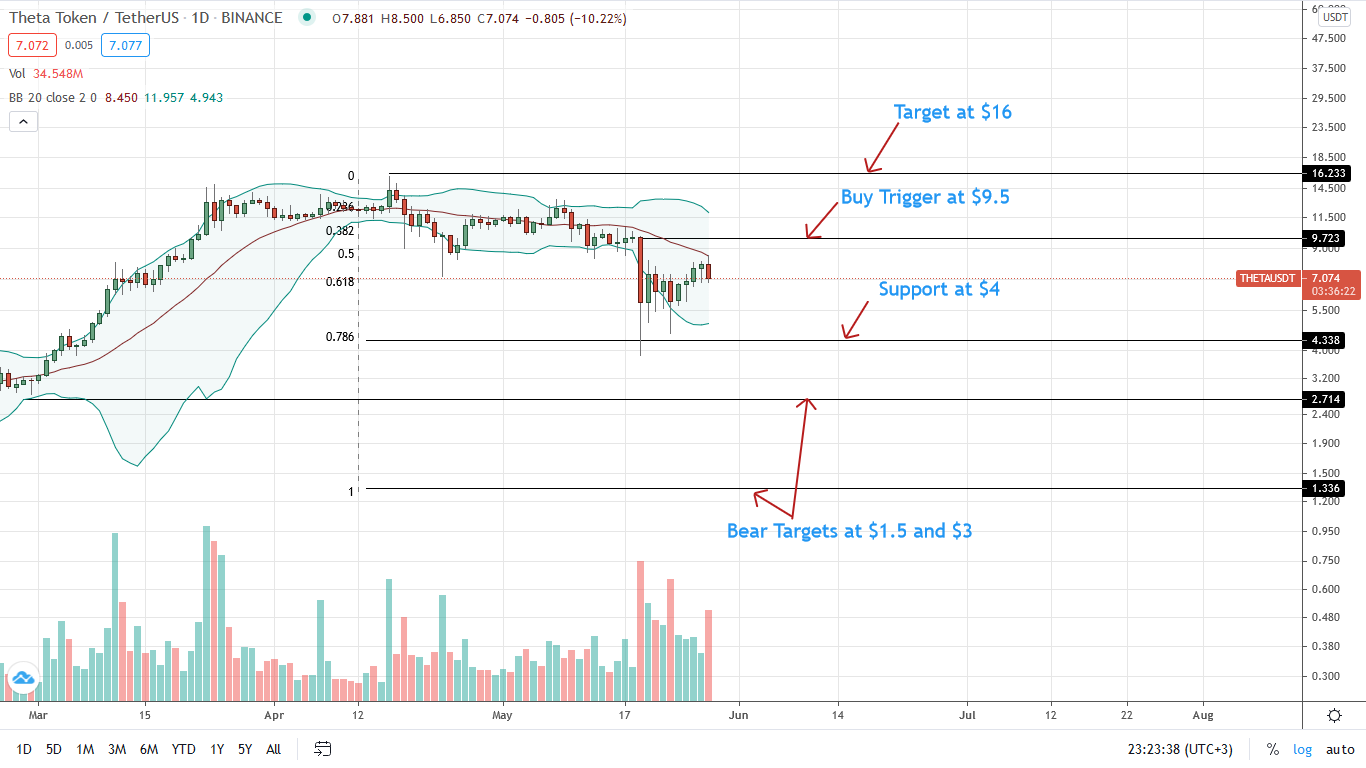 THETA found resistance at the middle BB.
With prices capped inside May 19 bear candlestick and $9.5, sellers have the upper hand.
Every low may be a loading opportunity for sellers targeting $4—the 78.6 percent Fibonacci retracement of the last five months—and $3.
A high volume swing above $9.5 could see the price race back to $16.
Serum (SRM)
The Solana-based DEX enables cheap transactions in a highly scalable environment enhancing user experience.
Past Performance of SRM
After months of stellar performance, SRM prices are now fragile.
For instance, at spot rates, SRM trading volumes and prices are down, signaling possible profit-taking and shift in trend.
Still, if prices take a turn for the positive in the next session, rewinding recent losses, bulls may take charge.
Day-Ahead and What to Expect: Serum
SRM/USDT technical analysis aligns in favor of sellers in the short term.
After peaking at $13.5, SRM prices sunk to March 2021 lows, wiping over 80 percent of the last five months' gains. Moreover, SRM/USDT prices are below the middle BB, confirming sellers.
Therefore, if SRM dump once more, it would prove that the gains of the last day were a dead cat bounce.
SRM/USDT Technical Analysis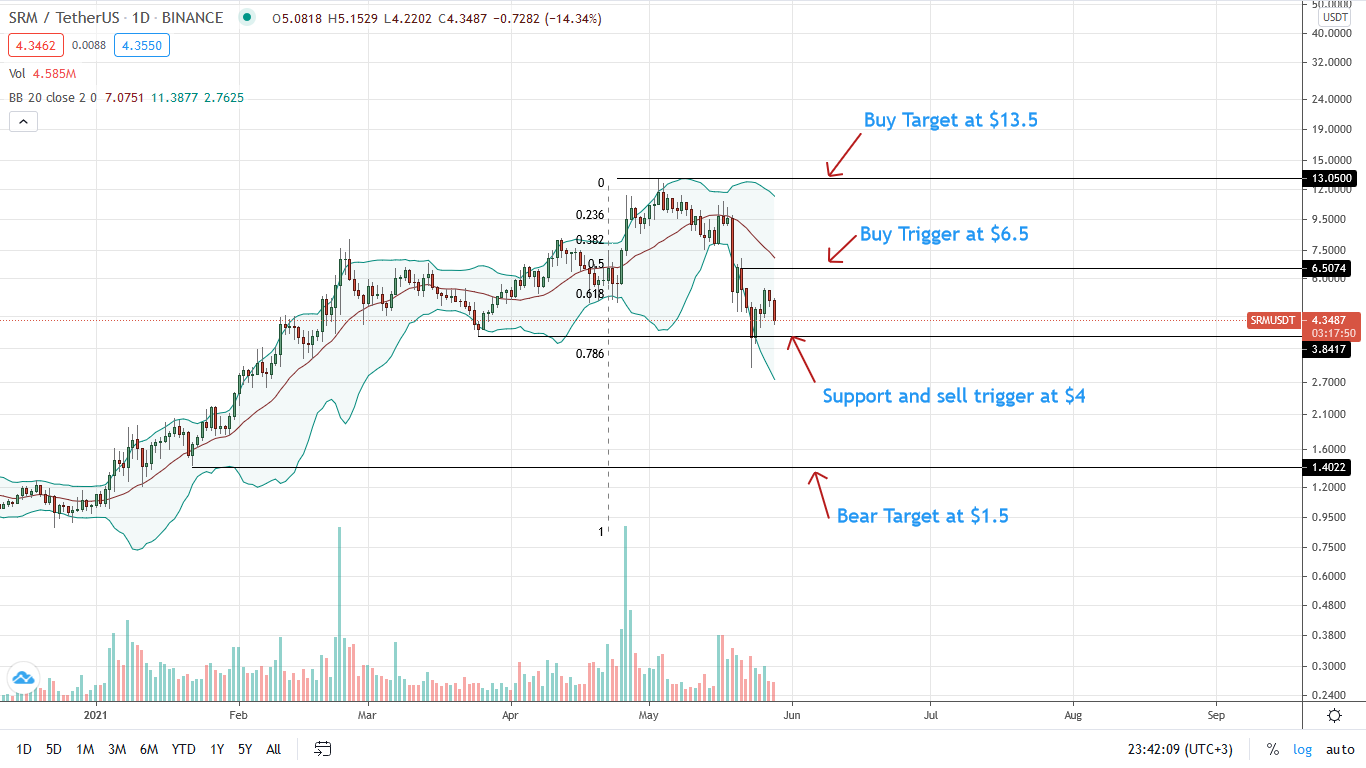 SRM/USDT prices are within a $2.5 zone with clear resistance and support at $6.5 and $4, respectively.
Losses below $4 confirm sellers of May 19 in a bear trend continuation pattern towards $1.5—or worse.
On the flip side, gains above $6.5 may reinvigorate bulls targeting $13.5.