Forked from the Polkadot codebase, Kusama is a highly scalable and multichain blockchain network. It is a robust platform for the development and deployment of decentralized apps on the Polkadot blockchain. Kusama follows an open-governance framework with voting rights for all network participants. KSM is the native token of this ecosystem and the technical analysis is as follows:
Past Performance
On May 22, 2021, KSM started trading at $340.85. On May 28, 2021, KSM closed at $289.37. Thus, in the past week, the KSM price has decreased by roughly 15%. In the last 24 hours, KSM has traded between $288.75-$302.18.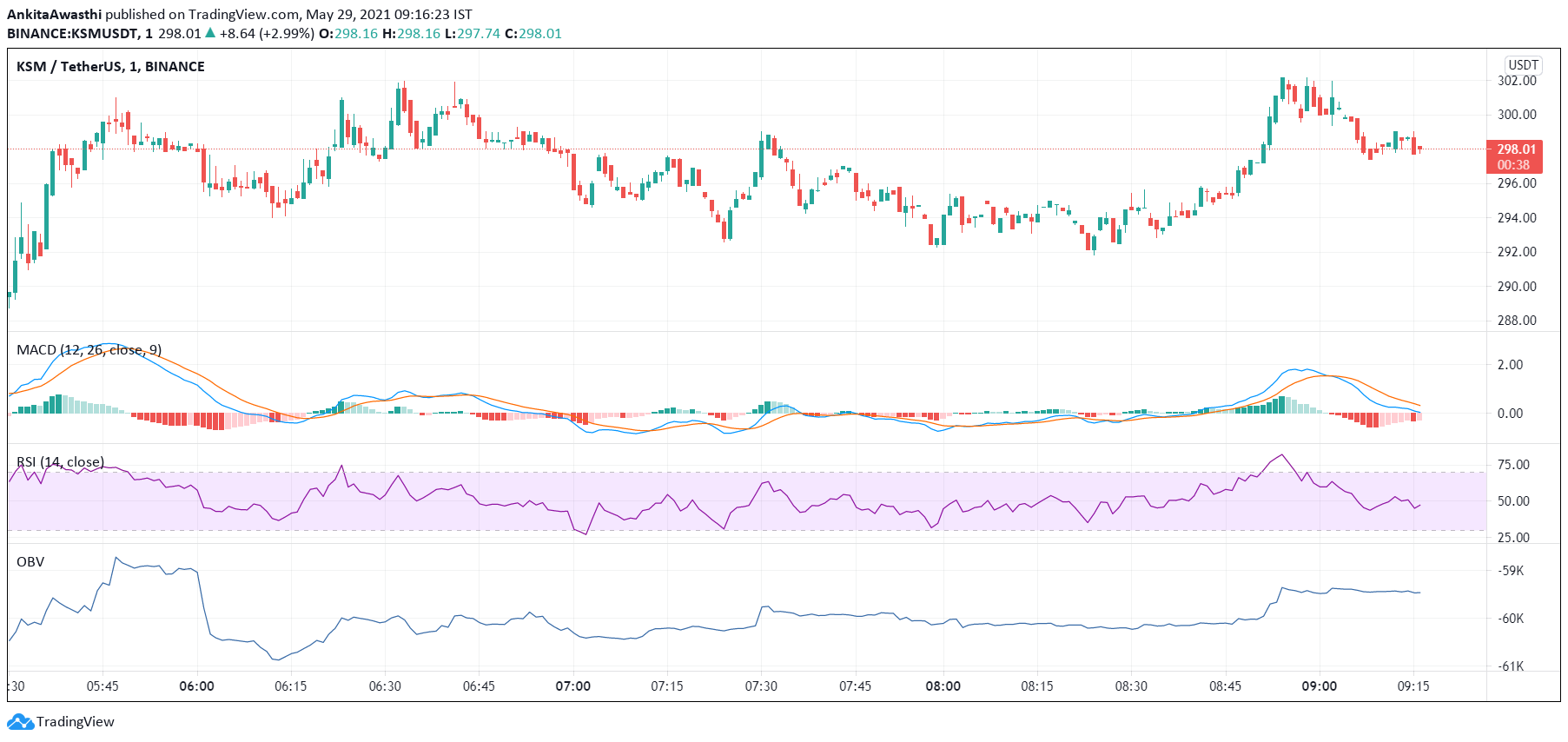 https://s3.tradingview.com/snapshots/j/jd8hxXxL.png
Day-Ahead and Tomorrow
Currently, KSM is trading at $298.01. The price has increased from the day's opening price of $289.38. Thus, the market seems bullish.
The MACD and signal lines have turned negative. Moreover, a bearish crossover by the MACD line over the signal line has occurred. Thus, the overall market momentum is bearish. Hence, we can expect the KSM price to start falling.
Currently, the RSI indicator is at 36%. It faced rejection at 54% and fell to this level. Thus, selling pressures are higher than buying pressures. Hence, like the MACD indicator, the RSI indicator is also pointing towards a price fall.
Besides, the OBV indicator has started falling steadily. This implies that selling volumes are slowly mounting. High selling activity will push the KSM price downwards.
In a nutshell, when we look at all three indicators together, the overall price trend seems bearish. Thus, the price is poised to start declining.
KSM Price Analysis
Currently, the KSM price is above the Fibonacci pivot point of $293.43. It may soon fall below the pivot point and further below the first support level of $288.30. If the bears remain strong till day end, then probably the price may fall below the subsequent support levels of $285.13 and $280, respectively.
The price has tested and fallen below the 61.8% FIB retracement level of $297.05. It may soon fall below the 50% FIB retracement level of $295.46. Thus, as of now, the price downtrend is strong and likely to continue today and tomorrow.