REEF remains in consolidation as REEF/USDT bounces off from $0.02. Meanwhile, the Origin Protocol is under pressure, but a reversal from $0.75 may see OGN/USDT reach $1.30.
Reef Finance (REEF)
The Polkadot-based protocol aims to enable cross-chain trading using REEF as its primary token.
Past Performance of REEF
Even with the degradation on May 19, REEF prices are steady and inside a broad trading range.
REEF/USDT prices are oscillating between $0.02 and $0.04 in a protracted horizontal movement from late February 2021.
As of writing, REEF is up 11 percent versus the USD with relatively stable trading volumes.
READ
Stack Funds Reveal Bitcoin's Price Drop Represents Healthy Correction
Day-Ahead and What to Expect
Trading at around $0.03 as of writing, the REEF/USDT uptrend is valid if REEF technical analysis leads.
As long as $0.02 holds as the primary support, acting as a loading point for bulls aiming for trend continuation, odds of REEF/USDT surging to $0.04, and new 2021 highs remain high.
REEF/USDT Technical Analysis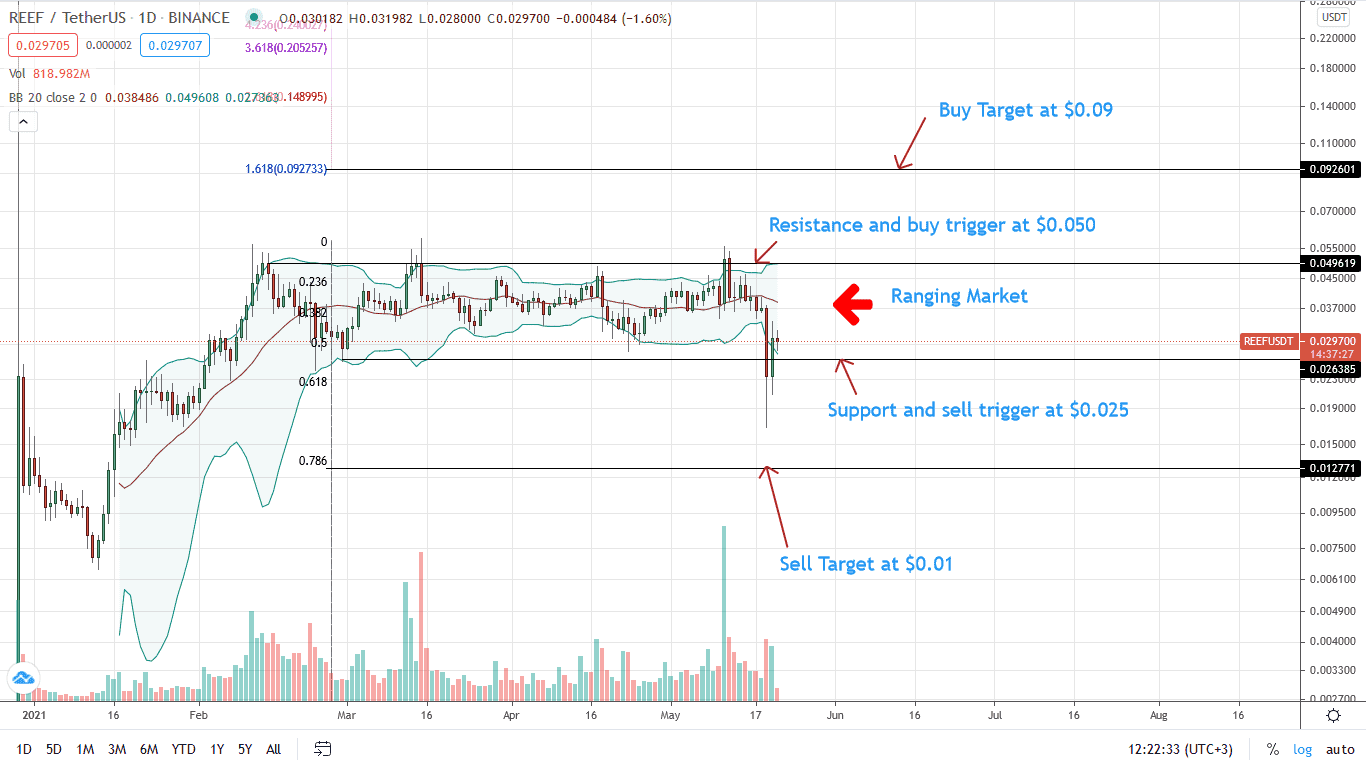 The uptrend is clear, and buyers still have a chance.
Technically, a close below $0.02 could see REEF prices drop 50 percent to $0.01—or the 78.6 percent Fibonacci retracement level of the Q1 2021 trade range.
On the flip side, reversal of May 19 losses and confirmation of May 20 gains would be enough to solidify bulls aiming for $0.04.
Origin Protocol (OGN)
The Ethereum-based collectibles platform allows users to share goods and services through a P2P network.
READ
Uniswap (UNI) and Flamingo (FLM) Technical Analysis: What to Expect?
Past Performance of OGN
Losses of May 19 were a continuation of last week's losses.
At present, OGN prices are stable, bouncing off from a critical reaction point in the daily chart. Still, there must be conviction from bulls.
Accordingly, trend definition could be defined by either deep losses below $0.75 or encouraging gains above $1.3. At present, OGN is up roughly 10 percent versus ETH, BTC, and USD.
Day-Ahead and What to Expect
The path of the least resistance is southwards. OGN bears have a grip on price action.
Visible resistance and support are at $1.3 and $0.75, respectively.
OGN bear bars also align along the lower BB and below the middle BB.
OGN/USDT Technical Analysis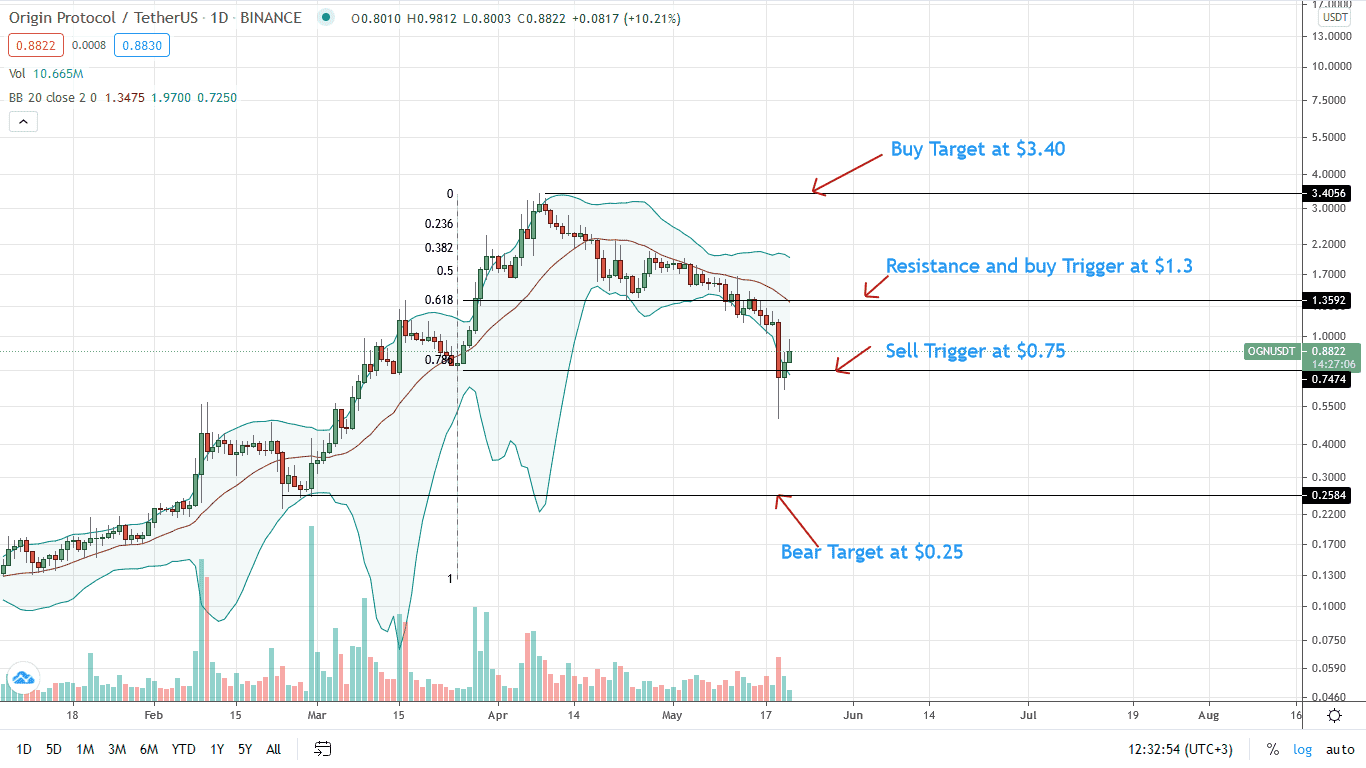 From the daily chart, OGN/USDT technical analysis indicates weakness. OGN prices are trending below the middle BB, and bears may breach $0.75.
READ
Grayscale's New Crypto Trusts to Change the Fortune of the Currencies?
Losses below $0.75 signal bear trend continuation where OGN could crater to $0.25—a key reaction level in February 2021.
On the side, gains above May 19 highs and $1.3 may catalyze demand, lifting OGN/USDT towards April 2021 highs of $3.4.