Zilliqa is a blockchain platform that acts as a catalyst and drives digital transformation across the globe. It is fast, secure, cost-efficient, and highly scalable. It helps in building peer-reviewed and user-friendly smart contracts using the programming language Scilla. ZIL is the native token of this ecosystem. The ZIL technical analysis is as follows:
Past Performance
On May 10, 2021, ZIL opened at $0.23. On May 16, 2021, ZIL closed at $0.17. Thus, in the past week, the ZIL price has decreased by roughly 26%. In the last 24 hours, ZIL has traded between $0.172-$0.183.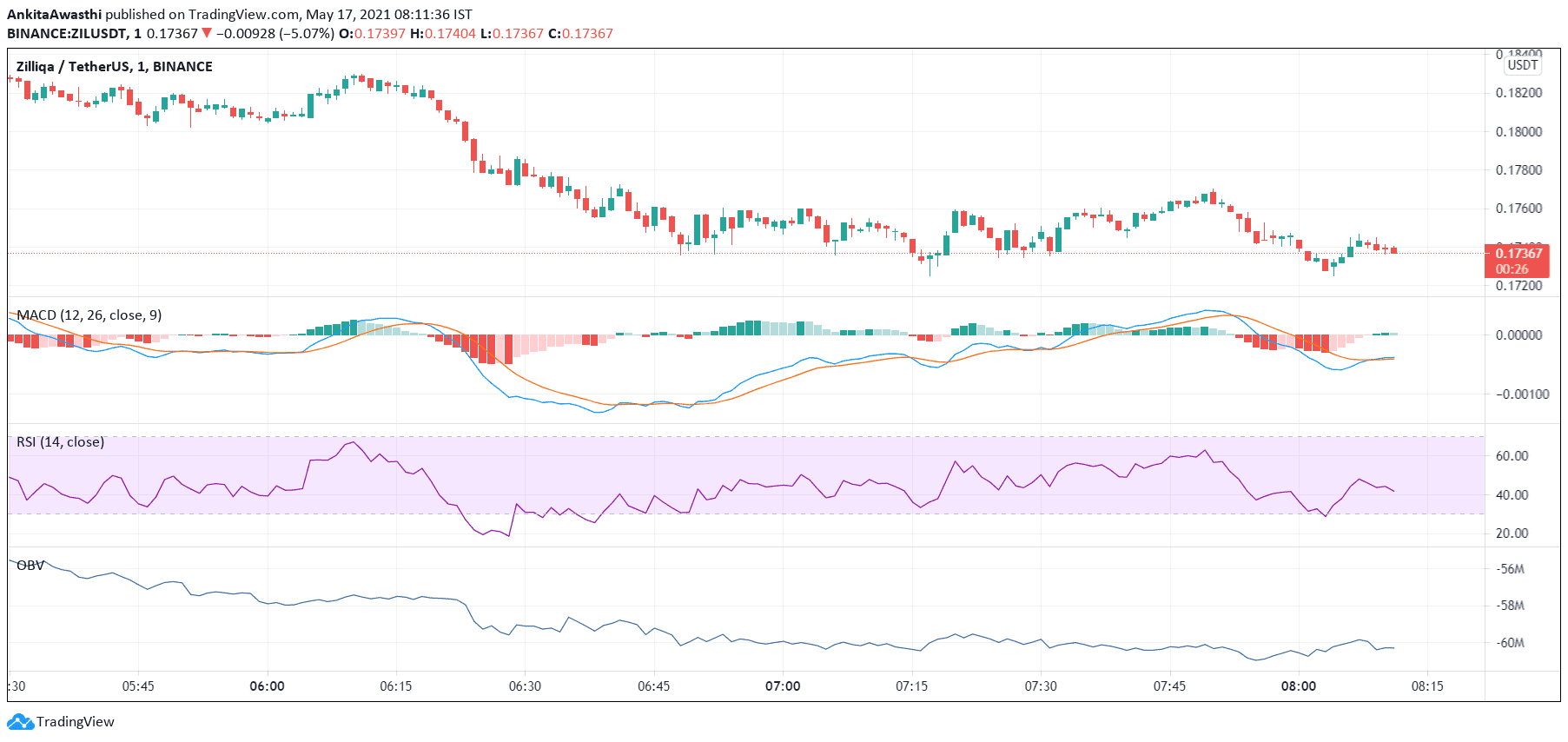 https://s3.tradingview.com/snapshots/y/Yypp8xFm.png
Day-Ahead and Tomorrow
Currently, ZIL is trading at $0.173. The price has decreased from the day's opening price of $0.182. Thus, the market seems to be bearish.
The MACD and signal lines are negative. Thus, the overall market momentum is bearish. However, a bullish crossover by the MACD line over the signal line has occurred. Hence, we can expect a trend reversal or some price corrections amidst a declining trend.
Currently, the RSI indicator is at 42%. It faced rejection at 47% and fell to this level. Thus, selling pressures are higher than buying pressures. Hence, we can expect the price to fall further.
The OBV indicator has fallen steeply. This implies that selling volumes are much higher than buying volumes. Heavy selling activity will exert downward pressure on the ZIL price.
In a nutshell, all three indicators have shown a negative price trend. But, the MACD oscillator shows possibilities of a price rise. So, we have to wait and watch if these price increases are temporary or a bearish trend reversal has occurred.
ZIL Technical Analysis
Currently, the price is below the first Fibonacci pivot support level of $0.175. The price may fall below the subsequent support levels of $0.172 and $0.168, respectively.
Currently, the price is below the 23.6% FIB retracement level of $0.175. The price may soon fall below the 23.6% FIB extension level of $0.169. Thus, the bearish forces are strong. Hence, the price downtrend is likely to continue today and tomorrow.