Terra is a blockchain network that uses stablecoins pegged to fiat currencies to introduce price stability in the global markets. Terra is a fast, tamper-proof, cost-effective, and censorship-resistant ecosystem. LUNA is the native token of this network. The following LUNA technical analysis predicts the price for the next two days:
Past Performance
On May 10, 2021, LUNA started trading at $16.99. On May 16, 2021, LUNA closed at $16.19. Thus, in the past week, the price has declined by roughly 5%. In the last 24 hours, LUNA has traded between $14.88-$16.19.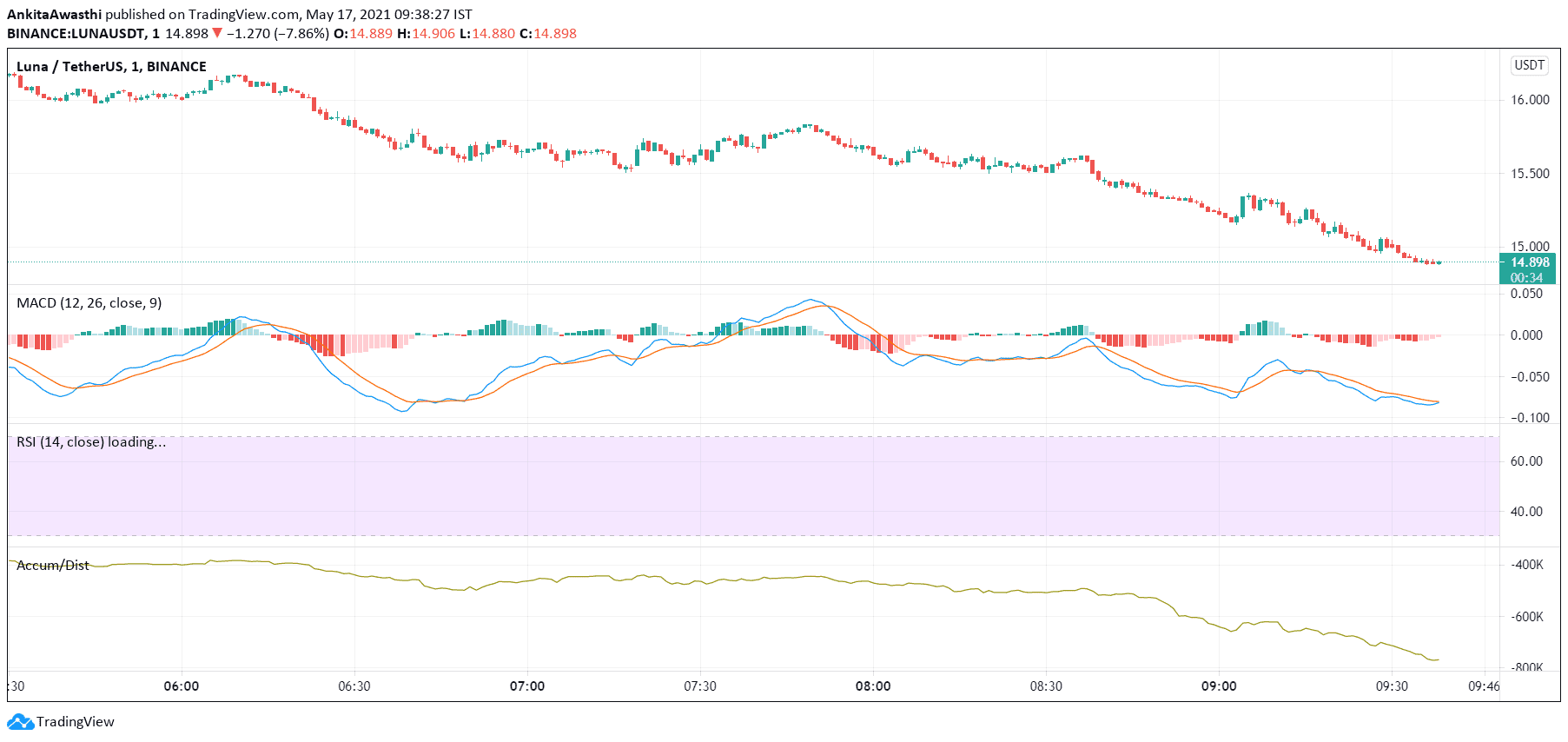 https://s3.tradingview.com/snapshots/g/gIuuTjlz.png
Day-Ahead and Tomorrow
Currently, LUNA is trading at $14.90. The price has decreased from the day's opening price of $16.17. Thus, the market seems to be bearish.
The MACD and signal lines are negative. Thus, the overall market momentum is bearish. However, a bullish crossover by the MACD line over the signal line has occurred. Thus, the market is in a price correction phase. We can expect some price adjustments amidst an overall declining price trend.
Currently, the RSI indicator is at 51%. It has just risen from the 'oversold' region. Hence, while selling pressures are still high, but buying pressures are slowly mounting. Thus, the price may start rising after falling for some time.
The A/D indicator has fallen steeply. Thus, whale distribution is much higher than whale accumulation. High distribution activity will exert downward pressure on the LUNA price.
In a nutshell, when we look at all three oscillators together, we can say that the overall market momentum is bearish. Hence, any price rise may be temporary and a part of the price correction process and not necessarily a bearish trend reversal.
LUNA Technical Analysis
Currently, the price has fallen below the first Fibonacci pivot support level of $15.24. It is likely to fall below the subsequent support levels of $14.94 and $14.44, respectively, after some time.
The price has tested and fallen below the 23.6% FIB retracement level of $15.19. It may soon fall below the 23.6% FIB extension level of $14.57. Thus, as of now, the bears are strong, and the price downtrend is likely to continue tomorrow as well.