DOT token jumps more than 400% since January 2021 and breaks out of consolidation range in the weekly timeframe. 
The coin is trading above the 20EMA in the weekly timeframe with increasing buying volume
The DOT/BTC pair is trading at 0.0009442  BTC, with an intraday growth of -0.72%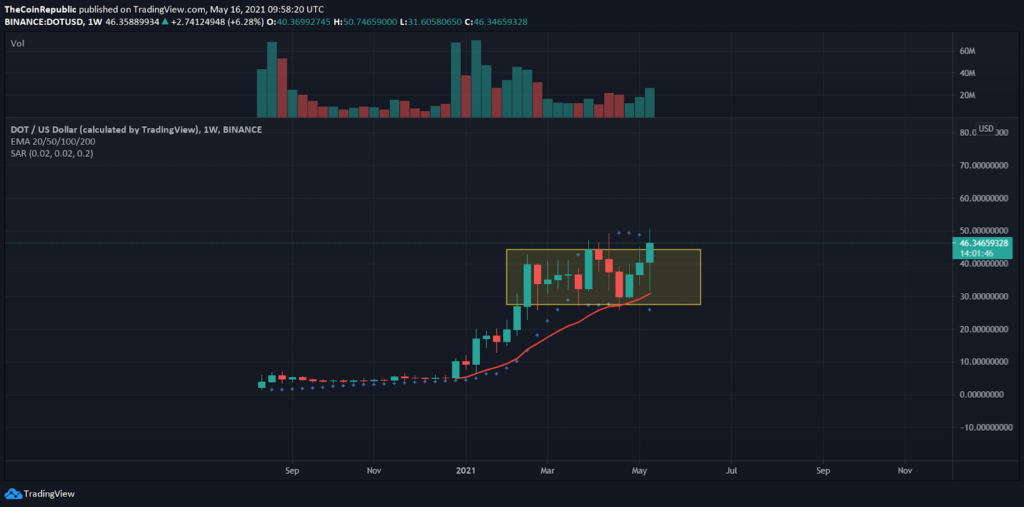 Since the start of 2021, DOT token price has increased from $9.31 per token to roughly $46.50 as of this writing. That represents approx 400% gain year-to-date. The increasing momentum with rising buying volume brings hope for investors with the bullish sentiment. At this point, the outlook for DOT token price is bullish. The trend will be confirmed if the price manages to move above the resistance of the consolidation range of $44.55. However, a move below this level might result in the expansion of the consolidation range. The live DOT token price today is $46.50, with a 24-hour trading volume of $4,901,961,078. The coin is up 0.42% in the last 24 hours. The current ranking is #8, with a live market cap of $43,238,407,973.
DOT token continues to rise higher every month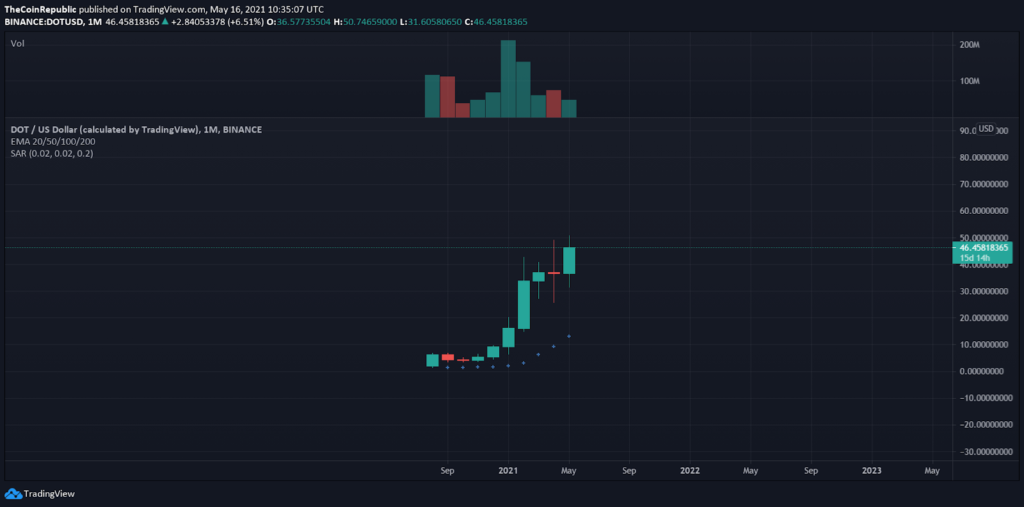 DOT token consolidated between $29.8 and $44.55, in the weekly timeframe, before the breakout of this range with an increasing buying volume. The DOT token price formed a very bullish engulfing candlestick in the weekly timeframe. The ADX indicates a gain in momentum as it trades at 21.6 while the spike in ADX is rising higher.
The possible reasons behind DOT's growth
DOT's growing support for services and compatibility, including decentralized finance (DeFi) and its tools designed to aid app migration smoothly, have made it a serious competitor to Ethereum, dimming its supremacy in the dApp space. DOT has also captured the attention and interest of many fund managers, and with the price of DOT already in bullish momentum, the digital coin might test further heights this year.
Conclusion – DOT token price has recently exhibited a breakout of the resistance level of $44.55, suggesting the start of an uptrend. A short-term pullback to give a retest is possible in a more petite time frame. However, a failure in retest might drive down the price back to the immediate support level. Investors may find the excellent fundamentals positive, along with the 400% growth in just five months.
Support- $44.5 and $37
Resistance- $65