Cosmos is a fast-growing blockchain network comprising interconnected decentralized apps and services. It allows the swapping of digital currencies from across the interchain instantly and at low gas fees. It provides custodial services too. ATOM is the native token of this ecosystem. The following ATOM technical analysis will predict the price momentum for the next two days:
Past Performance
On May 8, 2021, ATOM started trading at $28.61. On May 14, 2021, ATOM closed at $25.86. Thus, the ATOM price has declined by approximately 10%. In the past 24 hours, ATOM has traded between $23.40-$24.76.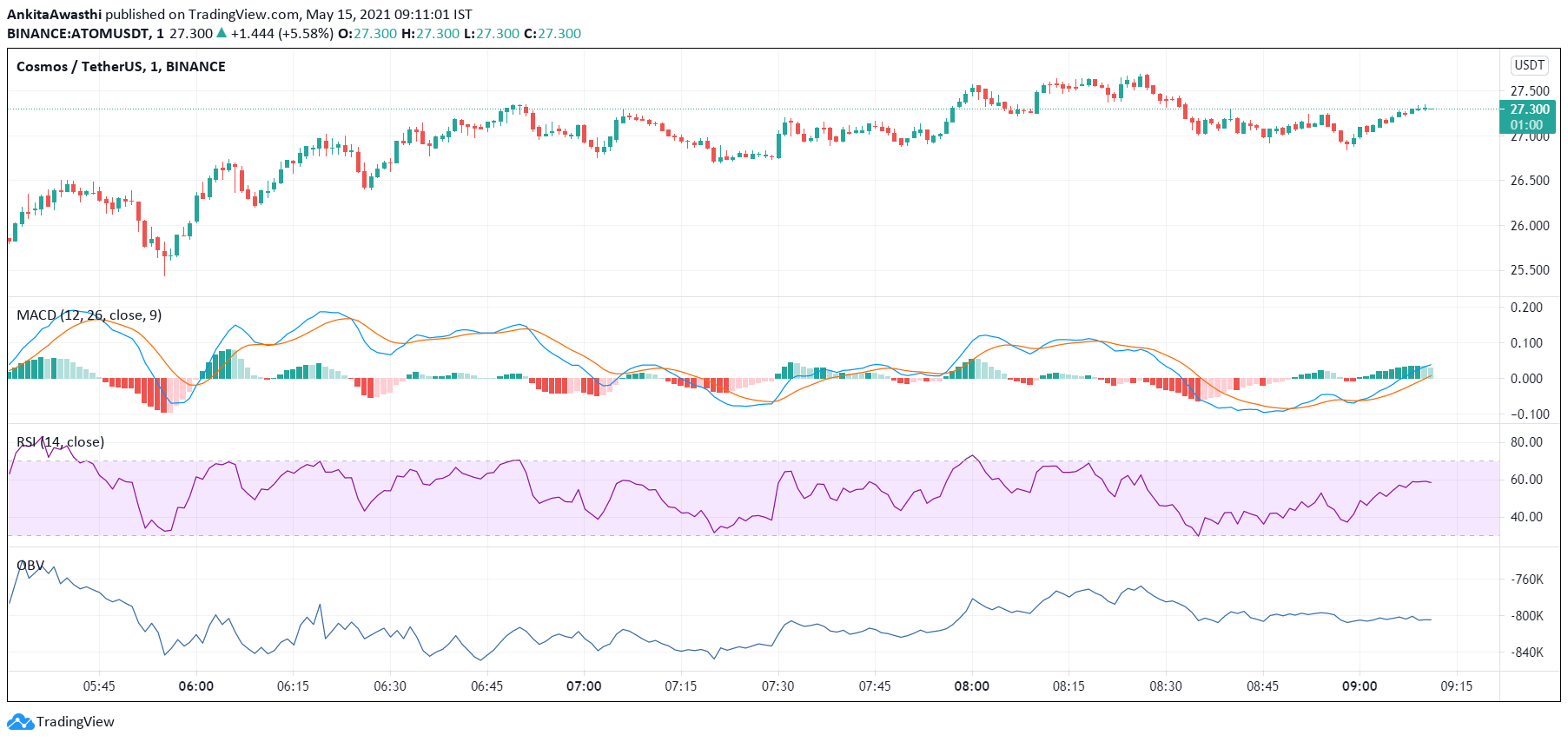 https://s3.tradingview.com/snapshots/u/UJPB3UYT.png
Day-Ahead and Tomorrow
Currently, ATOM is trading at $27.30. The price has increased from the day's opening price of $25.86. Thus, the market seems to be positive.
The MACD and signal lines have turned positive. Hence, the overall market momentum is positive. However, a bearish crossover by the MACD line over the signal line has occurred. Thus, we can expect an intermittent price pullback amidst a bullish trend.
Currently, the RSI indicator is at 49%. It faced rejection at 44% and rose to this level. Thus, buying pressures are slowly mounting. In other words, like the MACD oscillator, the RSI indicator is also pointing towards a rising trend with temporary price pullbacks.
The OBV indicator is falling steadily. Thus, selling volumes are higher than buying volumes. Heavy selling activity will exert downward pressure on the ATOM price.
In a nutshell, when we look at all the indicators together, a price pullback is likely. However, we have to wait and watch to see if this price pullback is temporary or a bullish trend reversal has occurred.
ATOM Technical Analysis
The price is currently above the first Fibonacci pivot resistance level of $27.18. It may soon fall up to the first resistance level and further below the Fibonacci pivot point of $26.33. Thereafter, we have to wait and watch if the price resumes its upward journey.
The price is soon likely to retest and fall below the 23.6% FIB retracement level of $27.15. However, we can expect the price to breakout of this level in some time. In that case, the price uptrend is likely to continue today as well as tomorrow.