Decred is a PoS (Proof-of-Stake) based blockchain network following the hybrid consensus system. It is a highly secure, adaptable, fork-resistant, and sustainable ecosystem. DCR is the native token of this self-financed autonomous decentralized open-source network. The DCR technical analysis is as follows:
Past Performance
As predicted in the previous technical analysis, the price was likely to fall below $235. On May 3, 2021, DCR started trading at $204.94. On May 9, 2021, DCR closed at $218.19. Thus, in the past week, the DCR price has surged by approximately 6.5%. In the last hours, DCR has traded between $217.51-$229.98.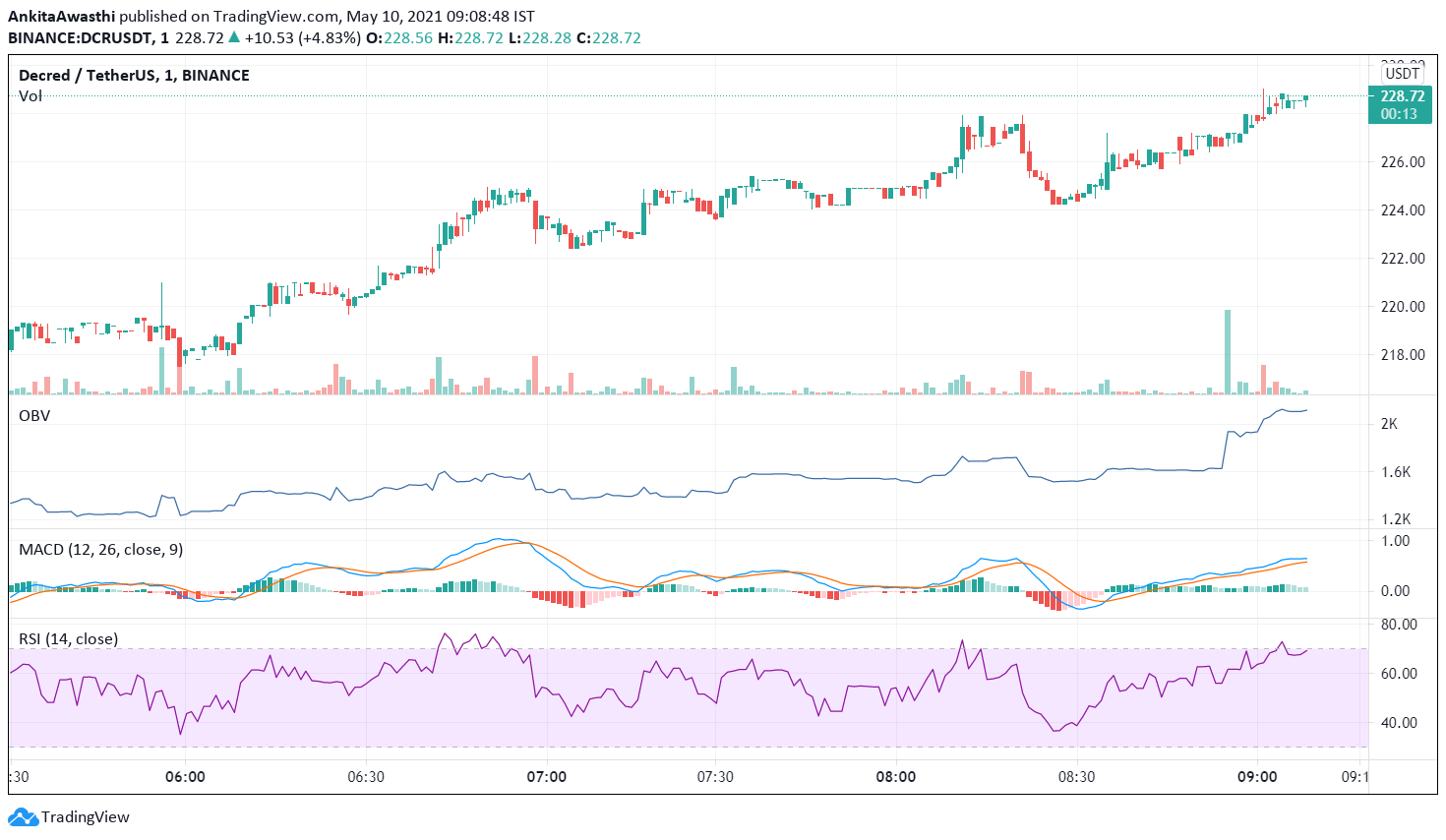 https://s3.tradingview.com/snapshots/8/8EavOcxz.png
Day-Ahead and Tomorrow
Currently, DCR is trading at $228.72. The price has increased from the day's opening price of $218.20. Thus, the market seems to be uptick.
The MACD and signal lines are positive. Moreover, a bullish crossover by the MACD line over the signal line has occurred. Hence, the overall market momentum is bullish, and we can expect the price to rise further.
Currently, the RSI indicator is at 61%. It has just fallen from the 'overbought' region. In other words, buying pressures are still high. Hence, the RSI indicator is pointing towards a bullish price trend.
Besides, the OBV indicator is upward sloping. Hence, buying volumes are higher than selling volumes. Therefore, the OBV indicator is giving further credence to the price upswing indicated by the MACD and RSI oscillators.
DCR Technical Analysis
The technical analysis shows price is soon likely to break out of the second Fibonacci pivot resistance level of $228.67. In some time, the price is expected to surpass the third resistance level of $233.06 as well.
The price has tested and broken out of the 23.6% FIB retracement level of $226.29. The price is soon likely to surpass the 23.6% FIB extension level of $231.71. Hence, the price uptrend is strong and likely to continue tomorrow as well.