Telcoin is a remittance platform powered by blockchain technology that facilitates instant money transfers at affordable costs. It is compatible with mobile technology and can reach a wider user base with a contactless service. It is a unique model for telecom adoption that follows an incentive-based system. Furthermore, it is tamper-proof and agile too. TEL is the native token of this network. The following TEL technical analysis will predict price movements for the next two days:
Past Performance
On May 3, 2021, TEL opened at $0.012. On May 9, 2021, TEL closed at $0.052. Thus, in the past week, the TEL price has skyrocketed by 333.33%. In the last 24 hours, TEL has traded between $0.05-$0.059.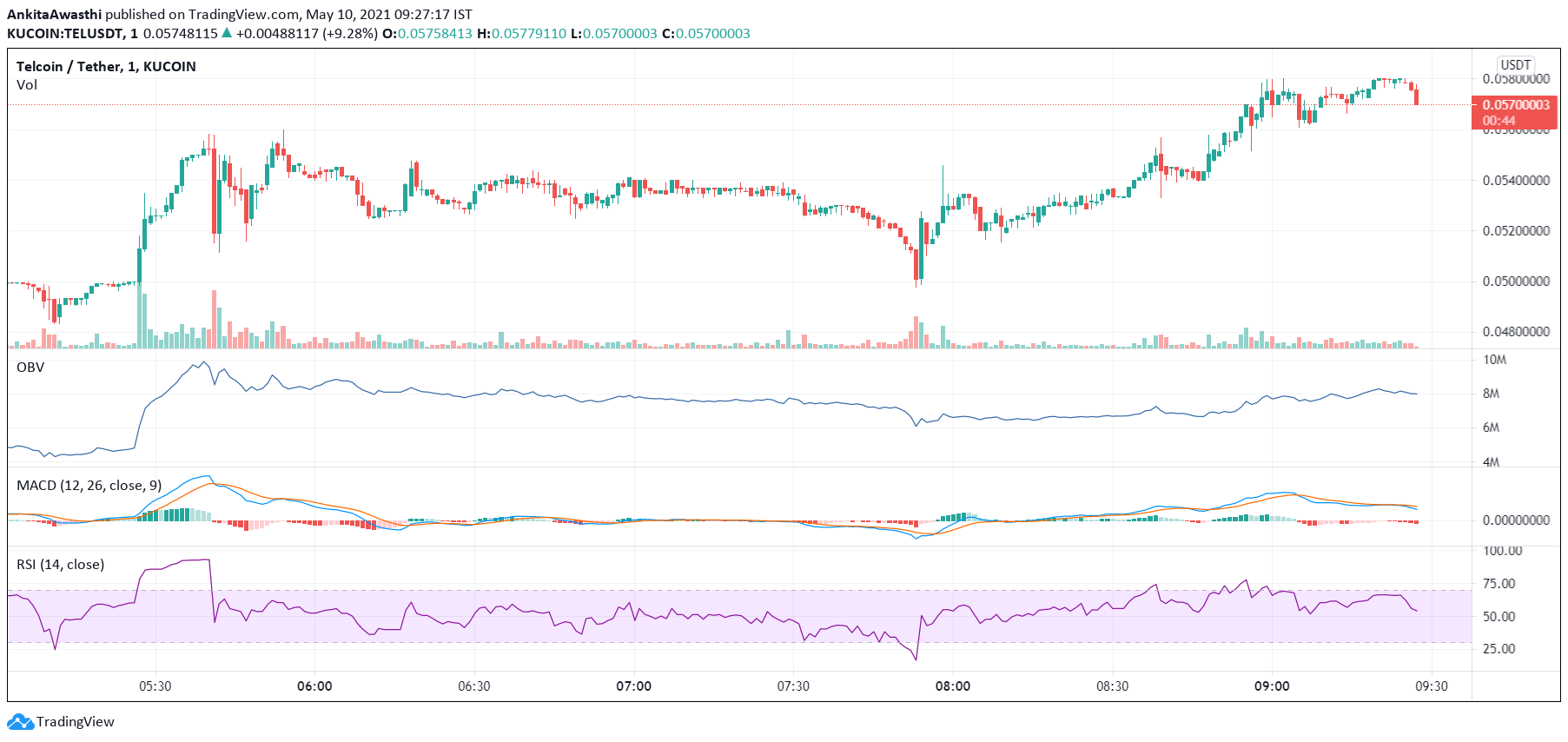 https://s3.tradingview.com/snapshots/f/fXpWhe08.png
Day-Ahead and Tomorrow
Currently, TEL is trading at $0.057. The price has increased from the day's opening price of $0.052. Thus, the market seems to be uptick.
The MACD and signal lines are positive. Hence, the overall market momentum is bullish. However, a bearish crossover by the MACD line over the signal line has occurred. Thus, we can expect a price pullback. They are close to the zero line and may turn negative soon. Hence, a trend reversal also may be on the horizon.
The OBV indicator is upward sloping but declining gradually for the last few minutes. Hence, selling pressures may be slowly increasing. In other words, the OBV indicator is giving further credence to the price pullback signaled by the MACD oscillator.
Currently, the RSI indicator is at 55%. It faced rejection at 45% and rose to this level. Thus, buying pressures are high. Hence, the crypto price is likely to be pushed upwards.
In conjunction with the other two oscillators, an intermittent price pullback is expected amidst a bullish price trend.
TEL Technical Analysis
Currently, the price is above the first Fibonacci resistance level of $0.057. By day end, if the bulls remain strong, we can expect the price to surpass the subsequent resistance levels of $0.059 and $0.063, respectively.
At present, the price has broken out of the 23.6% FIB retracement level of $0.057. Hence, the price uptrend seems strong, and the positive market momentum is expected to continue tomorrow as well. However, intermittent price pullbacks as a part of the price correction process cannot be ruled out.