Bitcoin SV price can retest the mark of $340 on the lower side, which is also its 20-EMA, while the overall trend is still in favor of bulls
A sharp rally is a witness after a bounce from 100-EMA, which seems over, and some profit-taking can experience
The pair of BSV/BTC is trading at 0.006606 BTC with an intraday cut of -8.78%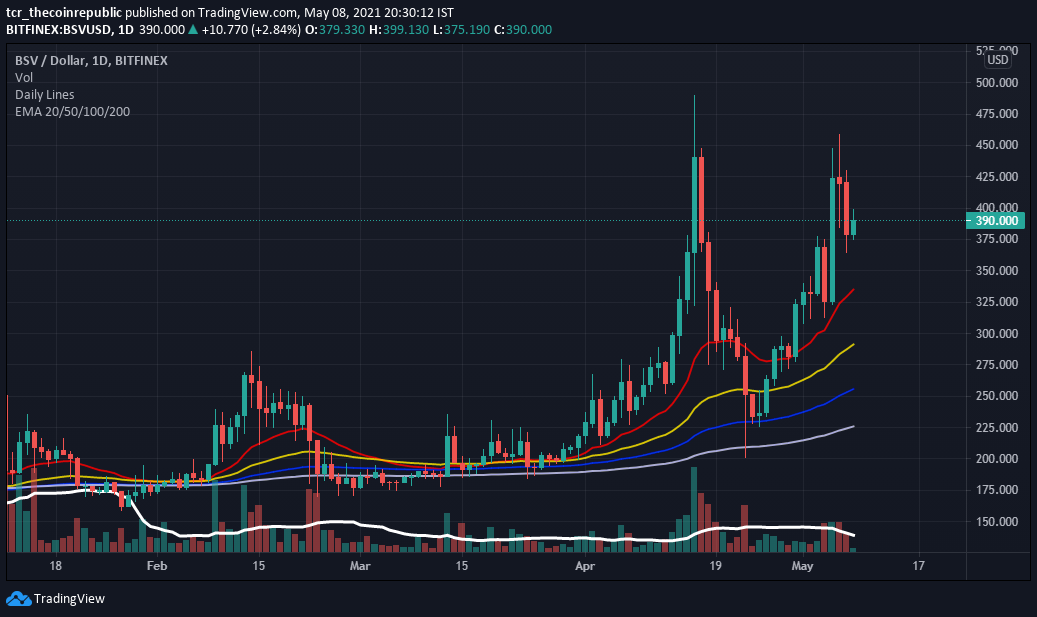 Bitcoin SV price over the monthly chart is trading on a bullish note, where we experience an aggressive buying interest near the 100-DMA. However, some profit-taking or a short-term pullback is expected till the EMA of 20-day. Meanwhile, the volume traction seems lower, which needs to improve for further positive momentum. Whereas the overall long-term trend is still in the fine grip of bulls, but in the shorter term, bears can be powerful on BSV. Likewise, the coin maintains itself above all major moving averages of 20, 50, 100, and 200-Day. Support over the medium-term chart is at $290 and $225, whereas levels of $450 and $490 will act as resistances.  
Weekly Chart Looks Bearish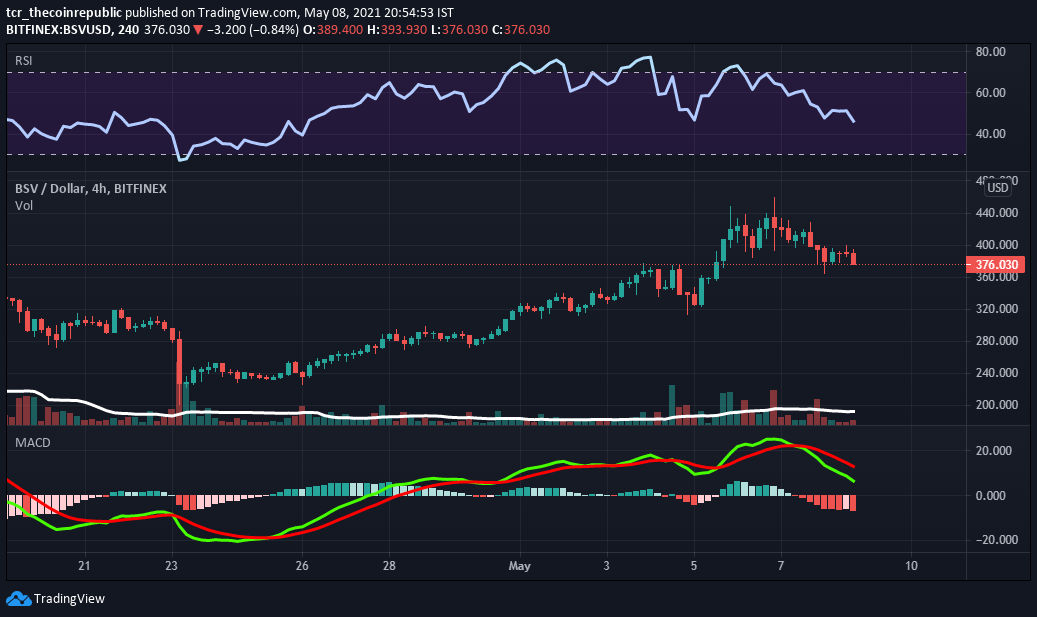 Bitcoin SV over the weekly chart is now looking bearish or weak, like the coin, after a sharp rally, now can see a downtrend in the short term. Since the coin after a massive rally now projects some profit-taking or sell-off, which is also healthier for BSV. Whereas the volume is also lower, and all technical parameters are in favor of bears. Currently BSV is trading at $376 with intraday loss of -7.38% and volume also drops around -28% standing at $2,069,477,571. The total market capitalization also witnesses an intraday loss of -7.50%, which is standing at $7,060,059,421 at 26th rank. Support on a weekly chart is around $360 and $335, while resistance is $400 and $440. 
Relative Strength Index (BEARISH) indicates bearish momentum while trading at 50.62. However, it is present heading towards the oversold zone after testing the overbought zone. 
Moving Average Convergence Divergence (BEARISH) currently indicates a bearish trend on the daily chart. BSV is trading with the significance of the seller's line (red) over the buyer's signal line (green) with no sign of recovery.  
Support levels: $290 and $225
Resistance levels: $450 and $490