Back to the list
BAKE Technical Analysis: Likely to Fall Below Support Levels of $7.37 and $7.03
cryptoknowmics.com
03 May 2021 12:05, UTC
Reading time: ~2 m
---
Bakeryswap is a decentralized blockchain platform for exchanging Binance smart chain coins. It facilitates the swapping of Non-Fungible Tokens (NFT) too. This AMM (Automated Market Maker) has been one of the biggest gainers of 2021. Users who provide liquidity on this platform are rewarded with BAKE tokens. The  BAKE technical analysis is as follows:
Past Performance
On April 26, 2021, BAKE started trading at $1.22. On May 2, 2021, BAKE closed at $8.14. Thus, in the past week, the BAKE price has skyrocketed by a whopping 567%. In the last 24 hours, BAKE has traded between $7.36-$8.25.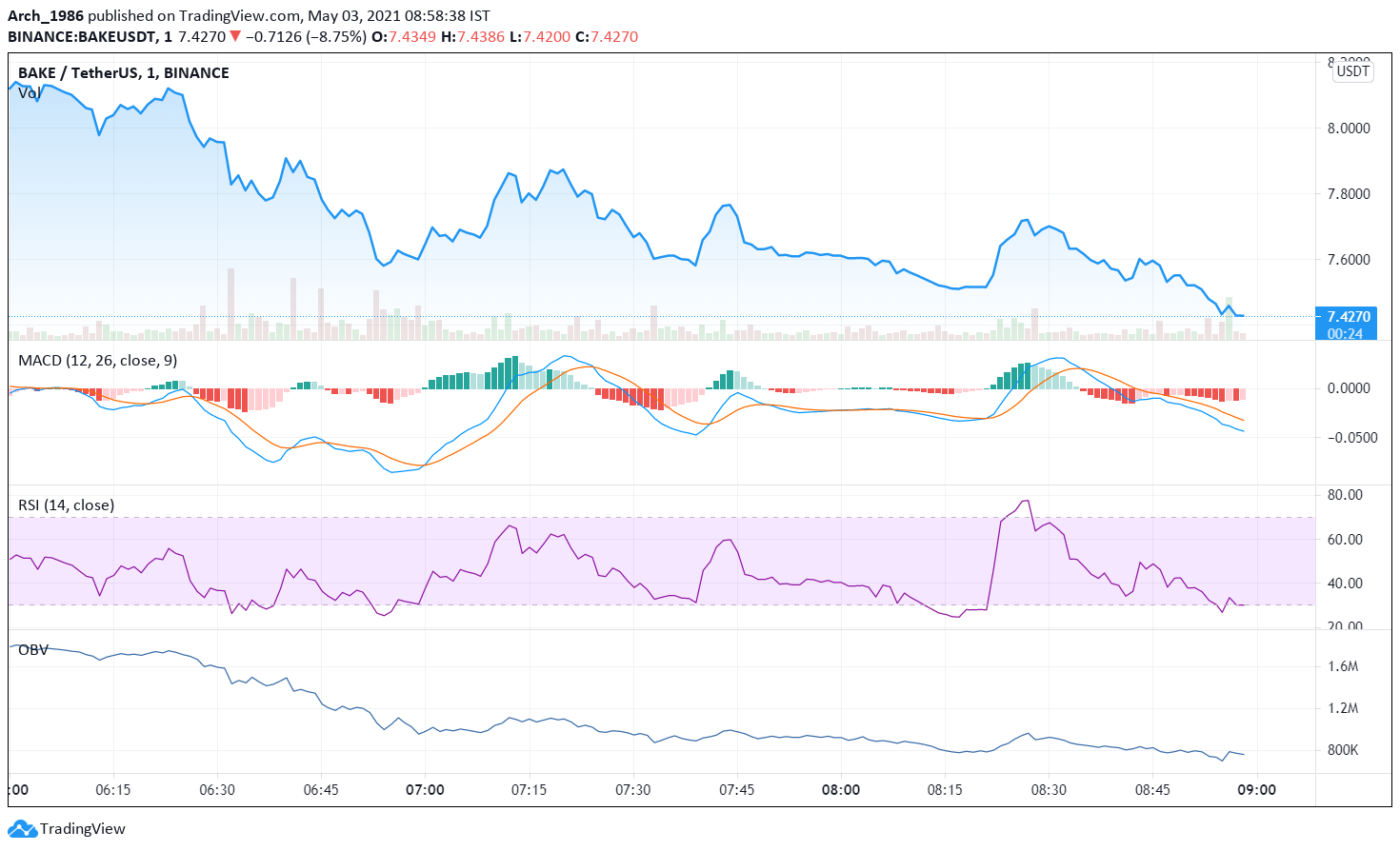 https://s3.tradingview.com/snapshots/m/MnWPUq0Q.png
Day-Ahead and Tomorrow
Currently, BAKE is trading at $7.43. The price has decreased from the day's open price of $8.13. Thus, the market seems to be downtick.
The MACD and signal lines are negative. Moreover, a bearish crossover by the MACD line over the signal line has occurred. Thus, the overall market momentum is bearish. Hence, we can expect the price to decline further.
The RSI indicator is presently at 27% in the 'oversold' region. Thus, selling pressures are extremely high. High offloading of the crypto will exert downward pressure on the BAKE price. Thus, like the MACD indicator, the RSI oscillator too is indicating a further price drop.
The OBV indicator has fallen steeply. Thus, selling volumes are much higher than buying volumes. Hence, the price is likely to fall further. In short, all three oscillators have given bearish signals.
BAKE Technical Analysis
As per technical analysis, the price has presently fallen below the first Fibonacci pivot support level of $7.58. It is soon likely to fall below the subsequent support levels of $7.37 and $7.03, respectively.
The price has tested and fallen below the 23.6% FIB retracement level of $7.57. The price may soon fall below the 23.6% FIB extension level of $7.15. Thus, as of now, the bears seem strong, and the price downtrend is likely to continue today and tomorrow.
---
Source
---
Back to the list