Back to the list
Pancake loses momentum as bulls fail to breach crucial resistance zone
www.thecoinrepublic.com
01 May 2021 20:09, UTC
Reading time: ~2 m
---
Pancake has skyrocketed by an impressive 67% after a breakout from the ascending triangle
Its market cap has also surged to more than $20.7 billion and is currently the 9th biggest currency in the world. 
Supertrend indicator flashes a sell signal on the 4-hour chart
Indeed the price of Pancake saw an upswing of 57% after a breakout from the ascending triangle chart pattern, The breakout was confirmed once the price action retested the support at $26 thus creating a very healthy momentum. On computing the height from the horizontal trend line to the lowest valley in the trend line and adding it to the upward breakout, the destined target matches with the all-time high.
This triggered a sell-off after CAKE established an ATH of $47 on April 30th. Turning into the 4-hour chart, we can see that CAKE has recently broken towards the downside from a very bullish continuation pattern known as the ascending channel. However, the price action could be in the midst of forming a bull flag. Nevertheless, the price action will plunge to lower levels and eventually participate in the recovery.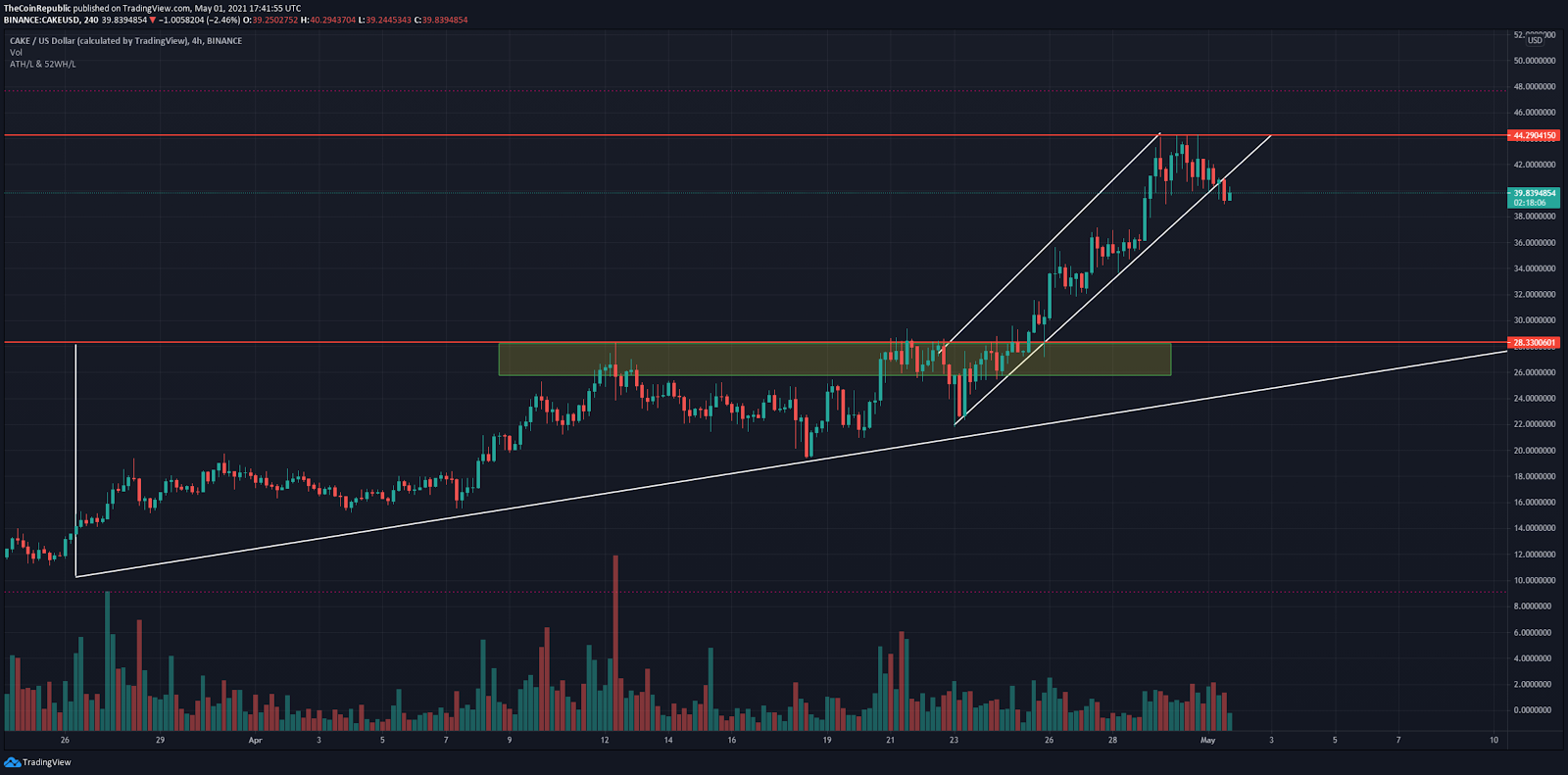 CAKE WILL CONTINUE TO TREND DOWNWARDS UNTIL IT TOUCHES THE 200 EMA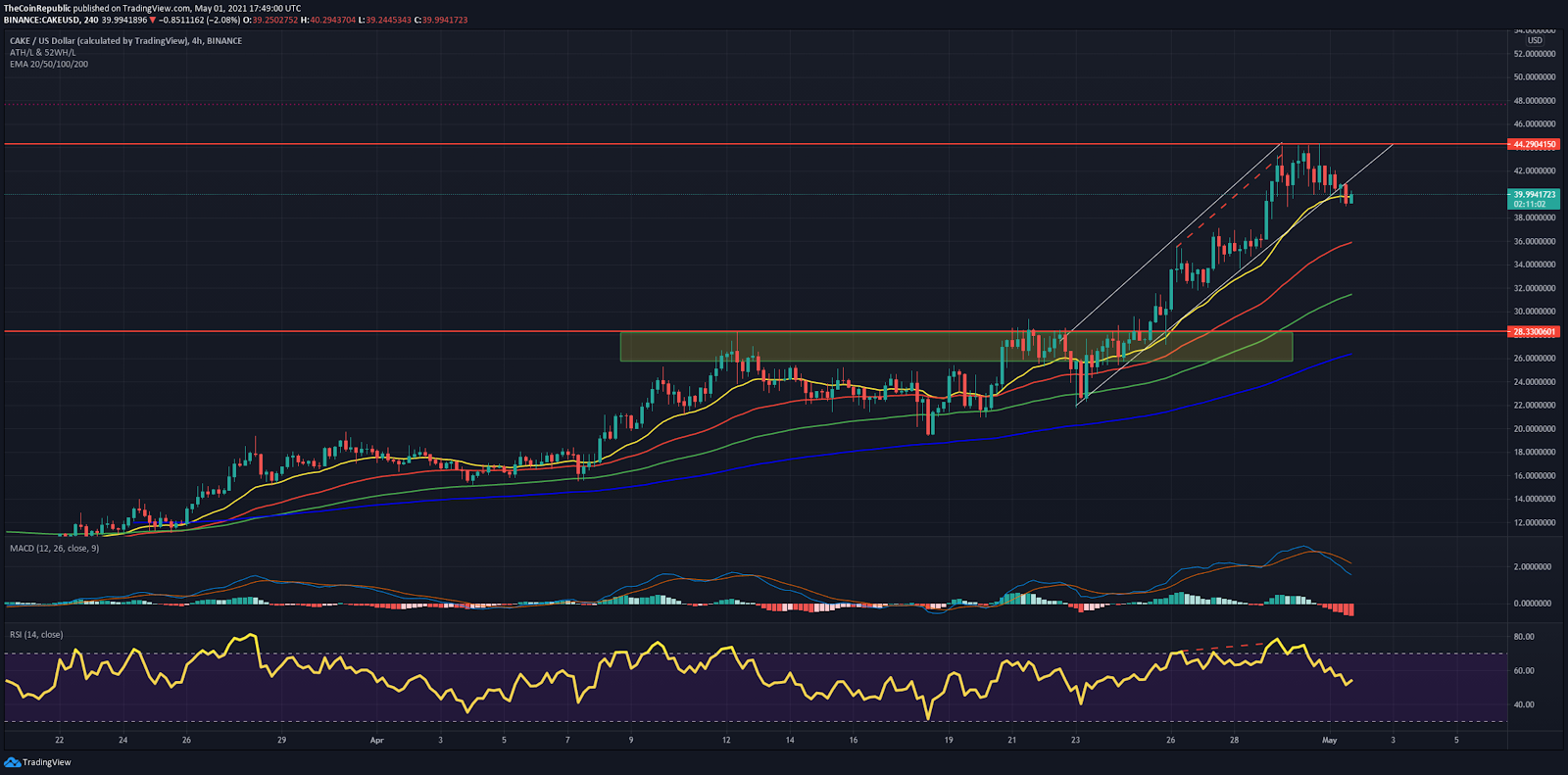 Ever since the golden cross over, CAKE's bullish rally has been unstoppable. However, the uptrend began to collapse once we spotted double bearish divergence on the chart.
Currently, the price of CAKE is above all key EMAs out of which the 20 EMA is going to act as resistance once it travels beneath the price action. If the bearish scenario sustains, it will expose all the other EMAs. The relevance of the 200 EMA(blue) is much more in this case as it is currently sitting in the key resistance zone from where the price has bounced once. Speculators can expect the price to bounce after it tests as support. 
The RSI is hanging in the equilibrium zone at 53 showing signs of no trend. 
MACD on the other hand has just showcased a bearish crossover. The histogram is diminishing and forming higher lows at press time. 
CONCLUSION: CAKE's overall momentum appears to be extremely parabolic on the daily frame. After an insane rally, a correction in price  is healthy.  The 200 EMA will provide a major support zone in case the price keeps retracing down. Most of the technical indicators have already dictated short-term bearishness. Looking upon the big picture, CAKE is notoriously forming bullish flag chart patterns since the end of March. The same situation is likely to happen and the short-term bearishness won't last for long. 
SUPPORT : $28.33
RESISTANCE : $47.80
---
Source
---
Back to the list