The price of Uniswap's native token, UNI, has hit an all-time high of over $40 during trading on April 27.
UNI prices have hit a new all-time high today as altcoins continue to perform well, defying the Bitcoin-driven market correction.
CoinGecko has reported a peak price of $40.50 for UNI during early European trading on Tuesday, a gain of 12.67% on the day. Since then, the coin has climbed even higher, reaching $41.43.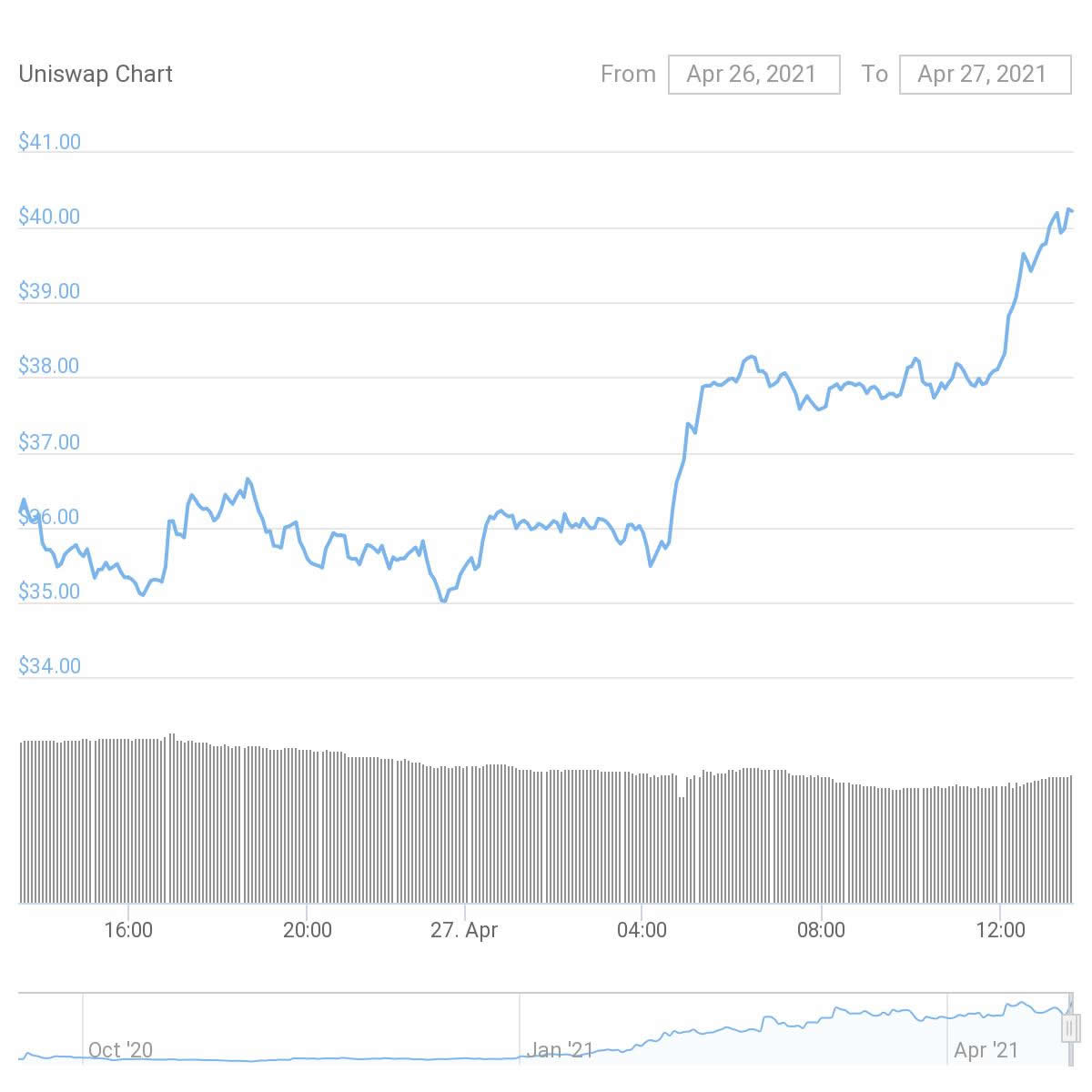 Image source: CoinGecko.com
UNI prices have gained almost 30% over the past seven days and 48% over the past thirty. In terms of market capitalization, it has just over $21.6 billion, ranking the project at ninth in the charts, just ahead of Litecoin.
Uniswap v3 Hype
Ethereum advocate and Bankless founder David Hoffman pointed out that the current price makes the Uniswap airdrop worth $16,000.
$UNI new ATH at $40!

Uniswap airdrop currently worth $16,000

— DavidHoffman.eth (@TrustlessState) April 27, 2021
In September 2020, Uniswap airdropped 400 tokens to previous users of the platform prior to the launch of UNI and four Ethereum-based yield farms which enabled further earnings.
At the time, the majority of those in receipt of the new tokens sold them to market. This resulted in a price slump to below $2 by early November. By the end of the year, UNI was trading at around $5. Since then, it has made a whopping 700%, resulting in happy days for the hodlers.
The hype may be driven by the highly anticipated Uniswap v3 launch on May 5. Upgrades included in the next iteration include multiple fee tiers which allow liquidity providers to be compensated for taking on varying degrees of risk. There are also upgrades to the automated market maker bonding curves, which aggregate individual positions into a single pool to form one combined curve for trading against.
However, the highly anticipated move to Layer 2 will not be shipped with this version. However, it is likely to follow soon after, according to Uniswap Labs. On April 21, Uniswap confirmed that the protocol's v3 core and periphery smart contracts had been deployed to all major Ethereum testnets.
At the time of publication, the total value locked on Uniswap was $6.69 billion according to DeFi Pulse whereas DappRadar was reporting a much higher figure of $10.15 billion. The protocol's own dashboard was closer to the latter with $9.17 billion in liquidity reported.
DeFi TVL Outlook
The TVL for the entire industry is currently at $68.2 billion, according to DappRadar. Uniswap is the leading protocol followed by MakerDAO and WBTC.
TVL is down slightly from its ATH of $70 billion on April 16.