Back to the list
Is Bitcoin Bull Market Over? Analyst Michaël van de Poppe Says Traders Are in Disbelief
dailyhodl.com
25 April 2021 12:09, UTC
Reading time: ~2 m
---
Widely-followed crypto strategist and trader Michaël van de Poppe is looking at the bigger picture to analyze the state of the Bitcoin bull market.
In a new video, the trader tells his 69,700 YouTube subscribers that BTC is at the stage where a lot of its market participants are doubting that the bull market will continue.
"We're currently in a phase where it's 50/50. There's a bunch of people expecting a bear market. There's a bunch of people expecting the bull market to happen. There's nothing in between. That's what we call the disbelief phase. So probably, this corrective move for the bears is just the start of the bear market. For the bulls, it's a corrective period. I think it's the corrective period."
According to the psychology of a market cycle, the disbelief phase is the earliest stage of the bull market, where market participants believe that the rally will abruptly end.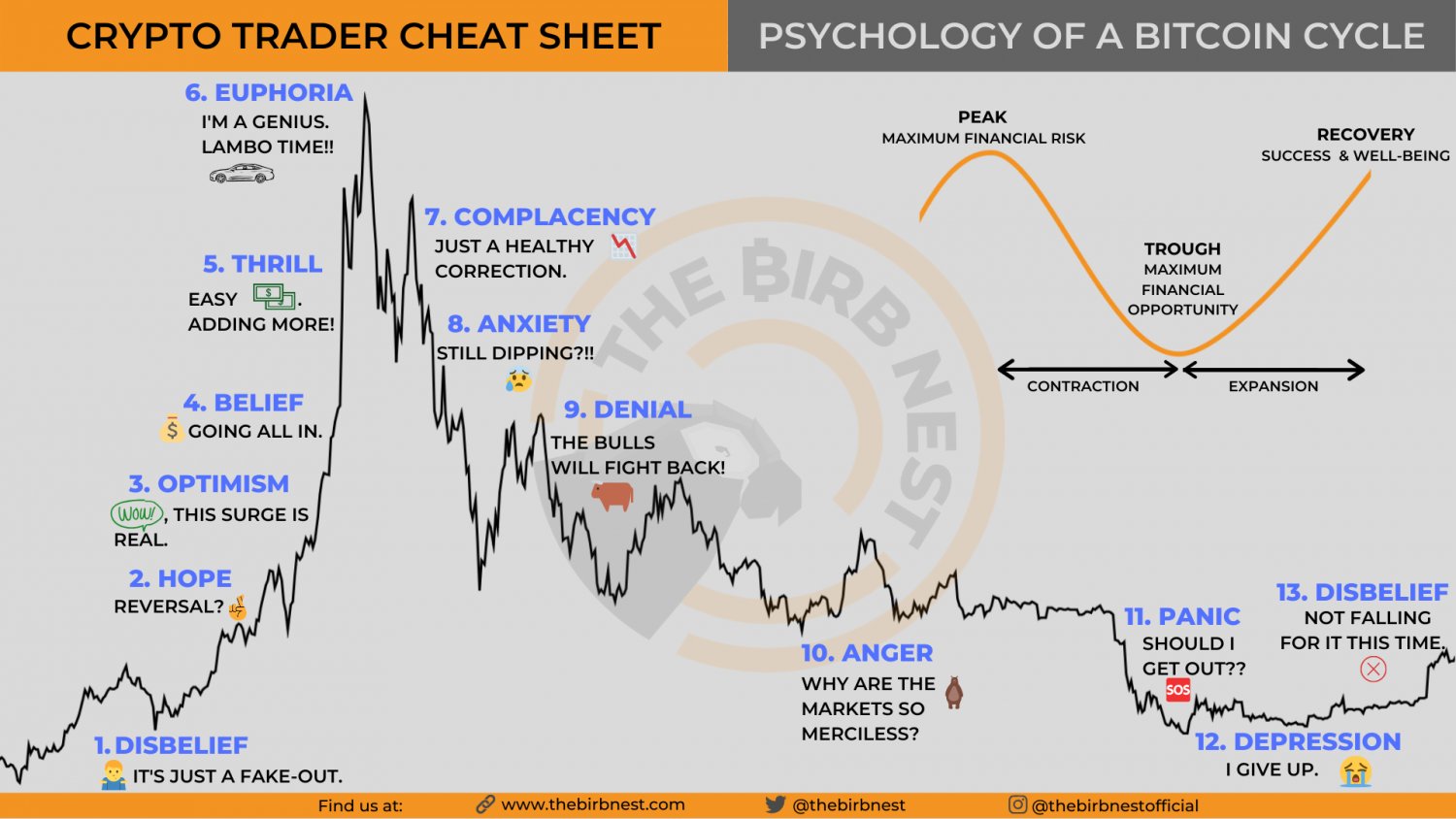 Van de Poppe's current sentiment that BTC is in the early stages of a bull market aligns with his prediction that Bitcoin will hit $300,000 by the end of the current boom cycle.
The trader looks at the weekly timeframe to support his long-term bullish bias on BTC and to illustrate that the current corrective move is natural and healthy for the sustainability of the bull market.
"As you can see in the previous bull cycles, we've had those tests of the 21-week MA (moving average), which is currently coming up as support. [BTC] didn't really have any test at all until we get here right now… If you look at the weekly level, we are still making a bullish outlook… You can see during the 2016 and 2017 cycle we've had a test of all those levels (21-week MA) previously until we get into the parabolic phase."
As for Bitcoin's short-term outlook, Van de Poppe maps out two possibilities that would enable Bitcoin to carve out a local bottom.
"Two scenarios that I'm looking at. One is we get a bounce up and then flip this gray zone ($50,000) for support through which this (drop below $50,000) becomes a fake out on the low. Then, we start to reverse combined with the bullish divergence.
Secondly…. bounce up, immediate rejection at $53,000 and then another test, after which, we bottom out around $46,000 and start reversing."
---
Source
---
Back to the list