Back to the list
Crypto Market Forecast: Week of April 26th 2022
bravenewcoin.com
25 April 2022 22:14, UTC
Reading time: ~3 m
---
Flat trading Bitcoin for (BTC) action over the past week, currently priced at just under US$40k with an overall drop of 1.55% versus the previous week. Meanwhile, Ether (ETH) and Binance coin (BNB) are down 3.84% and 3.12% respectively versus the previous week.
Commentators note that Bitcoin has been trading more like a tech stock than a cryptocurrency recently, with strong correlation to the Nasdaq - which makes investors more sensitive to rising interest rates. Important to note here that despite a recent increase in the Effective Federal Funds Rate in March from 0.08 to 0.33%, rates have not returned to their higher (yet still low) pre-COVID levels: about 1.59%.
A combination of simultaneous upward and downward pressures on Bitcoin's price include US dollar holders looking for alternative assets during the highest inflation in decades; some buying after the American mid-April tax deadline passing; the war in Ukraine and the US's OFAC sanctioning of Russian bitcoin miners and the ongoing uncertainty about whether the SEC might approve spot Bitcoin ETFs in the US (although futures-based Bitcoin ETFs have been approved in the US, and Australia and Canada have already greenlighted bitcoin spot ETFs).
Additionally, Bitcoin's price may still be impacted by continued headlines on the massive Axie Infinity/Ronin Bridge hack. The event spawned US sanctions against Ether (ETH) addresses alleged to belong to the North Korean hacker group Lazarus, which are said to be recipient addresses of about US$600 million of the stolen Ether.
US officials assert that, after passing through intermediary addresses, the stolen Ether passed through a mixing service known as Tornado Cash — making it harder to track.
Crypto news for the week ahead
End-of-April
Reserve, the developer of the Rights token (RSR), expects a mainnet launch of its protocol by the end of the month. The Reserve website claims to allow anyone to create a Reserve stablecoin (RToken) in a permissionless way over the protocol's smart contracts. Reserve markets its product as a "stable, decentralized and inflation-resistant world reserve currency not pegged to any one fiat currency", arguing that the process of competition and by pegging to multiple currencies can offer an element of stability.
25 April - ETNA DeBank 2.0 Beta launch
ETNA Network launches DeBank 2.0 Beta: a decentralized lending and borrowing protocol that allows users to take out loans using NFTs and other intangible tokens. See the testnet dashboard here.
Top 10 Crypto Summary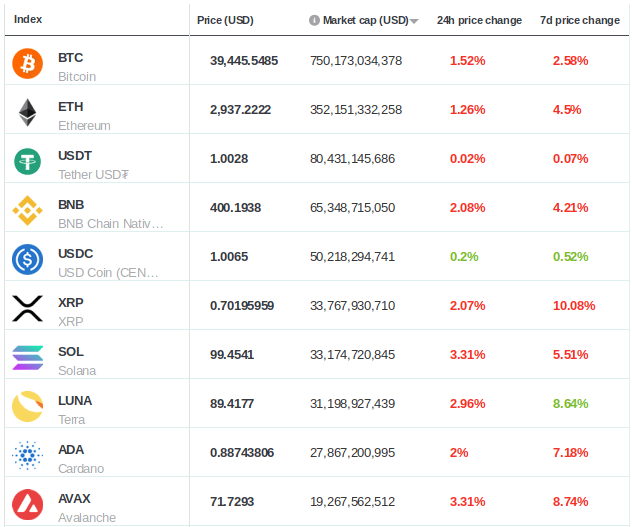 Seven down prices are mostly in the red as conflict in Ukraine and macroeconomic uncertainty continue. Ether (ETH) has underperformed amidst ongoing major upgrades to the Ethereum blockchain: a switch from proof-of-work (PoW) to proof-of-stake (PoS) and the launch of so-called "shard chains". The launch was delayed most recently from June and is now scheduled for Q3 or Q4 2022.
Bitcoin Price Chart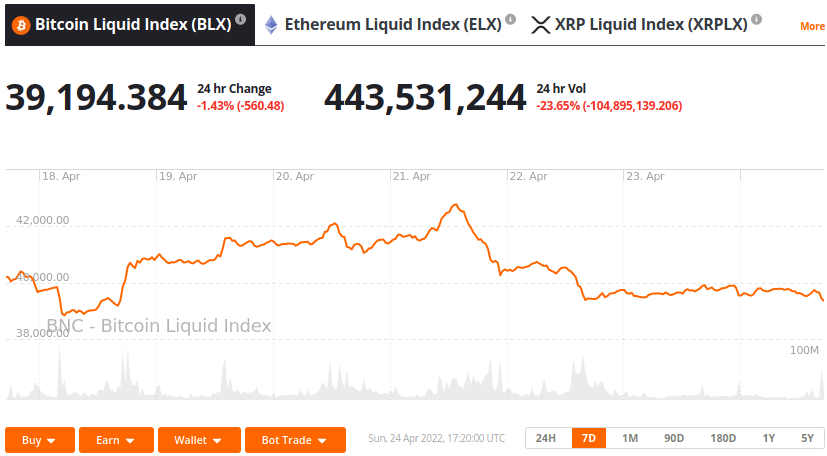 Blockchain onchain analytic company Glassnode notes that there has been a significantly higher volume of trades happening in the US$39k to US$42k range than at the higher price points (maxing out at US$68k, the highest price point to date). Glassnode also notes that most of the Bitcoin holders that bought in the upper price range are long-term holders, and are (for now) willing to hold at a loss, in expectation of a higher payout at a later date. Buyers that purchased in the US$38k to US$50k price range are predominantly short-term holders.
---
Source
---
Back to the list