Back to the list
CEL Technical Analysis: CEL Downswing to Continue, Good Time for Swing Traders
cryptoknowmics.com
08 April 2021 10:15, UTC
Reading time: ~2 m
---
Celsius is a blockchain network that allows users to earn up to 50% on their stable coins. The CEL token is a utility token that helps users get higher earnings and lower interest rates on borrowed funds. Institutional borrowers can earn up to a 30% discount on interest payments. The CEL technical analysis is as follows:
Past Performance
On April 1, 2021, CEL opened at $4.82. As of April 7, 2021, the closing price was $7.48. Thus, in the past week, the price has surged by approximately 55%. In the last 24 hours, CEL has traded between $7.38-$7.52.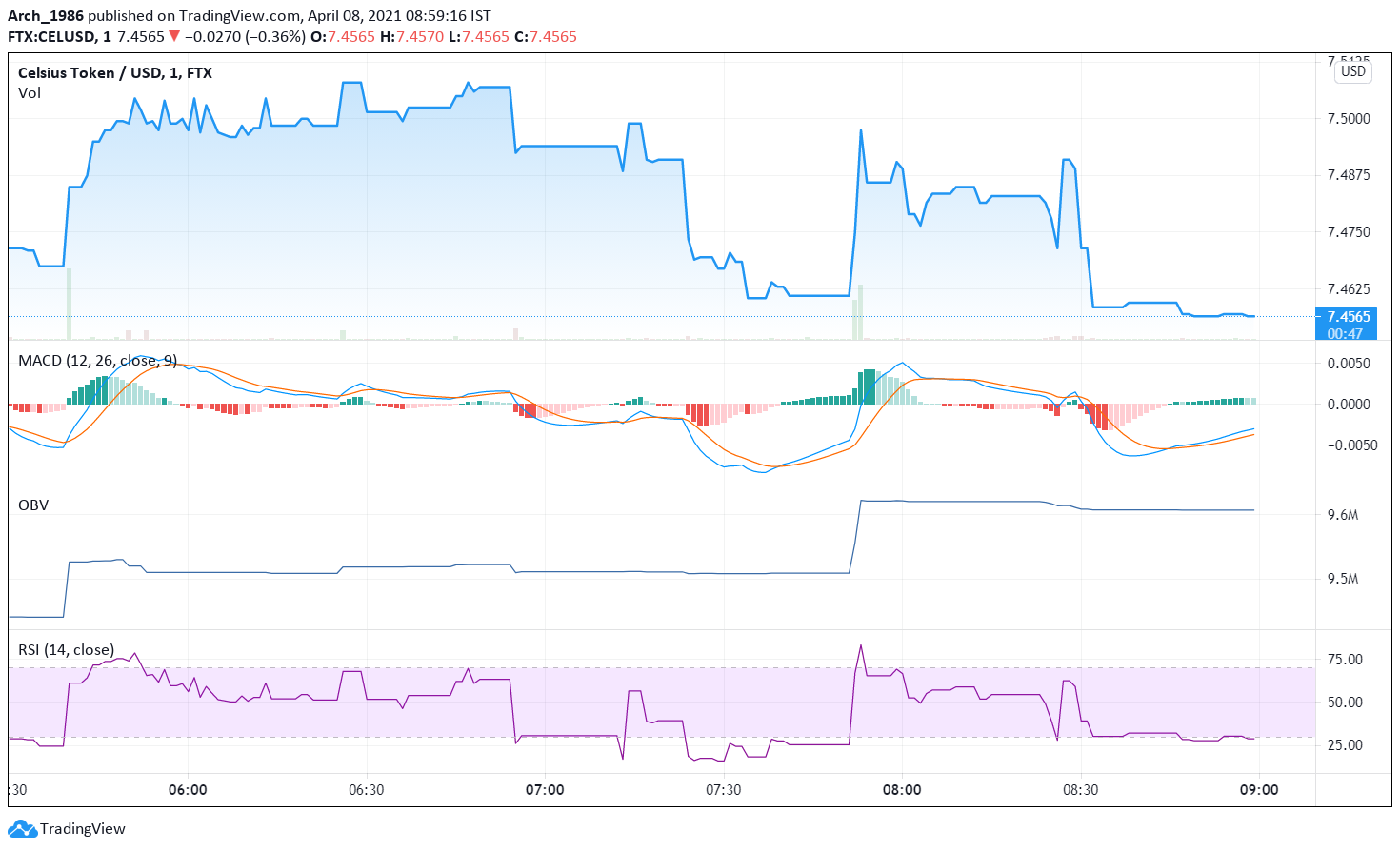 https://www.tradingview.com/x/7T2qsiFj/
Day-Ahead and Tomorrow
Currently, CEL is trading at $7.46.  The price has decreased from the opening price of $7.48. Thus, the market looks bearish.
The OBV indicator is upward sloping. Thus, buying volumes are higher than selling volumes. Heavy buying activity will exert upward pressure on the CEL price. Thus, the CEL price is likely to go up.
The MACD and signal lines are negative. A bearish crossover by the MACD line over the signal line has occurred. Thus, the overall market momentum is bearish. Hence, we can expect the price to go down further.
Presently, the RSI indicator is at 2%. Thus, selling pressures are extremely high as the RSI is deep in the 'oversold' region. Hence, the price is likely to drop steeply. This is a good time for swing traders to go long.
CEL Technical Analysis
In technical analysis, the price has fallen below the first Fibonacci pivot support level of $7.41. It is soon likely to fall below the subsequent support levels of $7.37 and $7.32, respectively.
The price has tested and fallen below the 23.6% FIB retracement level of $7.41. It is soon likely to test and fall below the 23.6% FIB extension level of $7.35. As of now, the bearish forces seem strong and hence we can expect the price downswing to continue today and tomorrow.
---
Source
---
Back to the list