Back to the list
DOT to Keep Rising with a Small Dip - Technical Analysis
cryptoknowmics.com
16 February 2021 12:20, UTC
Reading time: ~3 m
---
In a major push to DOT as a trusted investment, iTrustCapital, (only low cost 24/7 digital asset IRA technology platform), has allowed investments in Polkadot (DOT). The platform allows investors to access cryptocurrencies, digital assets, and precious metals within their retirement accounts.
Past Trends in DOT
The DOT price has been bullish since the past month. The past week also has been overall positive for DOT. On February 10, 2021, DOT started trading at $23.11. As of February 15, 2021, the closing price of DOT was $27.80. Thus, the DOT price has risen by approx. 20% in the past week.
In the last 24 hours, DOT traded within the price range of $24.42-$29.54.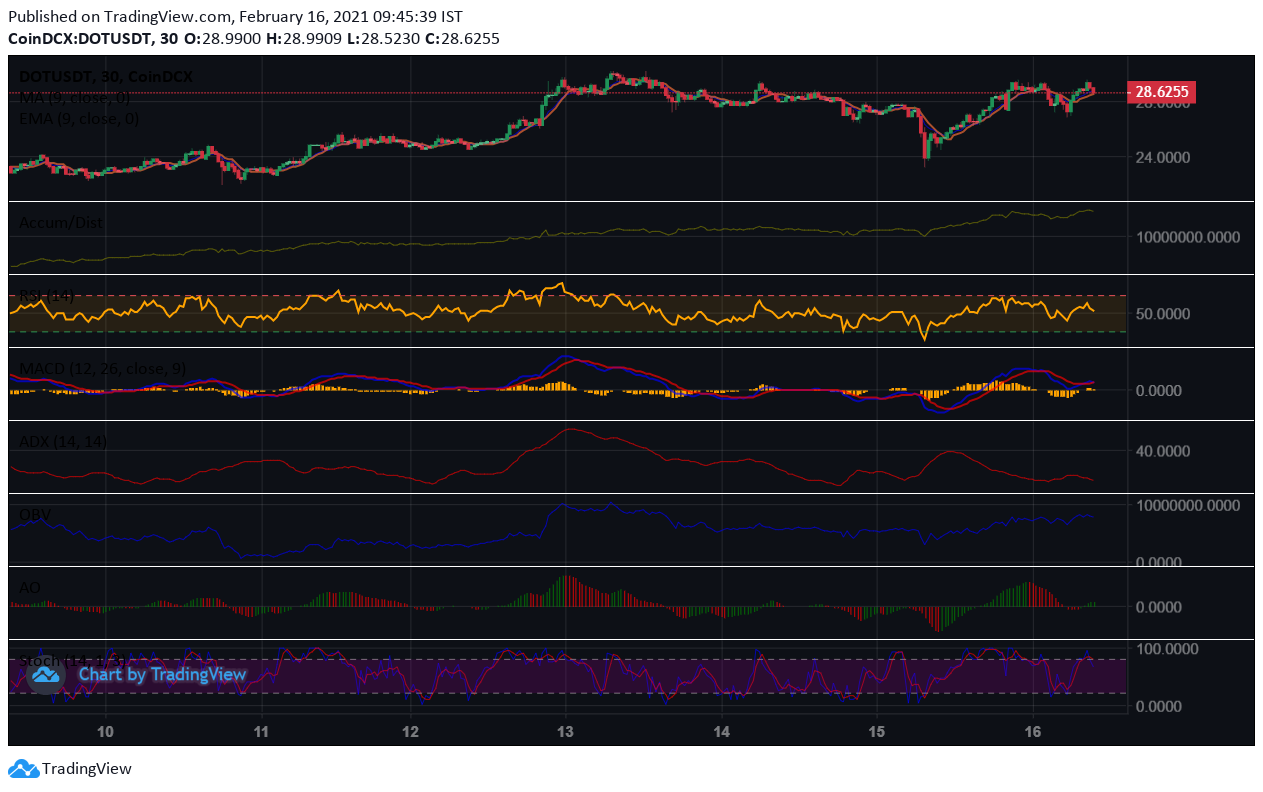 https://www.tradingview.com/x/V8qMbh4m
Technical Indications for the Day-Ahead and Tomorrow
Currently, DOT is trading at $28.62. There has been an increase from the opening price of $27.82. The price has traded above the EMA and SMA lines most of the time, since morning. Thus, the market looks healthy.
The A/D and OBV indicators are rising. However, the OBV indicator is rising at a slower rate than the A/D indicator. Whale accumulations are increasing but with some struggle. Similarly, the DOT price will go up with some struggle.
The RSI indicator is at 42%. Thus, selling pressures are high. The RSI had gone into the 'overbought' region some time back. Thereafter, it fell to the current levels. Thus, an intermittent price drop will occur.
The Stochastic oscillator has just started rallying from the 'oversold' region. A bullish crossover by the actual value-line over the 3-day SMA line implies that the price will start rising after an intermittent price pullback. It is a good time for swing traders to go long.
The AO indicator has become negative. Thus, selling pressures have overtaken the market. The 'sell' signals given out by the AO indicator are slowly gaining strength.
The MACD and signal lines are positive. But, they are closer to the zero line and may change signs soon. The MACD line has crossed below the signal line indicating that the current market momentum is bearish. Whale offloading activity is high and hence the price may struggle to rise.
The ADX line is falling. There is negative divergence here. This implies that the price uptrend is weakening. We can expect an intermittent price pullback.
Currently, the price is above the Fibonacci pivot point of $27.26. The price uptrend will start resuming when the price goes past the first Fibonacci pivot resistance level of $29.22.
The price has tested the 23.6% Fibonacci retracement level of $28.33. If the price manages to break out of the 23.6% FIB extension level of $30.75 today, then the bull-run will continue.
Overall, the trend is positive. But, we can expect intermittent price pullbacks. There are no signs of a price downtrend setting in.
---
Source
---
Back to the list