Back to the list
First Mover Americas: Ether's Net Issuance Points to Supply Squeeze Ahead; Waves Hits Record High
www.coindesk.com
29 March 2022 14:37, UTC
Reading time: ~4 m
---
Good morning, and welcome to First Mover, our daily newsletter putting the latest moves in crypto markets in context. Sign up here to get it in your inbox each weekday morning.
Here's what's happening this morning:
Market Moves: Calm in credit markets likely helps bitcoin and equities look through sustained rise in bond yields.

Featured stories: Ether's net issuance points to supply squeeze ahead.
And check out the CoinDesk TV show "First Mover," hosted by Christine Lee, Emily Parker and Lawrence Lewitinn at 9:00 a.m. U.S. Eastern time.
Ben Gagnon, chief mining officer, Bitfarms

Jeff Dorman, chief operating officer, Arca

Robert Bogucki, managing director and global co-head of trading, Galaxy Digital
Both crypto and stock markets continued to look through a sustained rise in bond yields. The resilience perhaps stemmed from the calm in credit markets.
"There's no stress in credit markets, so until that happens, you've got to sit on the bid, really," David Belle, founder of Macrodesiac.com and U.K. growth director at TradingView, tweeted. Credit markets had turned jittery following Russia's invasion of Ukraine on Feb. 24.
Bitcoin remained on the hunt for the 200-day average placed at $48,250, having missed testing the critical technical resistance narrowly on Monday.
The futures market exhibited a bullish tone, with the one-month contract listed on the Chicago Mercantile Exchange trading at an annualized premium of 6%, the highest since mid-December, according to data provided by Skew. The dollar value locked in the CME-based open futures contracts rose above $3 billion for the first time this year. The exchange is considered a proxy for institutional activity.
Premium on other exchanges remained under 5%, signaling a lack of conviction among retail traders about bitcoin's ongoing price rally.
Ether, the second-largest cryptocurrency and the native token of Ethereum's blockchain, topped $3,450 for the first time since Jan. 6.
Programmable blockchain Terra's LUNA token hit a new record high of $105.91. "Sentiment for LUNA has grown in the past month largely due to the Luna Foundation Guard (LFG), a Singapore-based nonprofit that is purchasing over $3 billion worth of bitcoin as an additional layer of security for UST, Terra's decentralized dollar-pegged stablecoin," CoinDesk's Shaurya Malwa noted.
From a technical analysis perspective, the focus was on LUNA's ability to keep gains above the $100 mark. In recent weeks, the token has failed multiple times to establish a foothold above the psychological level.
WAVES, the native cryptocurrency of Waves blockchain, which enables users to create and launch custom digital tokens, surged over 50% to a new record high of $52. The surprise launch of Waves Labs, a U.S-based venture to support, develop and incubate commercial opportunities for the Waves blockchain, likely lifted the token higher.
"Waves Labs is a key component of the Waves plan to grow exponentially in 2022. Despite a period of record growth of our ecosystem, Waves still remains relatively unknown in the U.S. crypto space. With the founding of Waves Labs, the ecosystem fund, and the extremely talented team in place, I do not doubt that Waves will reach mass adoption in 2022 and beyond," Sasha Ivanov, founder of Waves, said in a press release.
WAVES has rallied more than 300% this month to top the list of best performing cryptocurrencies with market values of at least $1 billion.
Other significant gainers of the day were RUNE, LRC, FIL and ETC.
Peak popular interest doesn't necessarily imply an increase in actual buying pressure from retail investors as people often search for information but don't act. That said, investors could step in this time, given that ether is fast gaining ground and analysts are making bullish predictions on the second-largest cryptocurrency.
Tokens associated with smart contract blockchains like Polkadot and Solana registered double-digit gains on a 24-hour basis. Web 3 heavyweights FIL, THETA and GRT rose 27%, 15% and 12%, respectively.
The regulatory risk was back on the table with the European Union likely to vote on stricter rules for private wallets as part of anti-money-laundering checks, including scrapping the €1,000 ($1,100) limit for reporting transfers, Solot said.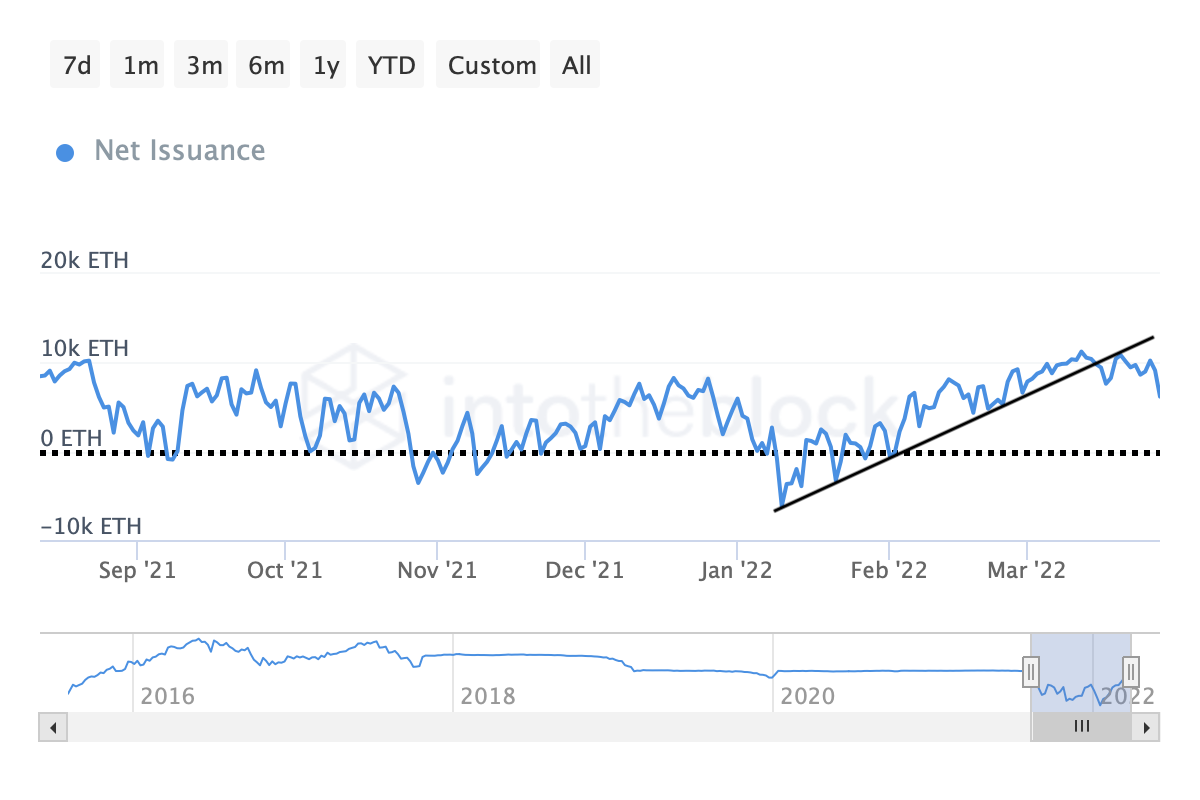 ---
Source
---
Back to the list