Back to the list
US Dollar Weakness Exposed, Investors Flip to Bitcoin
cryptobriefing.com
06 November 2020 20:30, UTC
Reading time: ~3 m
---
Everything is up—Bitcoin, stocks, gold, the yuan, and the euro—except for the U.S. dollar. 
Marco Landscape Bullish for Gold, Bitcoin
The greenback and Chinese yuan fell dramatically with a possible Trump win early Wednesday. It looks like a Biden win would deal a much deadlier blow to the dollar while shoring up the yuan.
This is due to the ongoing trade war with China led by the Trump administration. Indeed, a Biden win looks bullish for the broader Asian market.
The off-shore Chinese yuan rate rose to its strongest levels of $6.60 per dollar since July 2018. America's GDP is still 3.5% below its pre-pandemic level, while China is projecting a complete recovery from the coronavirus-induced economic crisis. 
The euro also gained 1.57% since the beginning of the U.S. election on Nov. 3. 
Further, the UK's sterling also gained against the dollar on the news of an £850 million ($1,112,505,500.00) buyback program by the Bank of England. The exchange rate of GBP per USD rose by 0.77% on a daily scale to $1.3. 
Nevertheless, the COVID-19 situation has not improved in the UK as the region plunges into its second lockdown. Hence, hedges against the pound are still intact. 
Bitcoin just broke above $15,000, posting 13.3% gains since the beginning of the U.S. elections. In fact, BTC bulls have led stock markets and commodity markets since last month.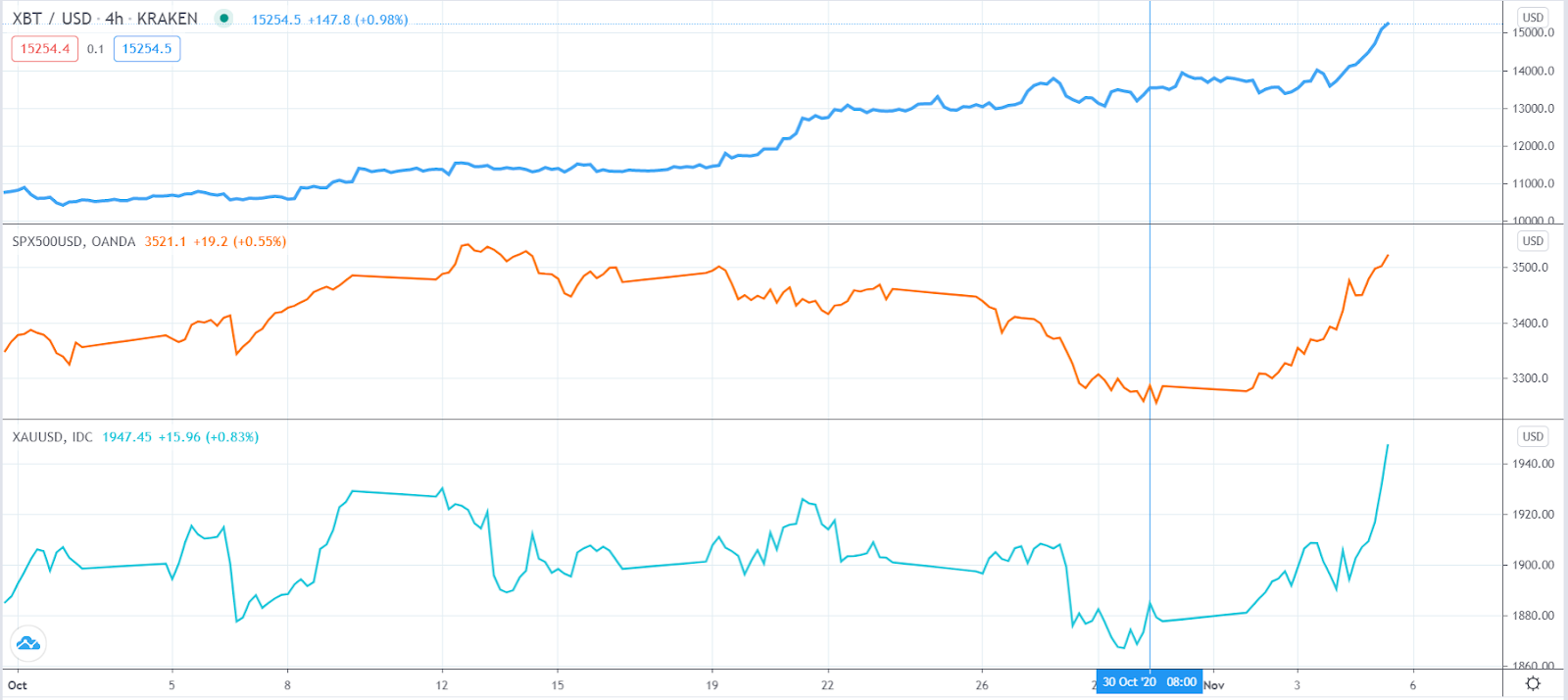 Despite the prevailing recession, the stock markets and Bitcoin look primed for a continued bull run. No matter who wins, many predict another round of monetary stimulus, promoting a risk-on environment. 
JP Thieriot, the CEO of Uphold shared with Crypto Briefing:
"The uncertainty created by the current political climate is just more fuel for Bitcoin's growth. With a clear winner yet to be determined for US President, the likelihood of a gridlocked congress, and the probability of another stimulus package (now that both sides won't be worried about the other getting credit before an election) – people will be further drawn to devaluation-benefited havens like Bitcoin and gold in order to preserve value. We're going to keep seeing BTC price highs."
Bitcoin is UP $BTC
Global stocks are UP $SPY
Precious metals are UP $GC_F
Raw material prices are UP $ZS_F

The common theme?

The DEMISE and DEVALUATION of the U.S. Dollar pic.twitter.com/tI8aXFbA8y

— Peter Brandt (@PeterLBrandt) November 5, 2020
Moreover, the rise in gold over the U.S. dollar weakness is another positive signal for Bitcoin.
Bitcoin's non-correlation with the financial markets is proving to be an inflation hedge and a haven against global uncertainty. 
---
Source
---
Back to the list