Back to the list
Bitcoin and Altcoins Will Go Parabolic in April, According to Crypto Analyst Nicholas Merten – Here's His Target
dailyhodl.com
22 March 2022 22:58, UTC
Reading time: ~2 m
---
A top crypto analyst says Bitcoin (BTC) and the altcoin markets are setting up for a big comeback over the coming months.
In a new update, Nicholas Merten tells Data Dash's 513,000 subscribers that he's becoming more and more convinced that a spring rally is imminent.
"I think there's a very good chance here that we are going to see this spring rally we've been talking about. My convictions are only growing stronger in this."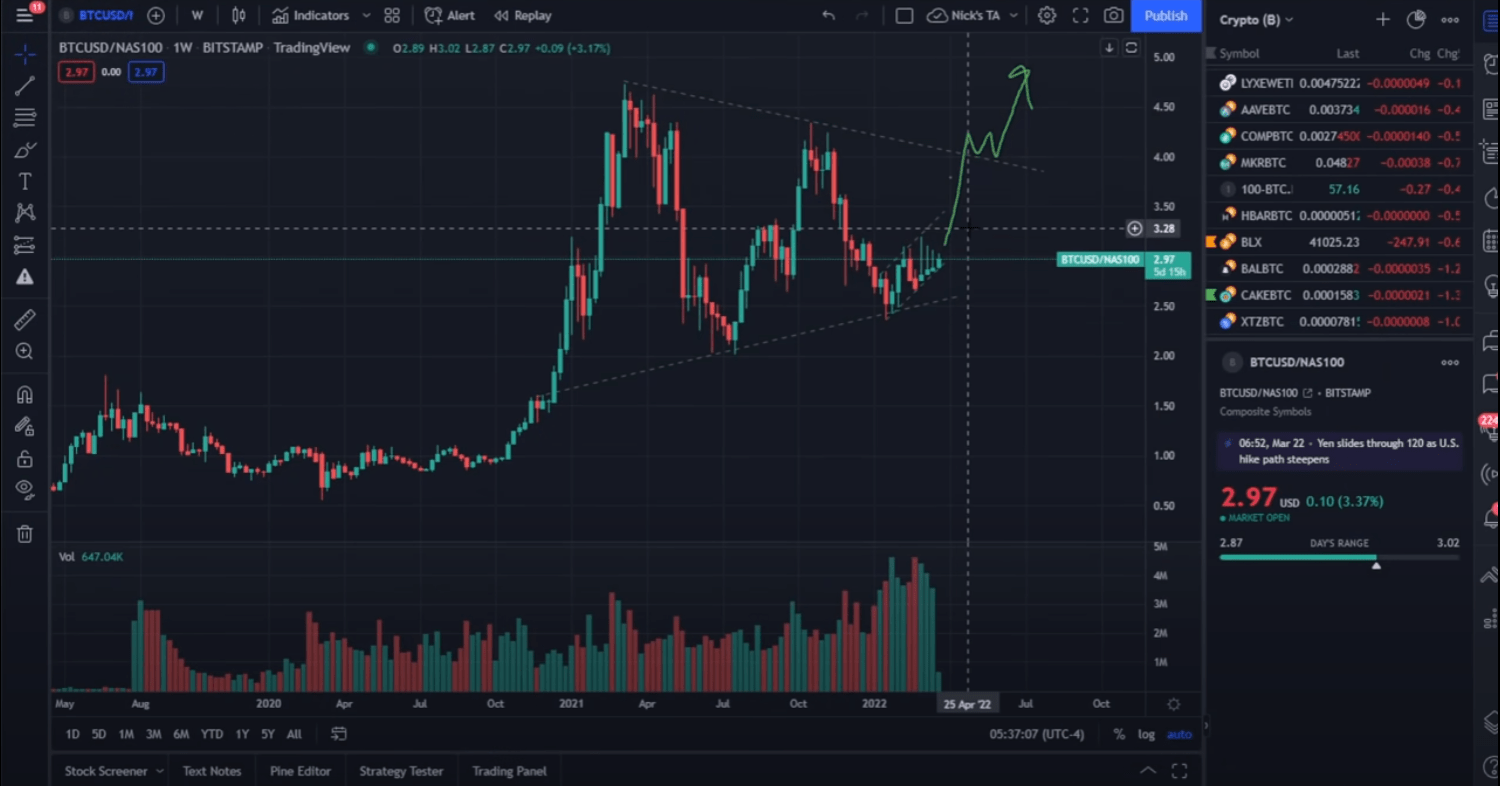 Source: DataDash/YouTube
Merten makes the case that Bitcoin will soon be back to $60,000, a price range not seen since November 2021. Merten says the altcoin market, already gaining momentum, will rally in turn.
"I want to make the case that, really, as soon as later in April, if this trend plays out here, we could be back up towards that $60,000 range for Bitcoin. We could be in for a spring rally… But it's not just Bitcoin. I want to emphasize this big time – because I understand all the while Bitcoin is obviously the most recognized currency, it is the largest crypto in the crypto space – this is unlikely to be just a Bitcoin rally.
I know that people usually think that it's Bitcoin first then altcoins, but if this market has proven anything, it's proven that the previous trends we've found in the past are not the same in this cycle. And we've seen, just like we saw back in late 2020 into early 2021 – Bitcoin and altcoins were picking up steam."
The Data Dash host points out that certain altcoins are already heating up in the market, something that he says signals institutions are buying altcoins at market value in anticipation of an upswing.
"You've got a ton of various different altcoins – this is one of my big signs… We're starting to see a lot of random altcoins popping off in the market, having multiple days of 10-20% gains. And that is a really big telltale sign that the market is starting to, again, not just passively accumulate or fill their orders – the smart money or institutions are not waiting to fill with limit orders – they're market order buying, getting their positions because they're feeling the [fear of missing out] around the corner. The market's going to start trending higher."
---
Source
---
Back to the list