Back to the list
Bitcoin (BTC) and Ethereum (ETH) Flashing Early Signs of Strong Bullish Reversals, Says Analyst Nicholas Merten
dailyhodl.com
20 March 2022 13:45, UTC
Reading time: ~2 m
---
Widely followed crypto strategist Nicholas Merten says the charts are showing that Bitcoin (BTC) and Ethereum (ETH) are gearing up to end their four-month downtrends. 
In a new video, Merten tells his 513,000 YouTube subscribers that Bitcoin bulls have been keeping the market afloat since January as BTC repeatedly printed higher-low setups. 
"I want to go ahead and focus in and again not only the consistent price support that we've been seeing, the eagerness in price as price is continuing to make higher lows since late January, but focusing on Bitcoin is really one thing."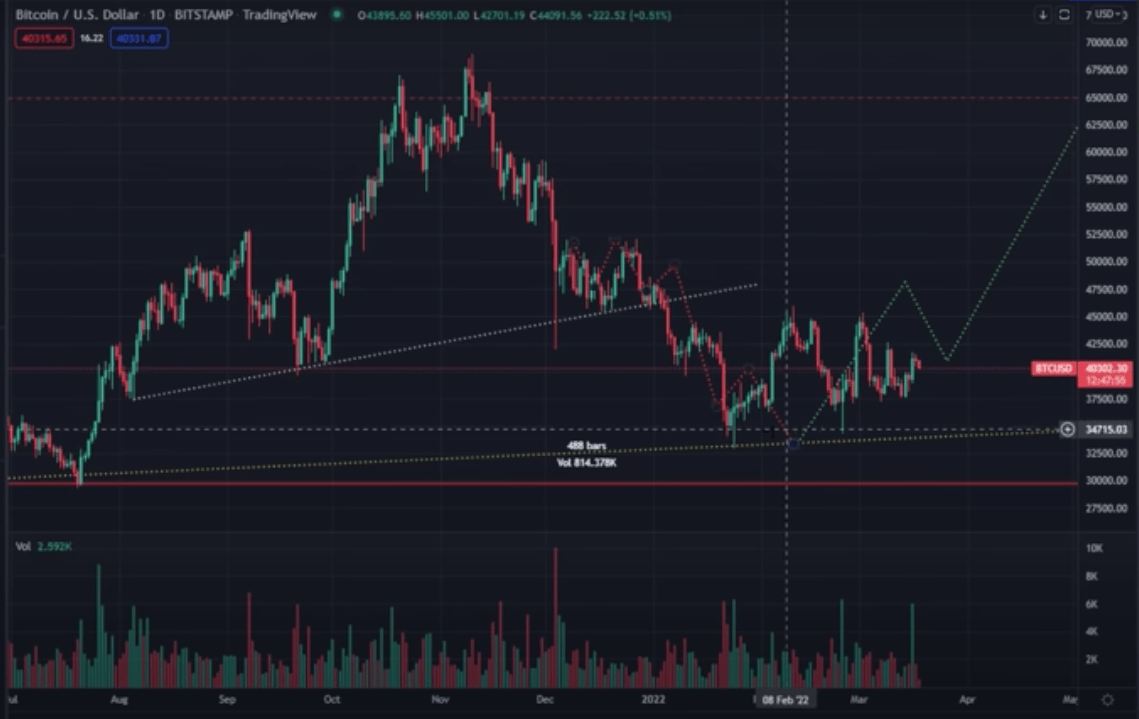 Source: Nicholas Merten/YouTube
Looking at Merten's chart, he believes BTC is about to bottom out before a surge above $60,000.
Next up is Ethereum in its Bitcoin pair (ETH/BTC). According to Merten, ETH/BTC also looks bullish as the pair continues to respect its diagonal support.
"The major thing I want to point your attention to is the growing strength we've been seeing in the ETH to BTC ratio.
The same exact trend here: consistent support range and/or higher lows, which we've been seeing all the way as far back as the earlier part of 2021. Now we're seeing on the short-term trend a revisit back upwards on the ratio climb up higher."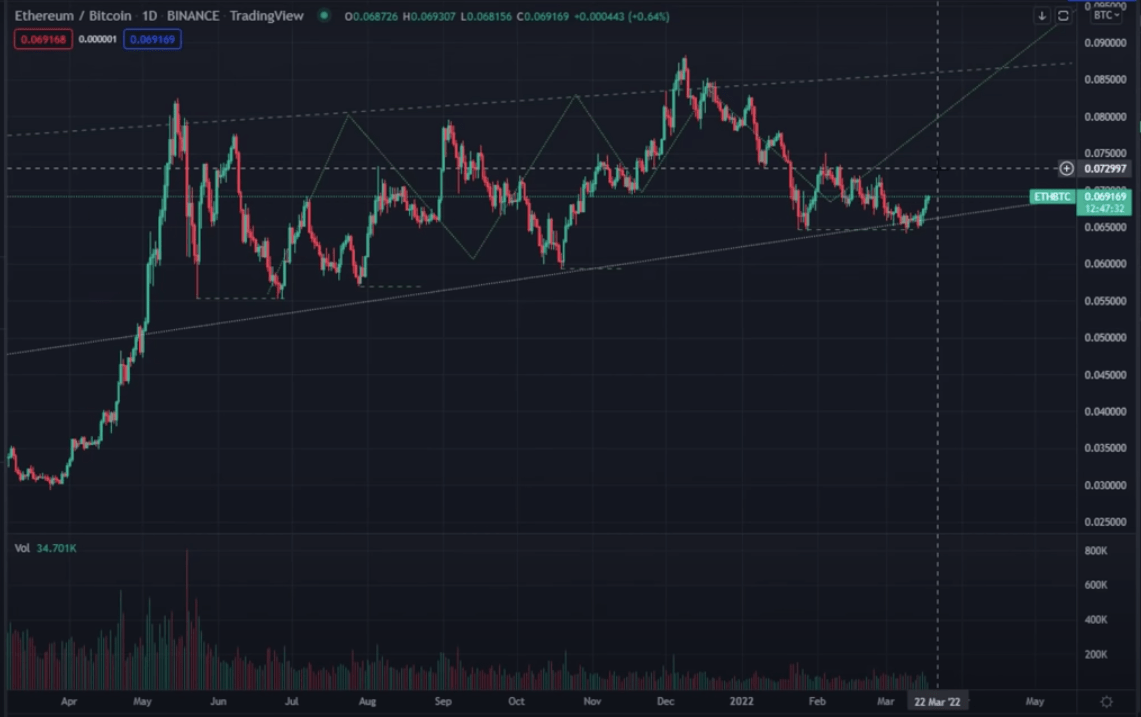 Source: Nicholas Merten/YouTube
Looking at Merten's chart, ETH/BTC looks poised to rally to 0.09 BTC, currently worth $3,790 in the coming months.
As for Ethereum itself, Merten says the leading smart contract platform could surge before the end of the month. 
"By taking a look at the dollar pair for Ethereum, it looks like very much that we're set up not only with the higher lows and the consistent descending resistance that we can be setting here in the coming days or week for a pop up higher above the $3,000 range."
Merten says that while the bullish reversals may not happen overnight, the market structures of both Bitcoin and Ethereum indicate a shift in trend. 
"This is the kind of price action we want to see to confirm the trend breakout here… It's the early signs of a bullish trend reversal to the upside, and I think that that is exactly why we should be excited because we're in the early stages of this."
I
---
Source
---
Back to the list