Back to the list
On-Chain Analysis Firm Issues Ethereum Price Warning, Says Large Investors Are Buying Crypto Newcomer Ampleforth
dailyhodl.com
07 August 2020 00:30, UTC
Reading time: ~2 m
---
The on-chain analytics platform Santiment says Ethereum investors should proceed with caution in the short-term.
In a new Twitter thread, Santiment says ETH is flashing signs indicating the second-largest cryptocurrency has gone up too far, too fast.
"Ethereum's average returns for traders over the past month have been exceptional (+23.98%), as many would likely suspect. The problem is that they've almost been a bit too exceptional. Our MVRV metrics indicate that 30-day returns for ETH buyers are at their highest since 2/14, and 90-day returns (+47.93) are at their highest since 2/18."
While the crypto market data firm expects a cleansing of weak hands in the short term, it sees Ethereum climbing higher in the long term.
Meanwhile, Santiment is placing the spotlight on a low-cap decentralized finance cryptocurrency. Ampleforth (AMPL) is a new breed of crypto that seeks to achieve price-supply equilibrium. According to its whitepaper, AMPL's supply expands or contracts every 24 hours based on the token's price. If AMPL's trades above $1, users get more tokens, and if AMPL's trades below $1, users lose tokens.
Santiment says the unique use case appears to be capturing the attention of crypto investors, with sentiment on social media "extremely positive" and moving higher. In addition, Santiment believes whales are accumulating more coins even though AMPL's value has fallen over the last few days.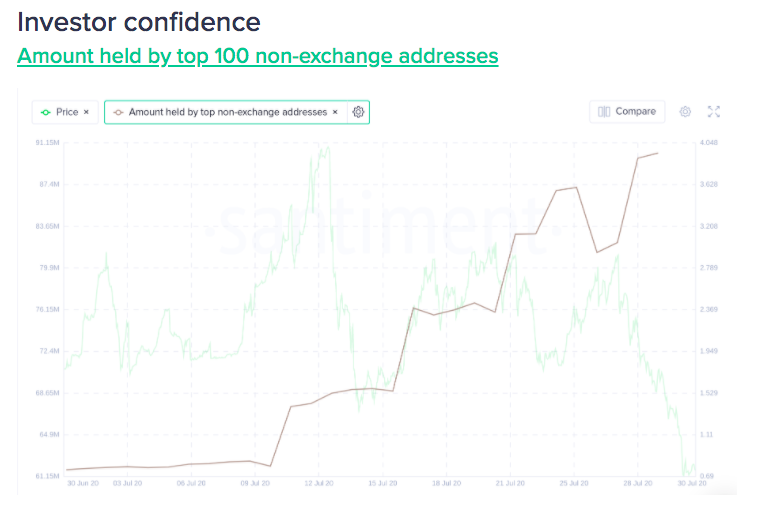 While AMPL seem to be attracting major attention, Santiment warns that its metrics show that speculation is driving market activity.
"Volatility markers are in place. Whales accumulating, crowd is paying attention. There will be redistribution between both. Just the question at what price level. Signs are concerning."
---
Source
---
Back to the list