Back to the list
Bitcoin Breaks Above $10,300 for First Time in 8 Weeks, Gold Breaks All-Time High
www.cryptoglobe.com
28 July 2020 07:00, UTC
Reading time: ~4 m
---
Around 02:25 UTC on Monday (July 27), the gold price made a historic move, reaching $1,922.36 an ounce, which means that it had broken above its all-time high (ATH) of $1,920.94, which had been set on 1 September 2011, as you can see from the one-day and the all-time price charts shown below:


Currently (as of 7:10 UTC on July 27), spot gold is trading at $1,934.12.
According to a report by Kitco News, Marc Chandler, chief market strategist at Bannockburn Global Forex, said:
"It is difficult to talk about resistance in never-before-seen prices, but if our view of interest rates and the turn in the dollar cycle is fair, then $2,500 might not seem unreasonable."
Steven Dunn, head of exchange-traded products at Aberdeen Standard Investments, told Kitco News:
"The combination of escalating U.S.-China tensions and enduring fears about the economic impact of the coronavirus pandemic have provided plenty of fuel for this surge, and neither seem likely to dissipate in the near term... As investors continue to face volatility and uncertainty, the appeal of safe-haven assets like gold and silver will only increase."
Afshin Nabavi, head of trading with MKS (Switzerland) SA, recently told Kitco News:
"Everywhere you look, the world is a mess and that is going to drive gold prices higher."
According to data from CryptoCompare, less than 90 minutes after gold had broken its ATH, Bitcoin, the cryptoasset that many refer to as "digital gold", surged past $10,300, a level last seen on June 1, as you can see from the one-day and three-month price charts shown below: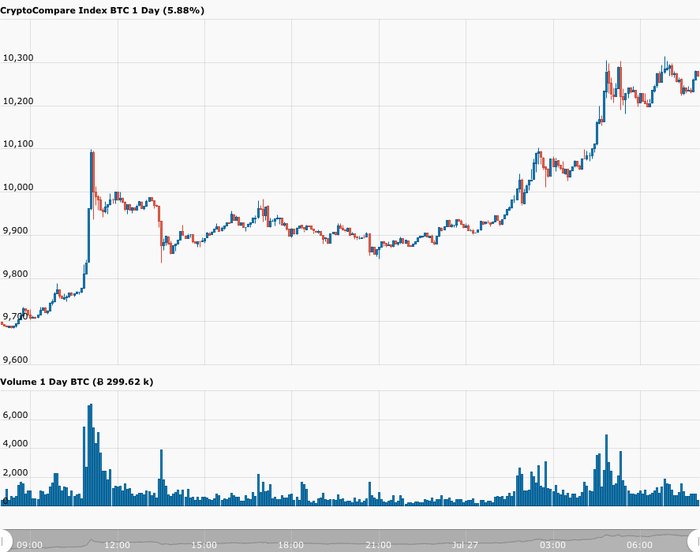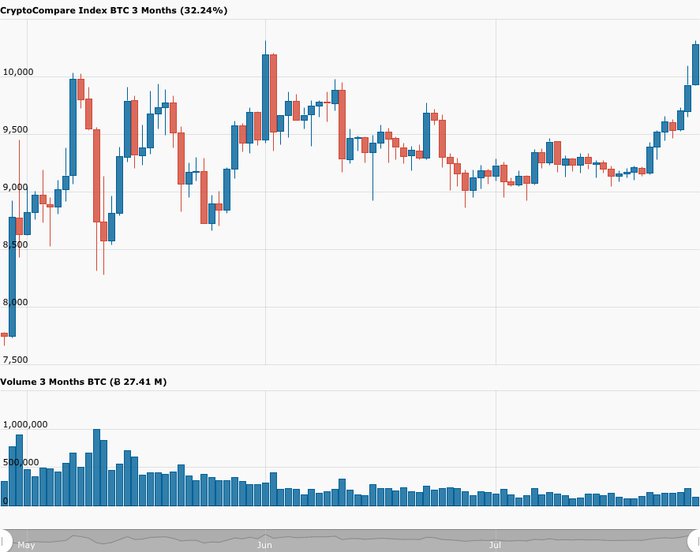 So, what is the reason for the rallies that gold and Bitcoin are currently having? 
Well, we can't be certain, of course, but here are some plausible explanations:
The worsening COVID-19 situation in the U.S. (CNBC says that Friday marked "the first time since late May the daily death toll totaled above 1,000 for four consecutive days").
Escalating tensions between the U.S. and China as the result of trade disputes, China's handling of the COVID-19 pandemic back in January/February, and China's stance towards Hong Kong.
Negative "real" yield on the U.S. 10 Year Treasury Note. 
Weakening of the U.S. dollar. 
On Sunday, U.S. Treasury Secretary Steven Mnuchin said during an interview on "Fox News Sunday" that Senate Republicans plan to introduce on Monday a second coronavirus relief bill that is "worth about $1 trillion."
According to CNBC, Commonwealth Bank of Australia's Vivek Dhar said:
"The negative relationship between long term US real yields and gold futures has held up fairly well over the longer term.
"That is because when long term US real yields increase, gold is less attractive relative to US interest bearing securities since gold has no income earning ability...
"The fall in US 10 year real yields is primarily being driven by an increase in US 10 year inflation expectations."
Kraken Co-Founder and CEO Jesse Powell explained one important difference between gold and Bitcoin -- the supply of the former is essentially "infinite" and while the maximum supply of Bitcoin is capped at 21 million:
1/3 Gold supply in the universe is basically infinite.

>there should be roughly 100 million Earths worth of gold in our galaxyhttps://t.co/z8NLvENzgP

— Jesse Powell (@jespow) July 27, 2020
2/3 Cost to mine gold in space might be high today but will decrease over time.

Why does it matter if we store the space gold in space until it's purchased for use in jewelry, electronics, etc?

There will be 2 prices for gold: on-world and off-world (delivery fee/time).

— Jesse Powell (@jespow) July 27, 2020
3/3 If aliens showed up on Earth with gold, would you accept it for payment without knowing how much gold they've extracted, what it costs them to mine it?

You wouldn't because you would have to assume they've got infinite gold and a crash is imminent.

You would accept #BTC

— Jesse Powell (@jespow) July 27, 2020
Featured Image by "SnapLaunch" via Pixabay.com
---
Source
---
Back to the list