Back to the list
Bitcoin Briefly Touches $10,000 as Total Market Cap Hits $300billion.
newslogical.com
26 July 2020 15:01, UTC
Reading time: ~2 m
---
Leading cryptocurrency Bitcoin broke the $10,000 barrier briefly today as the coin continues to display a bullish trend in the past few hours. The top coin surged nearly 4% in 24 hours to $10,000 as of 10:14 UTC with most of the gains made in the last 12 hours.
The price surge was not surprising giving that Bitcoin had experienced a spike in value in recent days rising from $9,300 at the beginning of the weekend to around $9,700 yesterday.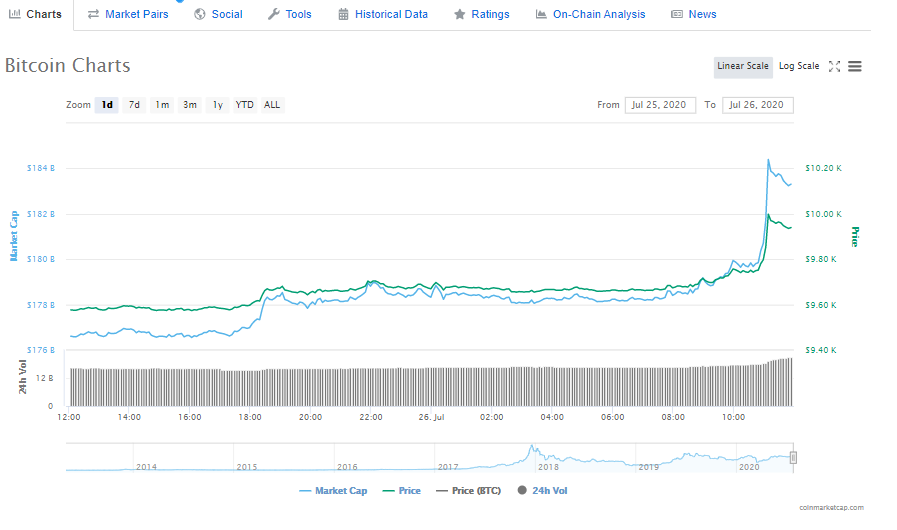 The leading coin had been behaving like a stable coin in the past month ranging between $9200-$9400 as altcoins have rallied in recent weeks with some coins hitting their all-time high. This movement by Bitcoin means that investors who purchased the coin at the beginning of the year would be up by more than 35%.
This is impressive despite the Covid-19 crisis and the massive selloff in March which resulted in a sharp dip in the market.  when compared to other financial markets, Bitcoin is one of the most profitable and the current sentiments within the crypto community is Bullish.
As of press time, Bitcoin has rebounded with the coin currently trading at around $9,949 but there are indications that the coin could test the $10,000 mark in the coming hours.
Total Crypto Marketcap surges to $300 billion
The total crypto market cap has increased to $300 billion in response to the extended bullish run that has taken over the market. The market cap which was around $250 billion at the beginning of July has surged with several altcoins experiencing all-time highs.
There has also been a renewed optimism within the crypto community with the rise of DeFi proving to be a major driver of optimism. Chainlink is one of the coins to have experienced a huge increase in its market cap with its current value at $2.5 billion.
Bitcoin leads the way with a market dominance of 61% and a market cap of around $183 billion which is five times more than leading altcoin Ethereum on $34 billion. It remains to be seen whether this latest bullish trend continues into the new week.
---
Source
---
Back to the list