Back to the list
Crypto Trading Volumes Plummet in June, CryptoCompare Report Shows
www.cryptoglobe.com
06 July 2020 17:02, UTC
Reading time: ~2 m
---
Cryptocurrency trading volumes plummeted in June to "roughly half of the daily volumes" seen in May, according to the CryptoCompare June 2020 Exchange review report.
The report found that top-tier cryptocurrency exchanges, those with a high ranking on CryptoCompare's Exchange Benchmark,  saw their trading volumes saw their spot trading volumes drop by 36% last month to $177 billion, while lower-tier cryptoassets exchanges saw their trading volumes drop by 53% to $466 billion.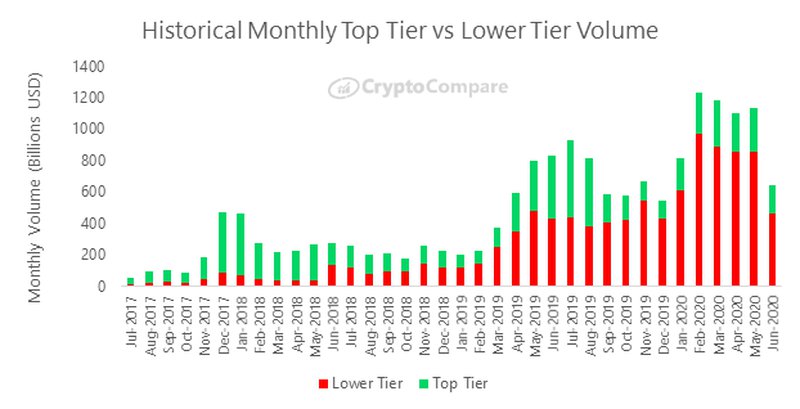 Source: CryptoCompare
CryptoCompare notes that last month the highest recorded trading volume in a single day on top-tier exchanges was of $9.26 billion. In comparison, in March's Exchange Review, the cryptoassets data provider revealed that the March 12-13 crypto market crash led to high in daily trading volumes, as $75.9 billion were traded across exchanges in a single day. Top-tier exchanges traded $21.6 billion that day.
It's worth noting that the spot volumes did not hit an all-time high, even during the March market crash. In July 2019 and December 2017, when the price of bitcoin hit its all-time high near $20,000, spot volumes hit record highs.
In June, cryptoassets trading platforms charging traditional taker fees represented 76% of the total exchange volumes, while those implementing the tans-fee mining (TFM) model represented less than 23% of the cryptocurrency space's spot volume.
Fee-charging exchanges, the report adds, traded a total of $455 billion in June, as their trading volume dropped 48% since May. Trading platforms using the trans-fee mining model saw their volumes drop 45% since May, as they traded $141 billion.
Exchanges using the TFM model are seemingly gaining market share. While in March they represented less than 20% of the spot trading volume, in June their market share was of 23%.  As CryptoGlobe reported, these trading platforms often have unusually thin order books and low traffic.
FCoin, the cryptocurrency exchanges that started using TFM, has passed trading and withdrawals earlier this year over the shortage of crypto worth up to $130 million. The firm's founder revealed that the platform was not hacked, but instead an internal system error gave users more rewards than they should have received.
Featured image by Austin Distel on Unsplash.
---
Source
---
Back to the list