Back to the list
"No Position Is the Best Position,' Says Bitcoin Trader as Price Stagnates
www.newsbtc.com
06 July 2020 21:50, UTC
Reading time: ~3 m
---
From a macro perspective, Bitcoin has basically flatlined. If you've followed the cryptocurrency market over the past few weeks, you probably know this. But BTC's boring price action is a point worth repeating.
Just look at the image below shared by a cryptocurrency technician and trader. It shows that the three-day Bitcoin historical volatility index (as per BitMEX market data) is at lows not seen since March/April of 2019.
For those that missed the memo, a reminder: Bitcoin traded in a tight consolidation from December 2018 to March 31st, 2019 before rallying 25% in a day on April 1st.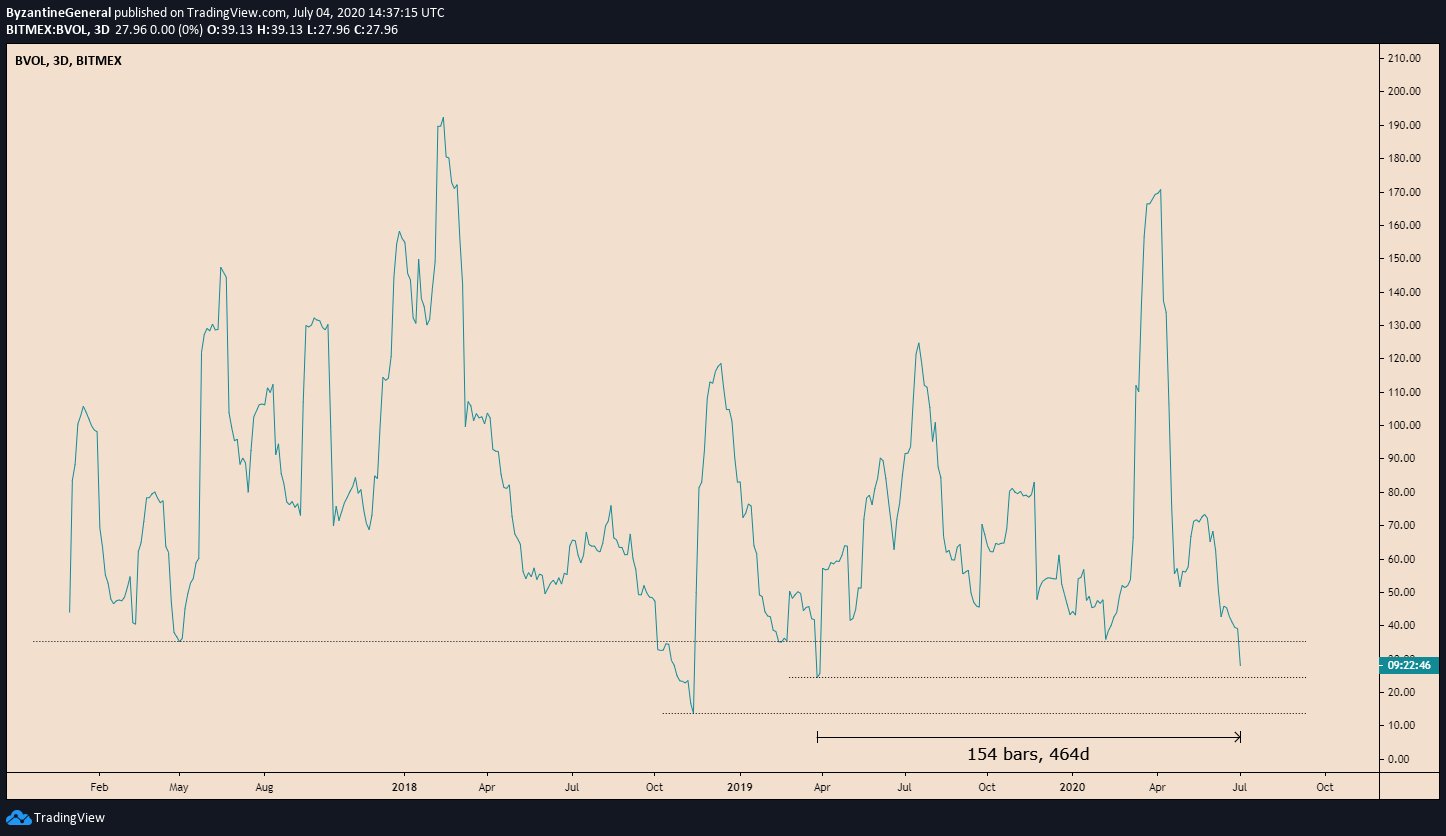 BTC historical volatility index (three-day, BitMEX) from trader Byzantine General (@Byzgeneral on Twitter). Chart from TradingView.com
With BTC stagnating, traders have been attempting to build long and short positions to profit when Bitcoin finally moves. Yet, a trader says that this may be unwise, saying that it may actually be best for market participants to sit this price action out.
Sometimes, No Position Is the Best Position: Bitcoin Analyst
Which way Bitcoin will break from this consolidation is seemingly a toss-up. From analyst to analyst and indicator to indicator, there are countless mixed signals at the moment.
With this in mind, a trader recently reminded his followers that:
"Nobody knows how this will end but remember, sometimes no position is the best position."
Many others in the industry have made similar comments. Another trader said that until Bitcoin breaks out of the current range of $8,900 to $9,900, he is not going to trade BTC.
This is because the risk-return ratios of many trades are low while Bitcoin ranges in "no man's land."
Related Reading: Crypto Tidbits: Bitcoin Stalls at $9k, Cardano Shelley, Elon Musk & Ethereum
Just Accumulate
If trading is ill-advised, what can Bitcoin traders and investors do?
According to the CEO of Bitcoin mining startup Blockware Mining, Matt D'Souza, accumulation should be the game BTC investors are playing. In June, D"Souza, also a fund manager in the industry, said:
"I continue to receive DMs & ?s of "when is bitcoin going to take off." No one knows a date nor should focus on that. Buying at $8500 vs $9300 has 0 relevance when the objective should be capturing a market cycle over the next 18-36 months that could print $20,000, $50,000 or $100,000+."
The investor and industry executive later added that the "real money" in Bitcoin is made through potentially sitting in positions while accumulating.
Data indicates that investors are doing so. The CTO of blockchain analytics firm Glassnode, Rafael Schutlze-Kraft, shared the image below on June 26th.
It shows that Bitcoin addresses deemed "HODLer" addresses have added hundreds of thousands of BTC since the start of 2020. In fact, HODLers have accumulated on more than 90% of the days in 2020.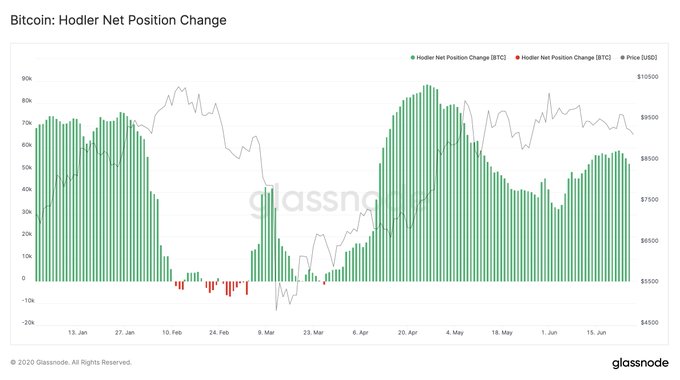 HODLer net position change from Glassnode
Featured Image from Shutterstock
Price tags: xbtusd, btcusd, btcusdt
Charts from TradingView.com
"No Position Is the Best Position,' Says Bitcoin Trader as Price Stagnates
---
Source
---
Back to the list